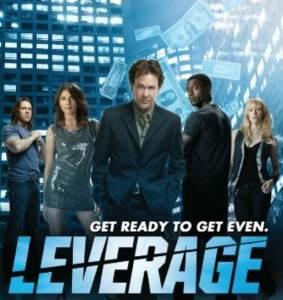 Here we are, Leverage fans! It's the episode TNT keeps calling the "season finale" – but which we know better as "the last episode before the hiatus after which there are three more." Go figure. Oh, and Parker's dead…but obviously, not really.
Our heroes have caught a break in tracking down Damien Moreau, linking him to a financier with a violent streak. In order to crack him, they decide to stage a murder – with Parker playing the part of the victim. The big bad is Mark Vector, an ex-hockey player turned supposed stock expert who isn't afraid to beat a guy up in his own office (also played by Spencer Garrett, who was last seen getting tased by Bradley Whitford on The Good Guys' summer finale), and the guy turns to Nate for help in exposing the bad guy and his dastardly ways. If that's not bad enough, George Clooney's girlfriend is back in town to annoy Nate. In other words, everything is about to come to a head. They need to nail Vector and find out what he knows about Moreau before he testifies to a Boston grand jury and gets immunity from prosecution.
Nate and Parker go to intercept Vector at the airport, with Nate drawing off the FBI agent assigned to pick up the big bad, and Parker sweeping in (while repeating to herself "don't stab," which is always reassuring). She allows herself to get picked up for the sole purpose of bringing him back to McRory's and getting him so drunk he can't remember her fake name. She brings him back to Nate's apartment, where he wakes up with no clue of what he actually did, and one apparently dead body next to him. In flashback, we see that Nate spiked his drink, he passed out, and Parker did one heck of a makeup job on herself before playing the part. Vector calls his lawyer in a panic. However, he's talking to Hardison, using the soundbites Sophie got from Vector's lawyer earlier. Guess who's playing the lawyer?
Hardison and Eliot have their own police squad car, on their way to fetch Vector's original immunity agreement for Sophie, who gets to play the ruthless prosecutor (a role I played a time or two myself, so this amuses me more than it should). They go to meet the real prosecutor, and their confused dialogue gets them not only Vector's whole file, but saddled with a witness that they have to transport back to jail while they're at it. When a call comes in over the radio in their vicinity, Eliot decides they're going to do a little public service as well. The resulting fight between the boys is one of their best, complete with perp throwing up in the backseat as the car veers off course. They end up in the middle of a domestic dispute that could have come straight out of Cops. While they're handling that, their prisoner escapes. A brief chase ensues, at the end of which their perp starts rambling about dirty cops, just before he throws up again.
Nate finally turns up to calm down a crazed Vector, and tells him that there's plenty of evidence to slap him with a manslaughter conviction for the death of Alice White (Parker's alias from "The Juror Number Six Job" in season one). While he continues to fluster, Parker goes out the window so she can land on the ground floor and intercept the FBI agent who still likes her. While she keeps him away, Nate tries to get Vector to confess to a crime that never actually happened. Vector finally explodes, copping to his temper and insisting that whatever happened is not his fault.
Hardison and Eliot finally get the paperwork back to Sophie after their detour, and Eliot imparts to her his fear that something isn't right. She brushes it off and goes to meet with Nate and Vector in the persona of Karen Regan from the Department of Justice, telling him the only way she'll help him with the dead woman is if he gives up Moreau. He cracks a little too easily, saying he knows where Moreau keeps his money, that it's encrypted and only he knows how to break the code.
Downstairs, Hardison and Eliot are relaxing when two cops wander into the bar, and the latter knows instantly that they're the corrupt cops their perp was talking about, presumably there to knock off Vector. Plus, across the street, Moreau has a shooter with a very impressive gun. Nate's apartment takes some battle damage, and we find out in flashback that Vector's phone was cloned at the airport. Eliot handles the dirty cops after Hardison cuts the power, but all I can think of is that Nate is going to have a lot of cleaning up to do around his place when this is done. As far as the sniper, Hardison remotely sets off the fire alarms in the other building to get him to stop shooting, but Eliot gets there too late to catch him.
All of this has spooked Vector, and he tries to make a break for it, right into the arms of the FBI agent. Plan B is to send Hardison and Eliot to the courthouse ahead of him, while Nate goes to meet Vector's real attorney. The real attorney has no idea what Vector is talking about, of course, and practically shoves him into his grand jury testimony. He gets a surprise to see his beating victim in the courtroom, along with the woman he supposedly killed the day before. He goes nuts on the stand. There to rope him in are, of course, Hardison and Eliot in full cop gear, with taser. He gets hauled off, and Parker's FBI beau finds the perp from earlier in the trunk of his car, trussed up with a bow and a note.
Nate goes to Vector's office to find the place trashed and George Clooney's girlfriend waiting for him. He confronts her with the information he got from Vector, that she was using them to get the codes from Vector before they were all killed. He tells her that the codes are encoded in the photo in the office plus the one on Vector's phone, and no, she can't have them because he's going after Moreau alone. "I am more than the man you thought I was," he tells her before he walks off. She calls her buddies in who knows where to tell them their plan worked, and Nate and his team will be doing their dirty work for them. Nate, meanwhile, goes to meet Sophie at the bar. "We didn't choose this fight," he says, "but we're in it and we should see it through."
Amen to that.
This episode is a damn good one to end the first part of the season on, and more than enough to hold us over until December. Nate is squared away for the final showdown against Moreau, but who is the Italian really working with or for, and what are they undoubtedly going to do to get in the way? It also continues the tradition on this show of capping part of a season in a big way. Season one had the HQ explosion and the team being scattered, season two ended with Nate in jail, and this episode had Nate's apartment being shot up, so one can only imagine what Dean Devlin and Co. have planned for the actual third-season finale.
Performance-wise, Aldis Hodge and Christian Kane pretty much steal the hour (again) as Hardison and Eliot get a little too invested in their cover roles as Boston police officers. The two have had amazing chemistry through the whole series, which the writers smartly have allowed to flourish, and their shenanigans here might be some of the funniest in the entire history of the show. Tim Hutton is just as capable as ever, pouring his vitriol into the aggressiveness of his fake attorney role, and yet projecting a more subtle hint of malice in confronting the Italian. Add in Gina Bellman and Beth Riesgraf slipping effortlessly into a variety of roles, and you have possibly one of the best ensembles on television. This group of actors is called upon to play multiple parts every week, and they never disappoint.
I can't wait until December to see how this season plays out, secure in the knowledge that there will be a season four beyond that. Leverage is possibly the most fun one can have in an hour, and episodes like this one demonstrate exactly why it's so beloved. Bring on the next con!