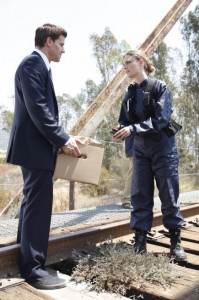 We haven't posted them yet, but in an upcoming episode of Bones there are promo photos of the gang at a fancy party. Now, Booth isn't in the photo, but the other guys are wearing tuxes. As much as I beg for the costumer to put Boreanaz in more short-sleeved t-shirts, let me just say that Booth in a tux will be yum. You'll see what I mean.
We open at a crime scene (big surprise). Brennan is going through some bones on a train track and things that they've been there for a few months. Brennan concludes that the victim is a teenage male.
Cam is walking with Michelle, doing mom-like things like giving a curfew and monitoring her dates. Turns out Michelle has a new boyfriend, Perry, who seems like a nice guy until he starts making out with Michelle and Cam sort of freaks out.
Intern Clark is back in the lab and he, Angela and Hodgins are examining the bones. The team thinks that the body is from a foreign country (because there was no fluoride in his drinking water and didn't eat processed food). Cam sends Clark to supervise the FBI retrieving the remains on the tracks.
Brennan's giving Booth the run-down on the victim and says that while the bones appear to be from a foreign country, they're actually from the US. Dun dun dun!
Cam's reading a book about teenage sex when Brennan comes in to reveal that the victim was Amish.
While driving to Amish country, Booth tells Brennan that the victim (Levi Yoder) disappeared two months ago and his parents filed a missing persons report. Brennan suggests that Levi was on his rumspringa when he vanished (a time when Amish youth are encouraged to explore the outside world – it's a real thing, look it up).
Booth is delivering the bad news to Levi's parents, who said they warned their son of the wicked ways of the English world. Apparently the boy headed to Washington with a friend, Josef Beachy.
Back at the lab, Angela is showing Cam information about the tracks. Hodgins comes in to reveal that Levi must have died shortly after the last time he talked to his parents and that his body was dragged under a coal train car.
Booth and Brennan are looking through Levi's depressingly bare room and they find a box with a rock collection. Booth hands Mrs. Yoder a photo of her son (because the Amish don't use cameras, it's likely the only photo they have of Levi) and I tear up a bit.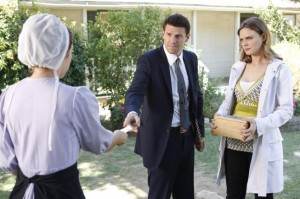 As they leave the house, a girl named Sarah asks Booth and Brennan if they're there about Levi. Another man tells her to go back home and she leaves with him, but not before Booth hands her his card.
Booth and Brennan head over to Josef Beachy's apartment and Josef answers the door holding a bong. There's a fun-looking party going on in the apartment and Brennan shouts to the crowd 'this is not in the proper spirit of rumspringa!'. True, but it looks like one hell of a party. Booth takes Josef back to the FBI.
Since this is MY recap, I'm going to take a minute to brag here. That cool with everyone? Yesterday Jon (the site's co-owner) and I were quoted in a CNN article about Jon Gosselin. Seriously, this was one of the coolest things that ever happened to me and I've basically told everyone I've ever met and now I'm telling you. Ok, shameless self-promotion is now concluded. Back to our regularly scheduled program.
In the interrogation room, Josef reveals that Levi moved out a few years ago because he didn't like to party. However, Josef reveals that Levi had his own secrets – he used to disappear for hours and lie about where he was.
Hodgins and Sweets are examining the rocks from Levi's room and Hodgins reveals that the rocks are pretty ordinary. I think Sweets got a haircut and he says he thinks the rocks are actually piano keys (or a representation of piano keys). Sweets pretends to play the rock keys and tells Hodgins he's 'playing the theme to Titanic'. I laugh. That was funny.
Clark returns from his outing with more bones. Despite the fact that poor Clark is covered in mud and bug bites, Brennan sends him back out to find more. Poor Clark.
Michelle visits Cam in her office and asks her again about going to a dance. Cam asks her if she's having sex and Michelle tells her to mind her own business. Cam rambles and tries to warn Michelle about having sex and then basically just says 'some people believe God will smite you'. Nice. Michelle replies with the standard 'you're not my mother'and then acts all snippy. Way to be ungrateful there, Mich.
Booth is interviewing Mrs. Turner, a piano teacher who taught Levi, who turned out to be a musical genius. Levi was also working for Mr. Turner in his construction business. She hands over a DVD that Levi sent her. Apparently he had auditioned for the National Conservatory and had made friends.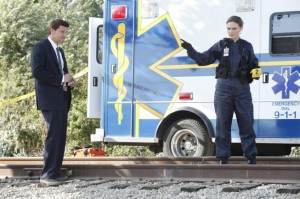 Angela is analyzing the DVD in her lab, trying to see if she could discover where it was filmed. And she does, in a very cool way. She's good.
Booth and Brennan (I'm just going to start writing B&B, ok? My fingers are getting tired). B&B are interviewing Levi's music friends (Karen and Tony). They reveal they met Levi at the conservatory and became friends. Karen says Levi's father had come to see Levi before he disappeared.
So B&B head back to Mr. Yoder, who's upset that they're accusing him of hurting his son. Mr. Yoder vehemently denies it and he and his wife can't believe that Levi was a gifted classical musician.
In the car, Booth tells Brennan he doesn't think Mr. Yoder killed Levi. Brennan brings up the situation with Michelle and the possibility that she's having sex and asks Booth his opinion. Despite the fact that Booth was having sex at 16, he doesn't think Michelle should. Ah yes, the double-standard between the sexes. Lovely. Brennan also reveals she was a virgin until she was 22 and Booth is shocked. Sweets calls to say there's someone at the FBI: that Amish girl, Sarah.
B&B meet with Sarah, who reveals that she was dating Levi before he left for his rumspringa. She says that Levi used to write to her while he was away and she feared he was going to leave her to pursue his music. She told her brother Amos (the jerk from earlier) about that and thinks it was a mistake that she opened her mouth. She says that Amos disappeared for a day (maybe he's the killer – dun, dun dun!).
Clark's back with more bones and he, Hodgins, Cam and Angela are trying to determine cause of death. They think that Levi fell from Karen's window.
Booth is interrogating Amos, who admits that he visited Levi and told him to return to Sarah. Amos reveals that Levi played a song for him and he found it beautiful. So he apparently told Levi that he would look after Sarah and left without incident.
Michelle and Cam are meeting up in the diner and they apologize to each other. Michelle reveals that she hasn't had sex, though Perry wants to. They have a moment.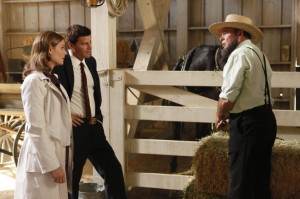 Brennan examines more of the bones that Clark found and they discover that Levi's fingers had been broken before he was killed. Since it happened before his audition for the conservatory Brennan wonders if Karen did it, since she was up for the same spot as Levi.
Booth sees Perry in the lab and goes over to greet him. Uh-oh. I sense the 'big brother/father'warning coming. Booth shows Perry his gun and says he's an FBI agent and a trained sniper. Perry looks freaked. Michelle and Cam come by and B&B head out to talk to Karen. Love the Booth intimidation tactics.
Karen reveals that she has a lot of ties to the conservatory and that her admission wouldn't be based on an audition like Levi's, so she had no reason to kill him. B&B say that someone crushed Levi's hand and Karen says that he was gone the last time she went home – his stuff was there but his money was gone.
Cam reveals that the evidence says that Levi broke his own hand. Booth thinks that Levi decided to return home and decided to remove the temptation. Booth wonders if the murder was because of money.
Booth does a voiceover that a petty thief killed Levi. Senseless. B&B return to give the news to Levi's parents. They said Levi planned to return home and give them a portable DVD player with Levi performing. The parents admire Levi's gift.
It wasn't a bad episode, but I like ones with character development a lot more. I don't want to see this show turn into one of those cop shows with a new story of the week. Let's get more focus on the lives and relationships of the characters. And put Boreanaz in more t-shirts!
Email me at clarissa @ tvovermind.com