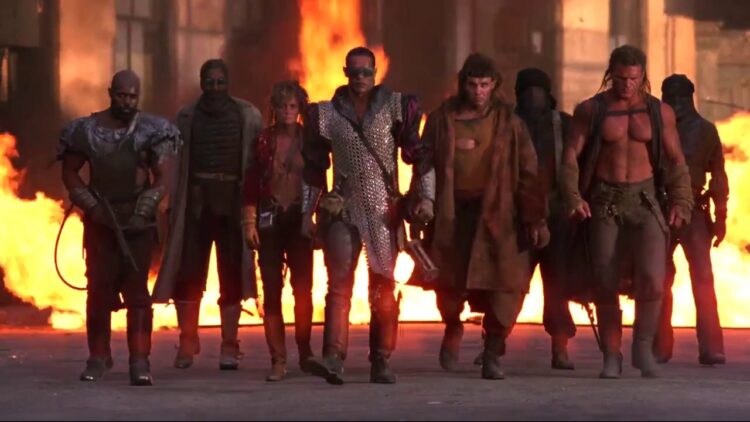 It's already been mentioned that Cyborg could use a reboot since from a certain standpoint, the 1989 Sci-Fi movie does have a storyline that's solid enough even if it's kind of buried beneath a great deal of 80s-style flash and pomp that ultimately fell flat. Looking at this movie from the perspective of today's audience, Cyborg might be a pleasant dip into nostalgia that would inspire a great deal of laughter and perhaps a warm feeling of returning to something that would feel familiar for those that are old enough to remember when they first saw this movie. But would it be possible to update the movie for today's audiences? Would the story still hold up in this era? Some might decide to say that no, it wouldn't, and some might even go so far as to state that its content wouldn't be acceptable. It'd be a little too easy to laugh at that last statement since the fact is that for the type of movie it was, Cyborg was one of the least offensive movies of all time. Rebooting this movie would be a little tough since deciding whether to go in the same direction or not would be tough, but at the end of the day, it could be rebooted without too much trouble.
The downside of this is that it's not likely that Jean Claude Van Damme would return for this role since it sounds as though retirement is a little more tempting than going back to his old movies. Perhaps someone like Scott Adkins or another star might find it possible to step into a different role while giving JCVD's character, Gibson, a nod much like other movies have done for their original characters when they don't return. Independence Day: Resurgence did this, as did Jumanji: Welcome to the Jungle, so thinking that mention of Gibson, especially as the man that rid the world of Fender Tremolo would be worthwhile.
After that, however, it could be that the plague that had brought the world to its knees might be in the rearview, but piracy could become a new epidemic since it feels possible that Fender might not have been the only one seeking the cure to the plague to control its production. Perhaps there would be someone even worse than Fender, or maybe there might be something akin to the Commonwealth from The Walking Dead, a city that had rebuilt but possessed plenty of people willing to plot and scheme to get their way. The original movie did have its moments, and it did stretch its influence over a few different horizons that kept it from being too stale. But one thing that Cyborg didn't really have was a deeper, more complicated plot that could have taken things to a different level. It was an 80s action movie after all, so it was more about pitting JCVD against the maximum number of bad guys to see how far his skills could be pushed. But his goal, more or less, was to make Gibson pay for murdering the family that he'd become a part of, and leaving him for dead. Revenge was a good motivator and it worked, but it still felt a little hollow.
Layering the story by setting up a few more subplots and giving the characters a proper backstory would no doubt help this movie become an action movie with a well-defined meaning that would elevate the story in a big way and allow people to get to know the characters on a deeper level. The original movie attempted this, but it felt a little too forced and didn't come off as anything other than filler that sat between the action scenes. It feels a little cynical to say such a thing, but the truth is that a lot of JCVD's movies felt as though they were either on the right path toward becoming deep and meaningful, but then another action scene would pop up and that would be the end of the development that had been ready to happen. To be fair, there's no great desire to see a massive amount of exposition when it comes to learning about the characters. But digging just deep enough to make the audience care about the cast would be a wise decision.
The desire to make this movie might never come around, which would make it another missed opportunity since the fact that nostalgia has been playing a big part in the movies of today. But perhaps there's someone ambitious enough out there to think that this might be a chance to bring back something that was a good idea but needed the type of execution that could be easy enough in this day and age. Honestly, it would be fun to see what might happen if someone had the gumption to take a look at how to improve this script, and perhaps even advance the story a bit.
Tell us what's wrong with this post? How could we improve it? :)
Let us improve this post!