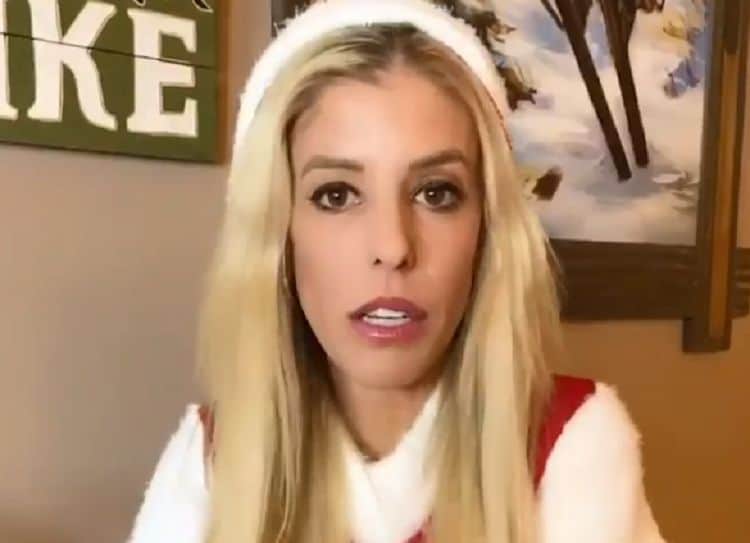 TikTok star Rebecca Zamolo is known to her millions of YouTube followers for her 24-hour challenges, recreating musical.lys, marriage wedding flash mobs, and pranks. To others, she's known as an actress, and to others still, a campaigner for IBD awareness. Regardless of how you know her, it never hurts to find out more. Read on to find out ten things you might not know about the star.
1. She's married to a fellow YouTube Star
Zamolo isn't the only YouTube sensation in the family. She and her husband Matt Yoakum (better known to Youtubers as Matt Slays) met when they were teenagers; a decade later, they married. The two regularly team up on their videos and are clearly still as in love today as when they first met…. or at least they are if Zamolo's Instagram post on their anniversary is anything to go by: "I met you when I was a teenager, a decade later I married you, and four years later I'm the luckiest girl to get to call you my husband. Thank you for being by my side on this crazy journey. You've been my biggest cheerleader and supporter, even through all my surgeries and hospital visits, you've never left my side. So excited for this next chapter of our lives. Happy Anniversary!"
2. Wengie's a fan
As anyone who's ever watched one of her makeup tutorials will now, Wengie slays it with a makeup brush. In the last couple of years, she's also taken massive strides to develop her musical career — a career that's flourished thanks to a little help from her friends. In March 2019, Zamolo appeared alongside a host of other influencers (including Matt Steffanina, Cloe Couture, and Sharlene Taule) in the music video to the Australian's sixth single, Lace Up. In an interview with Hollywood Life, Wengie explained how delighted she was to have the chance to appear alongside Zamolo. "Rebecca [is a] dear friend who I've also collaborated with so it's so amazing to be able to include your friends in your music video and just have fun," she shared.
3. She battled with IBD for 8 years
While most of us grew to know Zamolo for her funny videos, what many of us weren't aware of was that behind the scenes, the star was battling with a serious illness. In spring 2017, Zamolo released 'INSIDE/OUT: My Battle With IBD', a documentary that chronicled her 8-year battle with inflammatory bowel disease (IBD). Zamolo made the documentary with the intent of raising awareness about IBD, a condition that had ultimately led to her requiring life-saving ostomy surgery. "I want people to know that IBD is not something to be ashamed of," the star explained to Carrots 'N' Cake. "We can help spread awareness if people are willing to talk about it–that's how we can also educate others. For some people suffering from IBD, you wouldn't be able to tell just by looking at them. I know many people had no idea that I was sick, but yet I was private."
4. Anxiety was the hardest part of living with IBD
While most of us would think having an ostomy bag would be the hardest part of living with IBD and ulcerative colitis, for Zamolo, the real challenge was the anxiety. "If I went to a restaurant, I had to look to see if there was a single or multiple stall bathroom nearby," she shared with Everyday Health. "If it was a single stall, I would become anxious worrying someone might be in there when I needed it and then I'd have an accident in public. I couldn't wait even a few minutes while someone else was in the bathroom; when I had to go to the bathroom, I had to go immediately."
5. She trained as a competitive gymnast
You don't get to be one of the foremost YouTube stars of your generation without a strong work ethic. Zamolo has been putting the hours in since the age of just nine years old. Born the oldest of five siblings (Jennifer, Monica, Michael, and Lissa) to parents Paul and Cathy, Zamolo began training in gymnastics when she was a pre-teen, competing (and winning) various national and regional titles.
6. She was a cheerleader for the San Jose Sabercats
Giving her athleticism and history in competitive gymnastics, it's probably no real surprise that Zamolo spent several years when she was younger as a professional cheerleader. For two years between 2000 and 2002, Zamolo was part of the cheerleading team for the San Jose Sabercats.
7. She began her career in commercials
During her time as a cheerleader with the San Jose Bobcats, Zamolo began auditioning for TV work, and won the opportunity to appear in various commercials. After discovering a love for performing, she continued to gain experience in the industry when she became a sports broadcaster for Gaucho News, the local college station, when she studied Communications and Sport Management at the University of California, Santa Barbara.
8. She moved to LA for her career
Zamolo was born in Martinez, but moved to LA after graduating from the University of California, Santa Barbara to further her career. After honing her funny bone by working in improv comedy at The Second City, she landed a recurring role on The Late Late Show with Craig Ferguson in 2010. The gig proved a launchpad for Zamolo's social media career, and in next to no time, she began posting videos and working with the likes of Matthew Morrison, Dean Norris, Rampage Jackson, Jermaine Clement, and Brain McKnight.
9. Her Net Worth
Becoming a YouTube sensation doesn't come without some serious work. Fortunately for the likes of Zamolo et all, it also doesn't come without its rewards. According to Celebs Money, the star is currently worth in the region of $3.3 million.
10. She's huge on social media
Obviously, Zamolo is huge on social media…. after all, if an influencer hasn't got followers to influence, they've got a serious problem on their hands. Just how big she is, however, might come as something of a surprise. At the time of writing, Zamolo boasts a massive 2.6m followers on Instagram, 108K on Facebook, 65.2K on Twitter, and a frankly jaw-dropping 8.09 million followers on YouTube.