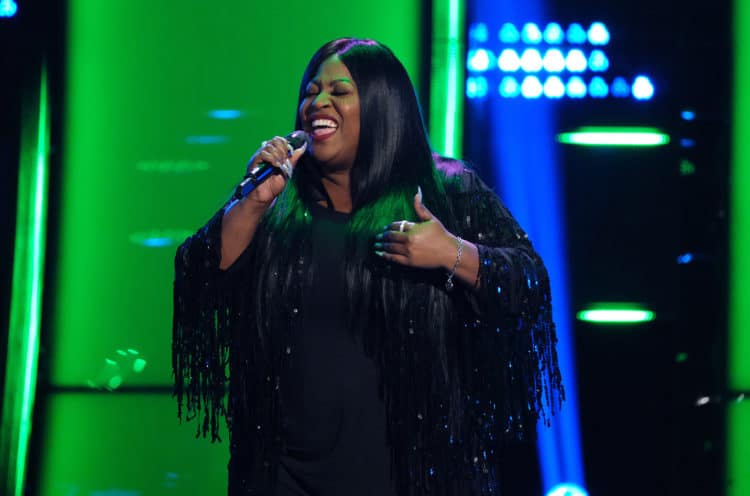 Now in its 16th season, and premiered in February 2019, NBC's The Voice has already won four Emmy Awards. Coaches Adam Levine, Blake Shelton, and Kelly Clarkson have been joined by John Legend; who is a first-time coach on the show. Also new this season is the addition of celebrity advisors assigned to the coaches. Levine is paired with Charlie Puth, Shelton is paired with Brooks & Dunn, Clarkson is paired with Kelsea Ballerini, and Legend is paired with Khalid. Bebe Rexha is a new fifth coach whose job is to select competitors to perform for The Comeback Stage. The Top 24 will perform on April 29 and 30.
1. The Coaches Have Undeniable Collective Chemistry
It's been true ever since The Voice began in 2011. The coaches are not only music greats, but their interactive dynamics add another layer of entertainment to the already tense competitions among the new voice talents. Tom Maily wrote about exactly this for KNCI back in February 2018 when Kelly Clarkson made her debut on the show as a new judge. Maily was detailing reasons to watch the new season when he described the chemistry between Adam Levine and Blake Shelton as a "perpetual bromance" filled with the longest-lasting, "best chemistry" of pretty much any duo on television. Maily reminded his readers that these two musical stars continue to provide engaging interaction which serves to ease the tension always lurking when musical competitions are serious. Add in the collective personalities of the other coaches and you get an entertaining mix of exchanges which have become extremely successful.
2. The Process for Entering the Audition Process is Very Clear
Much as it is for entering music conservatories around the world, the process for auditions is available to all who would like to enter, with information posted clearly on the NBC website. Would-be participants sign up to create an Artist Account, create an Artist Profile, choose an Audition City, attend an Open Call Audition, and attend the Audition. As in all endeavors, showing up is half the battle. There are also guidelines for how to prepare for that all-important Open Call Audition. One song is required, but it must be sung A Capella only, without background tracks, without accompaniment, and without instruments. Nothing but the pure voice is allowed. Songs can be from any genre and artist. Costumes are discouraged. The judges are "looking for serious artists ONLY". A lucky few may receive a callback invitation. There are guidelines for those as well. The Voice is serious about curating the best musicians possible.
3. The Ever-Important Blind Auditions
For generations, it was difficult for musicians auditioning for major symphony orchestras to overcome hiring bias. Most often affected were women, but people of color also faced discrimination. For this reason, symphony orchestras revised their auditions to include screens which hid the candidates from the jury. The candidates performed on their instruments from behind the screens beginning in the 1970s and 80s. Blind auditions became the norm in the classical world. The Voice has updated this practice using modern technology for their chairs and fancy lighting and electronics to record their votes, but their Blind Auditions are an accepted way of hearing contestants without judging them based on their appearance or sex. Classical musicianship has met The Voice at a crucial juncture.
4. A Tough Competition Format
There are five stages of competition:
1. Blind Auditions
2. Battle Rounds
3. Live Cross Battles
4. Playoffs
5. Live Performance Shows
Each stage has specific rules for performers and various strategies for coaches. The stages offer up some grueling challenges created to ensure that the best reach the last performances to compete best against best. With a cash prize of $100K and a recording contract waiting for the winner, the five competition stages do the job of putting the heat on would-be winners.
5. Coach Adam Levine
Much has been written about Levine's role as lead singer for Maroon 5. A native Los Angelino, he's been a pop rock musician since 1994. He and Maroon 5 have a string of Grammy, American Music, Billboard, and MTV Video Music Awards. Levine has also created an acting career, owns his own record label and developed his own menswear collection. While he has been a stalwart supporter of his selected teams on The Voice, he's struggling this season with some reported backlash for not equally supporting two of his team artists last season. But Levine, who makes about $14 to $15 million each season of The Voice, is a stellar musician and many contestants are thrilled to be selected for his coaching.
6. Coach Blake Shelton
He may be a country singer, and he may be accused of mostly supporting soulful country voices, but he's also been savvy at coaching winners. He's had six of them since the show began and that is the highest number earned by any of the coaches so far. Maybe it's because he's been with the show since the beginning, or maybe he has an ear and an eye for winners. His sixth winner was Chloe Kohanski who earned the winner's title in Season 13. She delivered her winning performance on December 19, 2017. Shelton's winners list also includes Jermain Paul from Season 2, Cassadee Pope from Season 3, Danielle Bradbery from Season 4, Craig Wayne Boyd from Season 7, and Sundance Head from Season 11. It's also been reported that while the other coaches have pre-taped their performances before the show airs, Shelton did a live performance of his hit "Honey Bee" and those who were watching from back stage took note that he "made it look easy". It is estimated that Shelton earns about $13 million for each season of the show.
7. Coach Kelly Clarkson
This Texas woman has been famous since she won the first season of "American Idol" in 2002. She has 17 singles awarded with multi-platinum, platinum, and gold certifications and her music is know around the globe. With a string of awards to her credits, she's scheduled to debut her own talk show on NBC later this year. She recently endeared herself to her fans by hugging the vocalist who was battling her own team member. She is an extraordinary power as a coach due to her reputation for "keeping it real" with her words and expressions.
8. Coach John Legend
Legend recently joined the group of the distinguished few who are known as EGOT recipients. He has received an Emmy, and Oscar, a Grammy, and a Tony Award for his work in the arts. He is without a doubt an artist force in the world– recognized and loved by his fans for his incredible work. Some fans have posted on social media that Legend will be an unusual Coach because he will bring out even more competitive spirit from the other Coaches.
9. Competitors Come from Big Towns, and Small
There are plenty of people in big towns, such as Los Angeles or New York for example, who have access to audition for the arts. It can be harder for someone from a small town to find it easy to audition. Take the story of Maelyn Jarmon from North Texas who started the competition for the current season of The Voice. She's from Frisco, in North Texas. She sang growing up there and sang for the Blind Auditions where all four Coaches turned their chairs around for her. Her chocolate voice seems made for the songs she sings. Her father is one of her biggest supporters. She's moving forward with her music, though the end results of her performances on The Voice are yet to be seen.
10. The Big Prize is Winning a Record Label Contract and $100,000
From the beginning, winners of The Voice have been signed to a record label contract with Universal Republic Records. Most everyone who enjoys music knows how difficult it can be to get ahead in the music business, even with spectacular talent. The Voice has offered contests the chance to make their music careers successful, supported by the huge possibilities that such a contract might bring. Writing for Screen Rant, Bernardo Sim's February 2018 article about The Voice secret trivia pointed to the industry truth that having a record label contract doesn't actually guarantee music industry success. Javier Colon, who won Season 1 did sign a contract with Universal Republic Records right after the season's end, but he ended that business relationship one year later citing creative differences. Still, those who win that big prize have every chance of success and know it's worth a shot.
11. Runners-Up Can Be Successful
Chris Kroeze, the songwriter and country rock singer from Barron, Wisconsin came in second place on The Voice during the [season?]. But Adam Uren recently featured Kroeze on Bring Me the News with a story about Kroeze's tour of intimate venues in Minnesota. Not only will Kroeze bring country rock to Minnesota, but he'll join the legendary Lynyrd Skynrd as their warm-up act when they perform on stage in Welch, Minnesota at Treasure Island in July 2019. As of the January 2019 article, eight of Kroeze's concerts were already sold out. There's also news that the 27-year-old has an album which will be released soon. Though all eyes may be on the winners, The Voice has the power to spread good news about the talented who didn't come in first, and that's a very good thing.
12. The Show Has Its Own Sense of Humor
All over social media people are posting thoughts about the humorous banter among the Coaches on the show. Levine and Shelton are named often, but as new Coaches have taken their turns in the chairs throughout the seasons, fans have just as often mentioned how the personalities have changed the interactions. Most mention the overall good humor the Coaches share as they strategize to win their team members.
13. The Voice Welcomes Singers from All Genres
SheKnows writer Stephanie Bernaba described it best in her 2016 article. She focused on the individual singing styles of the many participants who bring their individuality front and center for the show. Because the coaches listen intently for musical excellence, it doesn't matter what genre is sung or what vocal styling is presented. The Voice seeks the "undiscovered gems". Each individual has the chance to be heard and excel.
14. The Voice Has Spread Around the World
The Voice of Holland was the show which originally started the whole series. The American show was adapted from the Dutch version. The show branched out to include a version for children in Spanish. It airs on Telemundo and features American Spanish-speaking children ages 7 to 15. The show has created a summer concert tour, and a video game. The show is broadcast in Asia, Australia, Canada, South Africa, New Zealand, and the Philippines via related TV and video networks.
15. Sizzling Dancing, Great Conversation, and Dazzling Outfits Add to the Fun
Of course, the show is obviously about music. But there's much more to see for fans who really enjoy fabulous dancing, intelligent conversation, and some amazing performance clothing. The show is a treat for the eyes as well as the ears.
16. The Coaches Care That the Singers Do Well
From every Blind Audition to every Battle, it's obvious that the Coaches are not only strategizing to win with their team members, but there are plenty of times when they give solid, practical advice to help those same contestants improve their performances. Coaches have also broken form and had chats face to face with competitors who really needed an extra dose of personal support.
17. The Voice Cheers for Those Who Have That Extra Something
It's the combination of talent, vocal ability, and a voice with the difficult to describe bit of uniqueness that lets people know right away they are hearing a special performance. One way that the show has made these voices accessible is to offer them for download to iPod each season. Fans could follow their favorites and collect their songs. It's a huge opportunity the show gives to cheer for all the different voices that appear.
18. The Voice Supports Excellence
We know that the Coaches specialize in certain music genres, but we also know that the show's format and competitive structure supports excellence across genres. If that weren't true, there could be an overload of winners from a single Coach's favorite genre. The Coaches who have been there the longest could dominate. But there is a very democratic system in place which gives each singer who auditions an equal chance to have their winning moment. That might happen in the first round with a breathtaking performance and end. It might happen when a wonderful musician battles successfully to the end of the competition. Each season begins and ends with excellence demonstrated on many levels.
19. We Know When a Magic Moment Has Happened
There is a focus on the emotions of the contestants and those who come to support them. There is also a focus on the emotions of the Coaches as they make their decisions about the contestants. As viewers, we can see, up close and personal, the emotional nature of music-making. For singers, their instrument is their voice. Singing is a very personal sport. Voices exist inside human bodies. Singers who open their voices for inspection must have courage. When a wonderfully magic moment of singing happens, all faces show it, and we enjoy it in the moment it occurs.
20. The Voice is All About Potential
Whether fans are cheering for the underdog contestants or the obviously more experienced voices, the show continues to offer the hope of success. Each participant has an opportunity to step into the light, enter the music industry supported by professionals, and bring their personal dreams to life. The Voice is a performance platform which works hard to level the playing field while allowing the cream to rise to the top.
Tell us what's wrong with this post? How could we improve it? :)
Let us improve this post!