Tonight was the premiere of The Real Housewives of Beverly Hills and my verdict? Cha-Ching! Jackpot!
From the opening credits to the (literal) closing arguments, the latest installment of Bravo's Real Housewives franchise came out hard tonight with enough bling to blind the strongest pair of eyes for decades. Like I said in my meet and greet articles on the Housewives, these women probably don't know the phrases "foreclosure" or "sex tape." There isn't a hidden book that could reveal a sordid past. They're the names Bravo have been looking for, and by God they have struck gold!
Tonight's premiere was mostly introductory, but quickly gave us some tidbits of drama to whet our appetites for what's to come. Let's take a look at some of the highlights of the premiere.
The Housewives
Adrienne and Lisa are the two women who stood out the most to me tonight. Not saying that the other women aren't fun to watch, but Lisa's complete dissing of her husband for her gay trainer Cedric and her pup Giggy is classic TV in the making. Adrienne dropping that kid immediately won me over beside the fact that she owns the Palms, which is on my bucket list of places to visit before I die.
Watching Camille Grammer interact with Kelsey Grammer was kind of awkward, knowing what's to come for them. Other than that, I'm sending my resume to Camille to be the next nanny for her kids, because they make $50,000 – $65,000 dollars a year. And she has four nannies. I think she could have five.
As for Taylor, I'm scared she might be in the same boat as Camille in terms of faltering marriages. Finding out through a press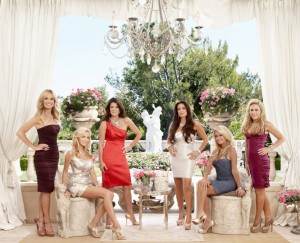 release from your husband's company that he dumped $10 million into some other woman's film studio could be a sign of a problematic marriage. Taylor's way of dealing? Botox injections. In abundance. That was the most disturbing scene yet in a Housewives show involving botox, but they do say you have to bleed to be beautiful. They can keep that.
The Richards sisters will definitely have the majority of the drama on the show. You wouldn't think that Kim is the older of the two by the way Kyle talks to and treats her. Kim's isolation rubs the other women the wrong way, as we saw with Taylor, who was already not feeling her. Kyle's brash nature will give her the title of the West Coast Bethenny Frankel. It doesn't surprise me that the two are close friends.
The Husbands
The guys behind these women got more screen time than any of the other shows, except Taylor's husband, who only showed how much of a potential weasel he might be.
Kudos to Kelsey Grammer for not being a stuck up snob by taking time out to be interviewed for the show. While some of the other women think that Camille hides behind Kelsey's fame, Kelsey declares that this show will help Camille shine for once. Oh how sad it's going to be to see the Grammers' marriage crumble on screen…
Ken Todd's only worry is that Cedric is a legitimate gay man, which I'm sure he is, but he does hang with Lisa a bit much. I'm shocked that he even let the guy stay on their property rent free. Only in Beverly Hills. Dr. Paul Nassif seems to channel some Joe Giuidice, but not too much…which is a good thing. He seems to be my favorite Househusband so far, because he and Adrienne's marriage could easily be a sitcom. Finally, we have Kyle's husband Mauricio Umansky, who contradicted Kyle by saying that she had a spending problem after Kyle blasted Kim for the same thing. He must've seen what Joe "Meatball" Giudice went through and put the brakes on Kyle's shopping habit really quick.
Verdict
This installment of the ever growing Housewives franchise is a keeper. It completely made me forget that the Real Housewives of D.C. Reunion had just ended. Beverly Hills, we welcome you with open arms.
What did you guys think?