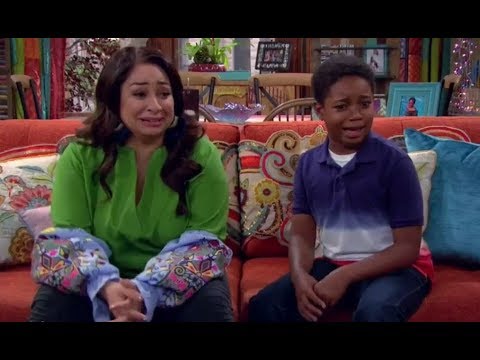 One of my only gripes about Raven's Home is the family secret that has been plaguing the family for months. Personally, I've never understood the need for Booker to keep his secret, if only because he is a child. Children do keep things from their parents, often until the last minute when they feel they need help. What was always more puzzling was that Raven felt the need to keep her secret from her children, or more accurately, that she will not consider telling her children in the future. The signs that Booker has inherited his mother's gift are becoming more apparent. Now the only question isn't if the secret gets out, but when.
A serious matter that Chelsea and Raven didn't consider before moving in together was their different parenting styles. Chelsea is used to giving Levi everything he wants, including excess encouragement, but not nearly enough discipline. Raven on the other hand is not lacking in tough love, but has a tougher time pulling stuff out of her kids; case in point, the entire premise of the show. Once Booker's dilemma comes up, Raven and Chelsea realize that they are giving advice to each other's children that the other does not approve of. Advising someone else's child is incredibly dangerous territory, let alone parenting someone else's child. The fact is that they just have different children who require different things from the women who care for them. The day will probably come when one of them vehemently disagrees with the other's parenting choice, and on that day they'll have to make different decisions.
Booker can no more control his visions than his mother can control hers. Usually the visions involve some type of mishap that Booker and Raven feel they have to fix themselves, never mind that life is going to play out the way it is supposed to in spite of their efforts. Booker gets a vision of Tess that seems innocent, but she becomes incredibly defensive about Booker invading her personal space. Therefore, of course Booker snoops on Tess's gym class. Once he sees that Tess is about to get his first heartbreak, Booker decides to save his friend. Following Raven's advice, Booker involves himself in Tess's potential problem taught. The only way Booker and Levi are able to find the guy who is going to hurt Tess is by chasing him down at the retirement home he volunteers at. Not magic, not grooming, not even emoji-challenged seniors keep Booker and Levi from shielding Tess. As much as it hurts to see your friend in pain, some things you can't stop. Thus, no matter what a parent does, kids have to learn some lessons on their own.
So Raven's Home's family secret is not quite out yet, but we're anxiously awaiting the day that it does.
Raven's Home Season 1 Episode 9 Review: "In Vision of Privacy"
Summary
Does the combination of Raven's parenting style and Booker's need for help lead to the big Raven's Home reveal?