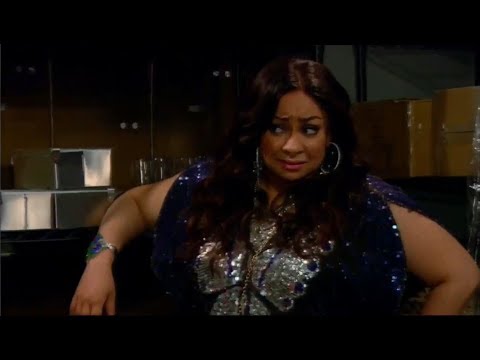 The beauty of knowing Raven Baxter before she became a mom is that we have a clear before-and-after picture of who Raven is now. In That's So Raven, she and Chelsea were just teenagers figuring out life. Now as moms in Raven's Home, the excitement is limited to how effective their new cleaning products are. Yes, this is actually very realistic. Thus the importance of a Mom's Night Out. However, this being Raven's Home, and Raven's kids, nothing really goes right when Mom is away.
Raven and Chelsea are desperately in need of a girl's night out, but cannot find a babysitter. It is completely understandable why Raven wouldn't trust the child who had a bucket stuck on his head to be left without a sitter. There comes a point though when a mom has to decide if she trusts her kids not to burn down the house, or at least limit the amount of damage. Raven and Chelsea really need a night out to remember who they are, and remember their dance moves. They choose to trust that the kids won't get into too much trouble with Tessa's mom across the hall, and them checking in now and again. The kids actually try very hard to keep their promise to their moms. They're constantly checking themselves to stay out of any trouble. Though they do make that one big spill on the couch, that's an honest mistake that all kids make several times over.
If anyone gets into real trouble, it is Raven and Chelsea. In their over-exuberance to finally experience a night of freedom, Raven and Chelsea end up angering a very tall, very mean grown-up bully. Said bully locks them in a vault in the club, since its located where a bank once was. If Booker, Nia, Tessa, and Levi were going to get in trouble for something, it would have to be sneaking into the club to save their moms after Booker has a vision that they are in trouble. It takes some finesse, and some squirreling about the way only a child under 5 feet can pull off, but the kids do save their moms. Even better, Raven and Chelsea don't have a clue (though seriously kids, don't try that because social services is not cool about such things). My second favorite moment of the night comes when a newly freed and rightly fed up Chelsea gets in the bully's face and gets her to back off. Chelsea was always a passionate person, but it is so wonderful to see how divorce and motherhood has given her such strength. FYI, that's my well-written opinion on Chelsea. Meanwhile, the girl power section of my brain is doing a Raven-style victory dance in Chelsea's honor.
It was really great to see Booker at least fess up to the cushion incident, so that Raven could see he could be trusted. In Booker's defense, he never wanted to break the rules. There's nothing wrong with a son who wants to protect his mother. That being said, that boy is so grounded once Raven learns the whole story.
Raven and Chelsea are really showing the struggles of the modern single mom. Do you agree?
Save
Raven's Home Season 1 Episode 6 Review: "Adventures in Mommy-Sitting"
Summary
Raven and Chelsea's girl's night out takes an unexpected turn when Raven's Home's kids crash the fun.