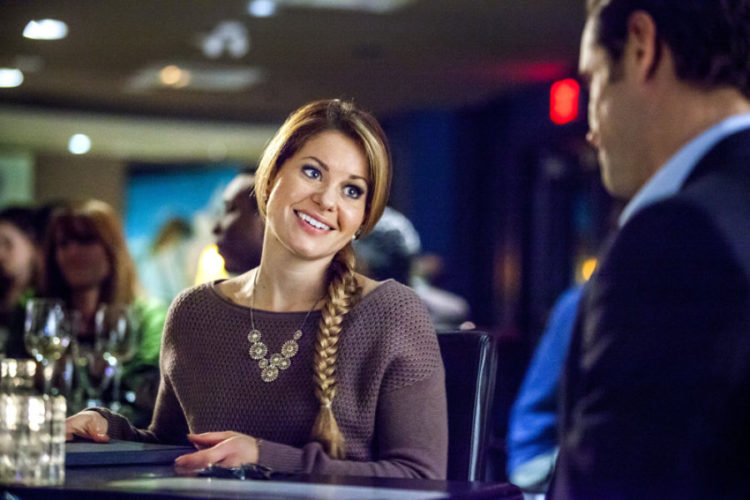 What do you get when you put an ambitious young librarian in a show that has to do with mystery and murder? You get the Aurora Teagarden Mysteries starring Candace Cameron Bure, one of our favorite former child actors from Full House. It might not seem like the most well put together show to some people but for Hallmark it's definitely been a rather popular series and one that won't have a whole lot of competition any longer given that Lori Loughlin's time with the network is pretty much done. Yeah, that was shameless dig, but it's still honest enough that one can't help but think that Candace will at least see her movies continue to be enjoyed by those that latched onto the series and have no trouble following each subsequent mystery. For some this is the perfect mix of thrill and whodunnit, and in all honesty it's an interesting premise.
Here are the top five Aurora Teagarden movies ranked.
5. Dead Over Heels
When someone drops a body in your backyard it does become kind of a personal matter since unless you happen to live in the town dump or at the local mortuary disposal isn't really the average person's problem. But when this happens and Aurora takes it upon herself to find out just why it happened and who was responsible she ends up trying to solve a mystery that could be slightly dangerous, which is par for the course it would seem, and could very easily put her and those around her in very serious danger. Of course this has never stopped her before so you can imagine that she's going to go full ahead and do her best to find out what happened.
4. The Julius House
Aurora definitely has a habit for getting herself into trouble and then somehow getting herself out of trouble since she tends to stick her nose way, WAY into business that really doesn't concern her. When he tries to figure out what happened to a family that disappeared from their home however it gets a little wild and a little out there since as you can imagine she's not about to let anything escape her notice and she definitely won't be backing down until she's found out every last thing she wants to know. The problem with that of course is that she tends to go so far overboard that she ends up getting herself and others in trouble.
3. Three Bedrooms, One Corpse
Ever notice how Aurora doesn't call the police as much as she seemingly needs to? There's something odd about this since only in a movie would you really get away with this and be able to say, "oh, I've got this". Thankfully Aurora is just flat out lucky most times since the number of calls she should be making throughout this series should have worn out the buttons on her phone by the second movie. But then again, it wouldn't be quite the same if she had to call the cops that often since they would probably be seen to dawdle or be unable to see things from the same angle that she did, so we carry on.
2. Real Murders
This would be a good way to lose friends, by trying to implicate someone by making a list. The only problem with that is if your friends happen to make the list and they find out about it. Then where are you? Stuck in a big way seems to be the answer since no one wants to be called the killer and the killer certainly isn't going to spring up and say 'here I am'. These movies thus far are something that a lot of people might like because they're simple and they don't challenge people all that much apart from figuring out who the guilty party is, but there is an element of good, wholesome fun in them as well.
1. A Bone to Pick
Hearing how she should be calling the police so many times only to see her go after the suspect on her own and in a way that's not at all sanctioned by the police is enough to make a lot of people shake their head in wonder as to how her character is allowed to stay alive for so long. In the real world the sleuthing is usually left to cops and detectives and the people that discover the murders or something odd going on tend to call those individuals when they happen to notice something awkward. In this series however the number of times she's asked to call the cops might be called gross negligence by a lot of people, but for those that love the series it seems to work out and be okay by the end of each movie.
It's a long way from Full House.
Tell us what's wrong with this post? How could we improve it? :)
Let us improve this post!