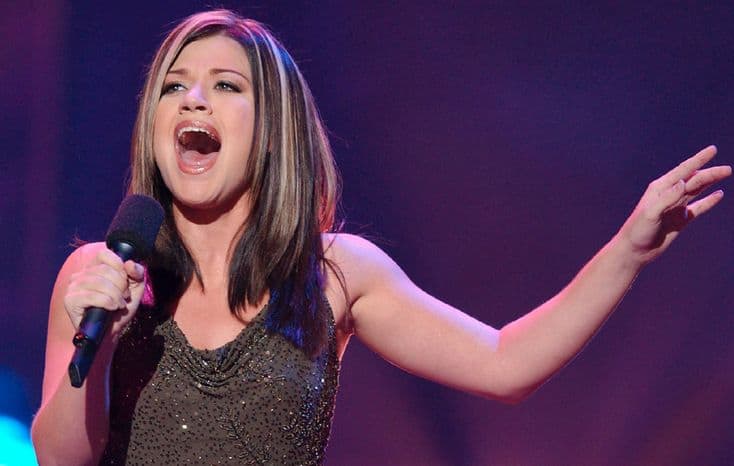 I like American Idol. I think it's pretty cool to watch someone go from absolutely no one to a worldwide celebrity in five months right before your eyes. There really isn't any other show on television that does something like that, and it does produce some incredible talent on occasion. While some may like The Voice better these days, how often do you really see those contestants achieve worldwide fame? American Idol still has the juice in that department. But I do think they are ending the show at the right time.
Things I do hate about it: The month(s) long city-touring audition process and the hour(s) long results shows of which I watch exactly the last two minutes. I've ranked my favorite winners of the first eight seasons of the show in order of best to worst, and the video I show is their audition tape, because I think it's cool to see them act like normal people before they had any idea what lay ahead for them.
Best – Carrie Underwood (Season 4)
You really can't top Carrie Underwood in terms of both vocal talent and career success. She's one artist who's come out of the show and really kept growing, and as a result has sold over 10 million albums worldwide and has landed a bunch of #1 singles and Grammy Awards. As an added bonus, she's one of the most physically perfect women on the planet, at least in my estimation.
Carrie is the standard to which all other Idols should aspire to, and seeing as she consistently rakes in more than $10 million a year, that should be plenty of motivation right there. She's the most talented singer to come out of the competition and I don't think it's even close.
#2 – Kelly Clarkson (Season 1)
Sometimes the original formula is the best, and Kelly Clarkson is proof of that. I think it's largely dumb luck that Idol stumbled onto Kelly in its very first season, before every wannabe in America started trying out for the show. Most of the other finalists in season one were terrible, and #2 of the season, Justin Guarini, wouldn't have even made it past Hollywood week today.
But Kelly was a diamond in the rough, and has had her albums go platinum ten times over since she made it on Idol. We haven't heard that much from her in a while, but her recent appearance on the show was a memorable one.
#3 – David Cook (Season 7)
David was Idol's first rocker crowned king, and Cook truly is a master vocalist. I was heartily surprised he beat out David Archuleta who was genetically engineered to be on the cover of Tiger Beat, but it turns out America can make right decisions every once in a blue moon. He sold a million copies of his album since last year, but I'll be damned if I can name any singles. He's still got a ways to catch up with season 5's Chris Daughtry and will probably never catch him commercially.
#4 – Kris Allen (Season 8)
I'm placing Kris at the #4 spot because I think that's about where his talent lies. It's unclear how successful he'll be as an artist, but he's got a built in teenage girl audience that we thought would translate into success. I was satisfied with him winning the title even though I was been rooting for Adam Lambert the whole time. Adam was clearly the bigger winner as he was clearly born to be a rock god. Lambert is way more successful. Kris just seems like a really nice, humble guy who it's cool to see win, even if he's not a vocal powerhouse.
#5 – Jordin Sparks (Season 6)
Wow, no offense to Jordin Sparks and season six, but she was so forgettable, I had to slide her in after I wrote this article because a commenter called me out on being bad at math. Season six featured some pretty mediocre talent, but Jordin was pretty good and she had that one song with Chris Brown which was alright (tell me how I'm s'posed to breather with no air, *air*) , though I haven't heard much from her since. She's had some commercial success but I don't think she'll ever be a mega star.
#6 – Ruben Studdard (Season 2)
Ruben was an extremely good singer at the time, but was immediately overshadowed by runner up Clay Aiken after the show ended. And Clay is clearly the winner of that season despite the actual results. Studdard was eventually dropped by his record label and I think he's currently stomping around the South American rain forest somewhere eating tourists. Honestly, I have no idea what happened to this guy. He resurfaced about his weight gain a few years ago but I haven't seen him since.
#7 – Fantasia Barrino (Season 3)
Oh God, I really hated Fantasia. I forget who was second place this season (was it Diana Degarmo? Yawn), but I remember that Latoya London was eliminated in third or fourth place despite being one of the most gifted vocalists I've ever heard on the show. In contrast, Fantasia sings like the deformed love child of Macy Gray and a cat with laryngitis. She had like one song that made it after the show and she's lucky to have even had that.
A distant last – Taylor Hicks (Season 5)
Look, Taylor Hicks was a hoot on the show, but singing anything else besides blues and Joe Cocker, he was simply atrocious. Simon knew it the whole time and took every opportunity in the world to tear him down, but America was amused and voted him to the #1 spot. This was even more of a travesty, because season 5 had some truly great singers on it like Chris Daughtry and Katherine McPhee who were screwed over because America was taking an idiot break.
Speaking of which. Daughtry, Aiken and McPhee. They definitely made it in real life. Obviously Clarkson and Underwood as well. I'd say those five definitely made it the most post Idol.