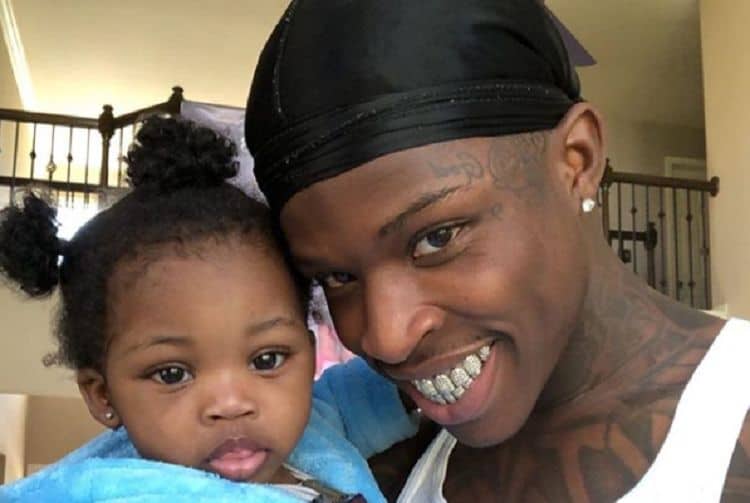 Quando Rondo isn't just a fun name to say. He's a rapper who made headlines in November 2020 after rapper King Von was shot to death in Atlanta. The press is going wild with rumors that the death of the Chicago rapper happened beause of a shootout with Quando Rondo. Atlanta police are still looking into the shooting death, but rumors are swirling that it was all because of an issue between the two rappers. Police responded to a shooting between two groups of males outside of an Atlanta nightclub where the rapper was killed. Police also fired shots in response to the shooting, but it was made clear that the rapper was already hit when police arrived to take control of the situation. With his name in the press everywhere right now, the world wants to know more about rapper Quando Rondo.
1. He Was Born with a Different Name
Quando Rondo is not, unsurprisingly, the birth name of this rapper. He was born Tyquian Terrel Bowman. He made the decision later in life to use a stage name when he worked, and it was probably a good idea. It's catchy, and people are more likely to remember it than his given name.
2. He's Young
He's very young. He was born on March 23, 1999. He just turned 21 in 2020. Being that his 21st birthday fell only a week after many states began shutting down their economies and issuing stay at home orders, shutting down travel, and shutting down restaurants, he probably didn't get to have the 21st birthday he might have imagined growing up.
3. He's from Georgia
Born and raised in Savannah, he's a Georgia native. Savannah is not especially close to Atlanta, where the shooting death of King Von occurred. However, it's not uncommon for people who live in Savannah to make a move to the big city when they are able.
4. He Had a Rough Childhood
There isn't much to go on here, but it is safe to say that his childhood could not have been an easy one. He spent time in juvenile detention centers – plural – as a teenager, so it's probably safe to assume he ran with the wrong crowd and got himself into trouble more often than not. Those things don't add up to an easy or even good childhood.
5. He's Always Been Interested in Music
If there is one thing that is true about Quando, it's that he's always been interested in music. He's had a lifelong passion for it, and he made the decision to see about becoming a rapper when he got out of juvenile detention in 2017. He's put himself in a situation where he can work on his music and keep himself going in the right direction, which is why many fans were surprised when his name was linked to the shooting death of another rapper.
6. He's a Father
He's very young, but he's also a father. We don't know the age of his daughter, but we know that she was born to Jai, who was Rondo's girlfriend for some time. It would appear that she was born in December 2019 if you base that on photos he uploaded to Instagram around that time. It's unclear whether he and his daughter's mother are still together, but he did write a song for his daughter that he dedicated to her. The lyrics are telling, and it's clear he is looking to send a message.
7. He Enjoys Being a Father
If you take a look at his Instagram profile, it seems that his daughter is important to him – as she should be. He has several photos of himself with her, including one in which he is dressed up alongside her for Halloween. They seem very sweet together, and we love to see that.
8. He Has a Huge Following
It's not often that you find a rapper who isn't a household name and realize just how many followers he or she has. It's like they're trying to grow most of the time, but this is a rapper who is already grown quite large. On Instagram alone he has more than 3 million followers. It's easy to see why he will be a household name before much longer.
9. He Keeps to Himself
While he's on social media and he's promoting his music, he's not sharing too many details of his life with anyone. He keeps his personal life persona, and he seems to like it that way. He does share a few things about his personal life, but they are few and far between. The best way to learn about him is to listen to the lyrics he raps. He seems to get close to home when he does that.
10. He Might Have Helped King Von
There are some videos on the internet right now – provided they have not been removed as it appears a few have been at this point – that allegedly show Rondo helping injured King Von after the shootout he was allegedly involved in. What's been alleged is that Rondo helped the injured rapper get to the hospital, but it was too late.
Tell us what's wrong with this post? How could we improve it? :)
Let us improve this post!