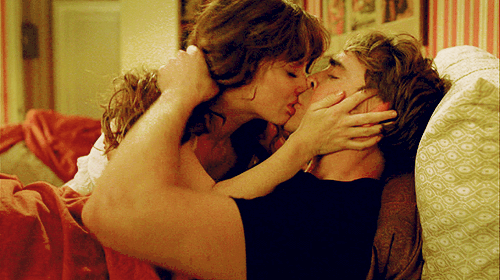 "Everyone wants stuff. We wake up every day with a list of wishes a mile long, and maybe we spend our lives trying to make those wishes come true, but just because we want them doesn't mean we need them to be happy."
The first season of Pushing Daisies was very short due to the Writers Guild of America strike, so we're actually moving into Season 1's final few episodes with Episode 6, "B*tches."
The biggest point of conflict in this episode deals with the aftermath of Olive and Ned's kiss that took place in the previous episode. Ned feels conflicted over the kiss and thinks that he should tell Chuck, but he just doesn't know how he should handle the situation. The biggest revelation for him, though, is the realization that Olive has feelings for him (a fact that he had been adorably oblivious to up until now). The positive that comes out of the kiss, though, is the formation of a friendship between Olive and Chuck after the former confesses the kiss to the latter. There is obviously still some contention between the two, but Olive's pure distaste for Chuck would have begun to feel old after much longer.
The case in this episode deals with the death of a dog breeder, Harold, played by Community's Joel McHale in a guest role. The dead breeder reveals that he was poisoned by his wife, but unfortunately for Emerson, Harold was a polygamist with four wives. Luckily for the audience, however, four wives needs four investigators. Because of this, Olive gets included in Emerson, Chuck, and Ned's work. I mentioned in the previous episode that it was great getting to see Olive take a more active role in the show's primary story, and "B*tches" is no exception. Relationships may be the most important aspect of Pushing Daisies, and the inclusion of Olive into the main stories of the other three leads works very well for the show.
The case itself, unfortunately, is one of the least engaging so far on the show, but it still works well because of the inclusion of so many characters. While only briefly on-screen, Joel McHale's charisma adds a lot to the role of the murder victim, and Pushing Daisies continues to show that it knows how to best use a guest cast. All four of Harold's sister-wives, too, are spectacular whenever they are present, and Christine Adams's Simone looks to be an interesting addition to the recurring cast.
The acting continues to be great in Pushing Daisies, and the relationships help to prop up the show even when the primary story doesn't work as well as one would hope. I don't think that there's a single bad episode of Pushing Daisies, but "B*tches" is definitely the weakest one that we've encountered so far. Nevertheless, even the weakest episode of Pushing Daisies is better than the strongest episode of many shows, so it's easy to accept "B*tches" for what it is and move on to the next one.
What's your favorite thing about Pushing Daisies so far? Let us know down below!
[Photo via ABC]
Tell us what's wrong with this post? How could we improve it? :)
Let us improve this post!