Ho-ho-holy hell that was a great seasonal episode.
If you're like me you've often wondered what the deep recesses of Shawn's subconscious look like, then wait no more. "The Polarizing Express" gave us a seasonal episode with a twist as a dreaming Shawn works through some of his issues, while also being given clues to help him out of his latest mess. We've had an arc running through a few episodes now with Shawn's recklessness causing all sorts of problems for the SPD (last week he was put into police academy training for ruining a sting operation), and this mini-arc reached a glorious climax, and also provided some of the show's weirdest laughs yet.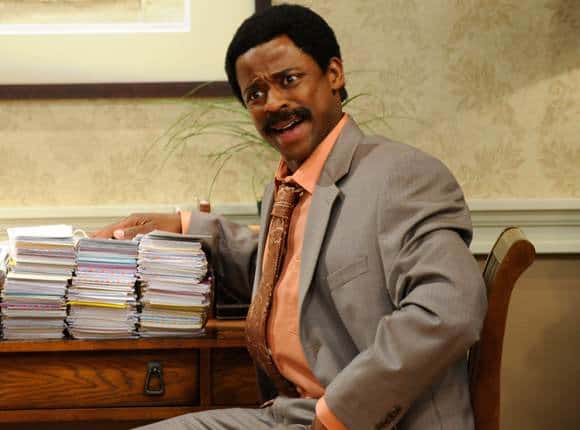 As you'd expect, Shawn's dreams are a bizarre mix of pop culture and psychological insanity; Gus is starring in a 90s UPN sitcom called "Wilin' With Da' Gusters", Henry has turned into Nick Nolte, Lassiter has taken over the SPD (while Chief Vick turns into Frau Farbissina from Austin Powers — just because Shawn watched it the night before), and Jules is still in Miami as a bad-guy-casing cop inspired by Heather Locklear in TJ Hooker. Not to mention the brilliant Tony Cox acting as his dream guide. Just typing that is making me laugh. But like Chris Nolan said about Inception (am I really comparing Psych to Inception?), in a dream story you need personal stakes and you need an emotional journey to drive it forward. I'm not saying Pysch went that deep, just that it was a wise move on behalf of the writers to make Shawn's subconscious journey be about finding some catharsis and dealing with some issues (in a typically hilarious Shawn way), rather than just plotless silliness.
Once Shawn came out the other side of the dream, he made amends with Gus, Lassiter, Jules, Vick and Henry, and solved the case in a truly uplifting way. The moment the neighbourhood came together to pledge their assistance in taking down the thug was a wonderfully Christmassy and spirited scene. It melted the heart of this usually hardened writer.
There was almost too much in this episode to mention, from Lassiter in his Weekend Warriors outfit (and monocle!), to the Squirrel Assassin HQ, to the fairground ride photo, to Tony Cox's "wait for iiiiiiiiiiit", to Snowman Gus, to Shawn and Jules touching fingertips through the police car grate, to Gus dancing in the sitcom, to Henry drinking from the gigantic carton of milk, everything was pitch perfect.
This was another fantastic episode in what has been a really strong winter return. I hope 5.15 is just as good, but particularly that it follows on from Shawn's character development here. A+
Tell us what's wrong with this post? How could we improve it? :)
Let us improve this post!