Will going against the Chief's wishes stop Shawn and Gus, or will their 60-year-old dopplegangers stop them…while going 5 miles an hour?
There were two guest stars this week. The writers grabbed two men who were famous quite some time ago. The first guest star was Carl Weathers, who played Boone. If he looks familiar, it's because you may have seen him in Rocky as Apollo Creed or in Happy Gilmore as Chubbs. I have to say Weathers played his part well, from his womanizing ways to how he treated Gus. To finish out the duo, William Devane was called in to play Peters. Devane nowadays is probably most remembered for his role on 24 as James Heller. When paired together, these two men brought some great scenes that had me laughing and presented an even bigger challenge to Shawn and Gus during the investigation.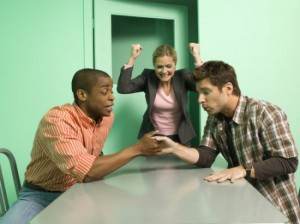 The story this time around was once again something fresh. When an old police chief dies, it's up to Shawn and Gus to find out "whodunnit". However, Boone (Weathers) and Peters (Devane) also want justice for their old police chief. Seeing these two almost identical duos try to solve this crime at the same time had some comedic points. Whether it be Peters thinking Shawn is just a palm reader, Boone harping on Gus, or Boone throwing his shoe, this episode kept me interested in the duos more than the story. That's not to say the story wasn't interesting, but it was just overshadowed by the actors this time around.
As for a continuing story arc, I've decided to stop waiting around for it and just let it develop. It's nice to root for more Shawn and Juliet but we will probably get that in the second half of the season. On a different note, there were three Gus nicknames this week: Imhotep, Come In Peace, and Control-Alt-Delete. My favorite had to be Come In Peace, as Gus even added a great facial expression to the character name.
While the story may have been overshadowed by great guest stars, it was still a good story for the actors to shine in. Let's hope that Shawn and Gus will end up as good as Peters and Boone as they become older in years. The episode was really a great one for the whole Psych staff. A-