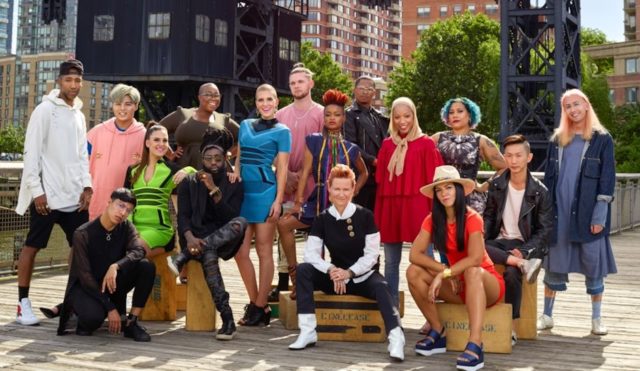 Project Runway Season 16 just premiered, and the first show of the season was vaguely odd. This season features models of all sizes, rather than the typical line up of pencil thin, tall professionals who usually fill the runways. Also new is model mirror time; each model stands alone in front of a mirror and tells the camera what they think about their experience with the designers assigned to them.
Here's a few examples of what happened in mirror time: One model praised her designer for considering her own curves and shapely figure. Another model noted that it was meaningful to have her designer create something which would make her look wonderful. Still another model mentioned that "nothing is more beautiful than being confident in what one is wearing". Another mirror time resulted in the comment, "Stretch is a plus girl's best friend." (The model had just noted that the fabric in her garment was quite flexible and comfortable.)
But, for all the new focus on how the plus size models felt about their garments and designers, the show also aired comments from the designers themselves. One designer's attitude took the stand that plus sizes should simply be "covered up", though most offered alternative descriptions of plus size, as if it were a condition which needed polite adjectives. These were not uniformly welcoming of size and shape diversity. Comments included "bootylicious", "family-sized", "curvy", and the more traditional "Rubenesque". Designer ChaCha was so bold as to identify his model as "fat". Another designer deflected all the less than complimentary descriptors by saying, "I don't have a problem with how you label it, as long as you don't call it problem size."
All these verbal tiptoes simply added to the odd atmosphere. Why on earth would anyone think it welcoming to share feelings about being beautifully dressed as a plus size model, and then contrast those feelings with rude attitudes about plus sizes from the designers themselves? IF we're going to be size-oblivious, then, let's not carry on the pretense that we are truly plus size fashion forward by hosting a show about it to prove we are. Anyone who missed the oddity, (and absurdity of it all) simply takes the now-accepted societal view that plus sizes are a problem.
The first designing challenge of the season was to create a "Red Carpet" look. They were given one day to complete their designs and then each model was included in the first runway show of the series. Veteran judges Zac Posen, Nina Garcia and Heidi Klum were joined by mentor Tim Gunn and guest judge Olivia Munn. The models walked the runway in superb fashion. When finished, Zac Posen complimented all participants for the "super-amazing and fun 1st runway". After that, the socially correct comments peppered the judges' usual fashion commentary. When it came to the critiques, Nina Garcia was particularly on point when she reprimanded designer ChaCha for not respecting his model. One comment begged the question, "Instead of camouflaging your model, why didn't you think about accentuating her lovely back?" The final socially correct comment, "The new runway we have has many dimensions." placed the supposed stamp of authenticity on this season of Project Runway.
So, what is this new focus of Project Runway? Why, after so many hit seasons, the branching out to embrace plus size fashion? Does the fashion industry really care about plus sizes? Traditionally not. Runways have always been the arena for the incredibly thin. But, the truth is that the fashion industry realizes that there is a huge market for plus sizes, and this is not news. It's been fact for a long, long time.
Does Project Runway truly care about plus size fashion? Perhaps. There's an entire season of episodes yet, and we shall see what we shall see. Until then, what we've learned is that an attempt has been made to include plus sizes on Project Runway. Along with this attempt may be genuine concern about how plus sizes feel and function in the world of fashion. Or not. The premiere's focus was odd…and it's too soon to come to a definitive conclusion about it.