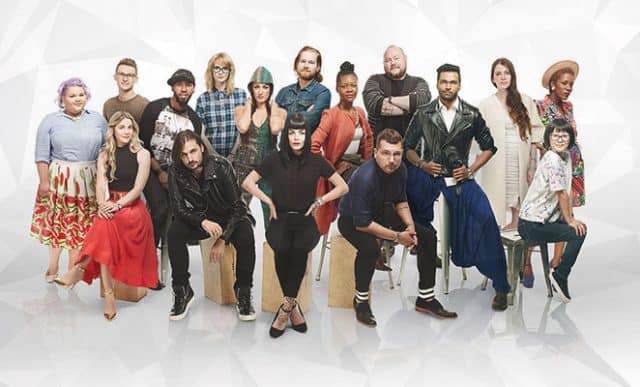 When Project Runway's Season 15 Episode 1 aired on September 15, 2016, 16 talented designers faced each other, prepared to fight their way through a long series of design challenges. The competitors first met each other at a launch party, arriving in New York from all over the country. They shmoozed with champagne, chocolate and other treats in a festive room, and were introduced to the show's host, Heidi Klum and mentor Tim Gunn. In a surprise announcement, Heidi told the group that their first challenge required using materials available at the launch party. The contestants trashed the room, trying to find the best of the unconventional materials available.
Here's the starting line-up:
Nathalia JMag age 23 from Framingham, MA
Brik Allen age 26 from Baton Rouge, LA
Dexter Simmons age 32 from Oakland, CA
Ian Hargrove age 30 from Chicago, IL
Tasha Henderson age 33 from Shreveport, LA
Erin Robertson age 29 from Cambridge, MA
Roberi Parra age 32 from Miami, FL
Linda Marcus age 55 from Milwaukee, WI
Laurence Basse age 41 from Los Angeles, CA
Cornelius Ortiz age 24 from Boston, MA
Alex Snyder age 30 from San Francisco, CA
Kimber Richardson age 42 from New York City, NY
Jenni Riccetti age 22 from San Francisco, CA
Sarah Donofrio age 34 from Portland, OR
Mah-Jing Wong age 28 from Philadelphia, PA
Rik Villa age 31 from Los Angeles, CA
By the end of the episode, the first designer to leave was Ian Hargrove, whose shift style dress decorated with polaroid photos and fringe disappointed the judges. Hargrove felt he went minimal, stayed true to his aesthetic and believed his work spoke for itself. He was sad to be leaving, and felt that, in the end, "maybe it just wasn't my time". Hargrove was Out. Erin Robertson was the Winner.
In the eight episodes to follow, the designers worked their way through a series of challenging design assignments:
Episode 2: Just Fabulous! The goal was to create a stylish look which everyday women could wear. Linda Marcus was the next designer Out. The judges didn't like her sweater knit dress and its kimono overcoat, her color palette and her "shabby construction". Laurence Basse was the Winner.
Episode 3: Blacklight or Daylight?- This unusual design request had the contestants creating outfits which would look amazing in both daylight and blacklight. The trick was to make pattern and color choices which would look fabulous in both kinds of light, and everyone struggled with the difficulty of making it all work. The challenge was a first for Project Runway, and tension increased as the designers struggled to find and use fabrics which would be effective in both lights. Kimber Richardson was Out. She chose fabric which didn't transition well into the black light, and the judges did not feel she used poor judgement in her design. Erin Robertson was the Winner.
Episode 4: Sink or Swim- This task was more than challenging, as the designers were asked to design their own unique print to make into a fabric, and then create a swimsuit and a cover up to go with it for Heidi Klum's Swim fashion line. Sarah Donofrio was Out. The judges felt that Sarah's print and suit looked like something a child would wear. They also hated her cover up due to its childish styling. Rik Villa was the Winner.
Episode 5: There's No "I" in "Team"- The designers were divided into teams, and charged with the responsibility of coming up with a collection of four looks which would work together. The individual designers merged into "House of Bouton" and "Team Unity". They also needed to present their collection to a mystery investor group. They knew that each member of the winning team would win $5,000, and that Marie Claire Magazine would feature the winning design. It was a high stakes week, but the teams struggled to merge their distinctive design styles into a winning overall look. Snide comments and disparaging asides reflected the tension of each team. Tim Gunn mentored the teams and exhorted them to think as units. In the end, the two teams of six learned that the mystery investors were the judges themselves. The winning team was House of Bouton. The individual Winner was Dexter Simmons, who hustled for his team and they agreed. Team Unity lost. The judges felt the collection was overdesigned and too dark. The designer who was Out was Alex Snyder, who took responsibility for his entire team and volunteered himself to go rather than his team. The judges agreed. Tim Gunn noted that it was an unprecedented action on the show.
Episode 6: There IS Crying in Fashion- Developing a fabulous cocktail dress was the theme of this competition. Tasha Henderson was Out. With only one day to complete the challenge, Tasha struggled with unsophisticated, day-time fabric choices. With Tim Gunn's advice, she dumped her first dress and went for a simple black denim dress with a red bling belt. The judges hated the poor construction and the addition of the belt. Jenni Riccetti was the Winner.
Episode 7: Welcome to the Urban Jungle- Tasked with creating a streetwear look, the contestants struggle to come up with just the right design. Brik Allen was Out. The judges didn't like his choices of fabrics, and even though he made it to the top ten designers remaining, his construction and styling didn't live up to expectations. Roberi Parra was the Winner.
Episode 8: Project Pop Up- The contestants were divided into three teams, including Red, Blue and Neutral. Three designers on each team were required to come up with a collection including three looks which were cohesive and inspired by their assigned color palette. Cornelius Ortiz, the Red Team Leader was thrown under the bus by his competitors and criticized by the judges for his lack of leadership and poor design choices. In an episode filled with heated arguments and snippy comments from his team members, he was Out. But Tim Gunn used his authority and One Time Save award to Save Cornelius from having to leave the show. Roberi Parra was the Winner.
Episode 9: Life is Full of Surprises- The designers were required to create a look for their loved one's upcoming chapter in life. Everyone was surprised when the loved ones arrived to be not to visit, but to be fashion clients as well. Jenni Riccetti was the most recent designer Out. The judges did not like the outfit designed for her mother. They felt her pants were ill-fitting, disliked the fabric choices, and viewed the outfit as completely inappropriate for a pre-school director. Rik Villa was the Winner.
Putting all the creative differences aside, and forgetting all the catty comments, the remaining eight designers after Episode 9 include a mix of the best of the best and the most creative. Nathalia, Dexter, Erin, Roberi, Laurence, Cornelius, Mah-Jing and Rik are still standing with plenty to prove in the episodes ahead. But, there are a few compelling trends to note. Looking only at the challenge winners, it's easy to see that three designers have each won top honors twice:
Two challenges won:
The remaining designers who have won one challenge each include:
Designers who have not won any challenges:
Nathalia
Mah-Jing
Cornelius
The designers who have consistently been in the safe categories and have created styles which the judges love include Laurence, Rik, and Roberi. Erin has also been a contender, though she has struggled more lately with her looks, and Tim Gunn has noted that her looks are repetitive lately. Dexter has remained in the middle of the group, safe. Recently skirting along the bottom of the results have been Nathalia, Mah-Jing and Cornelius. Cornelius was thrown under the bus by both his co-designers and the judges, but was saved when Tim Gunn used his precious one time save. Cornelius may or may not have what it takes to persevere, and his constant bickering with Dexter has been pushing buttons, too. Dexter, Cornelius, Nathalia, Mah-Jing and Erin will need to focus on their work more consistently, based on the events in episodes so far.
A considered guess at which designers will be in the top five include:
Laurence -impeccable construction, evolved personal style, distinctive garments
Rik -stylish garments, perfectly fit and constructed pieces, eye for superb design
Roberi -immaculate tailoring, unique blending of patterns and texture, creative eye, excellent fit
Erin -shows elements of an emerging collection, highly developed sense of design elements, excellent tailoring abilities (pending her current slump)
Mah-Jing -a well-developed sense of style, tailoring abilities, and color and pattern awareness recently emerging
These top five may have the best shot at winning Project Runway this season, though with the varied strengths of the eight contenders, the top spot is still up for the taking.