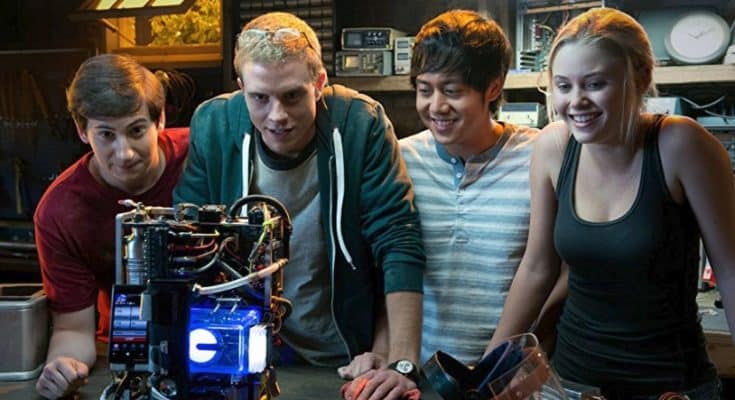 If you could change the events of your life and recreate them into something better than they should have been, would you do it? That is the question that the teens of the original Project Almanac film contemplate. While in many ways this film pays homage to every possible time traveling film ever created, it also takes a "found footage" approach which sets it apart from the pack. While in the original film, the main character David finds and begins using this time machine his father invented to secure financial security for he and his mother to afford his tuition for MIT, the movie itself begins to show the cracks created when messing around with timelines and diverting what was supposed to happen.
While this film was originally released in January of 2015, many of the fans of the film were all but convinced that a sequel had to be in the works. While the group has a handful of disasterous outcomes they were all but able to rectify by the conclusion of the first film, they also discuss the likelihood of creating a second time machine and vow to do things right this time around. This clinging conclusion to the film left audiences assured that the story would continue, and that David and his friends would create another machine and alter the course of events once again.
So the question becomes: how likely is it that this movie is actually in the works?
As you well know, some sequels are broadcast years before their actual release, leaving no doubts to the viewership that another chapter in the tale is in production. These films usually open up to blockbuster weekends that come close, or actually do, exceed box office records. With a movie like Project Almanac, the box office wasn't blown away. In fact, of the millions that saw the film, there were very mixed reviews and ratings. So while the open ended conclusion of the film might have sparked some hope in those that loved the flick, major movie production companies rarely back a film that is not somewhat guaranteed to gross above the budget.
But does this mean it can never happen now? The short answer is no. While it does seem rather unlikely that a movie with such a variety of positive and negative feedback could have a shot at a sequel, there is nothing quite like the allure of something different when it is needed the most. This is what allowed Project Almanac to gross over 21 million dollars beyond the budget for the film. People wanted to see something that they couldn't find with the other films getting released at the time: originality.
If you were to believe everything you read on the internet, there are several resources to suggest that the movie stands a fair chance of getting another opportunity on the big screen. While films that are not guaranteed to pull in a specific amount of profit often become straight to disc or cable television releases, another installment in this time traveling series might not be that hard of a sell, especially with a broader initial budget and a plot that isn't loosely connected to the Butterfly Effect theory.
In order for audiences to see the next chapter of this film, where David and company reimagine his belated father's work, a lot of things have to happen. One, the film is going to have to be willing to step away from the "found footage" approach, as this is a one trick pony. Audiences are getting tired of seeing shaky camera work, no matter how good the acting or action might be. Secondly, legitimate actors and actresses are going to have to get involved, even with keeping the original main cast. It is the only way to garner enough attention to have Hollywood take notice enough to give the sequel a shot on the silver screen again.
While many viewers remain hopeful that Project Almanac 2 is in the works somewhere, the truth is that it likely isn't. The film did gross over $21 million in profits, but this was well below projections for the film. To Hollywood executives, the film failed to reach its potential and therefore had a dismal run in theaters. It seems very unlikely that anyone would be willing to roll the dice on whatever time traveling hijinks might have been in store.