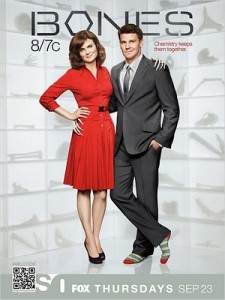 Season 6 Premiere: Thursday, September 23 at 8/7C on Fox
Bones returns in one week and whilst the season 5 finale was uneven in places and once again left Booth and Brennan shippers yelling at their televisions wanting more, at least we can be happy that it wasn't taking place in a sort of coma dream or that they had turned a central character in to a serial killer's assistant.
What you should know
Booth/Brennan- So what was it that incensed the Bones/Brennan shippers? Well the season ended with no kiss and with the pair going their separate ways. Brennan to a year long research project in the Maluku Islands in Indonesia and Booth re-enlisted in the Army to the rank of Sergeant Major and headed off to Afghanistan to train other soldiers. Both took up the former career that they had before they worked with each other, so is there an implication that when they return that they can start afresh together? There was no dramatic airport kiss, just hand holding, a meaningful look and a promise to meet in a years time at the reflecting pool in the National Mall. Brennan has definitely evolved this season and is getting better at reading people (thanks to Booth) and in a touching and amusing moment she tells Hodgins that she loves him too after he gives her a guidebook of poisonous bugs and reptiles.
Angela/Hodgins- Like Brennan and Booth they too are leaving the Jeffersonian for a year this time though it is for leisure and for love as the two who recently reconciled and married, head to Paris. It is great to see the couple back together and that they will both be getting out of the lab away from all the death that at times has had Angela questioning her place in the team. Angela initially started work at the Jeffersonian to finance a trip to Paris so it is great to see this dream finally fulfilled. Hodgins also made peace with Angela's over protective father (ZZ Top's Billy Gibbons) by getting his car back from a bunch of bikers that he had lost in a poker game.
Sweets/Daisy- After a glowing recommendation from Brennan, Daisy too is off to Maluku for the year but what does this mean regarding her engagement to Sweets? The end is what it seems as Sweets tells Daisy that a year is too long to wait as she jets off on adventure whilst he stays in DC, they are just too different after all. Is there hope for a reconciliation in the new season?
Cam- Cam also stays behind in her role at the Jeffersonian but after all her team have up and left for year long sabbaticals what will this mean for her? The role that Cam has as Michelle's adopted mother was further explored, showing that she really is learning day by day and that sometimes her actions aren't always the best thought out such as dating her adopted daughter's new gynecologist.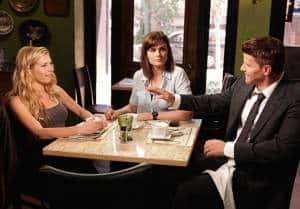 Will season 6 start off one year after the finale with Booth and Brennan meeting at the reflecting pool or will something bring them back sooner? Read on to find out (spoiler warning):
What to look for
Cam's job- The show picks up seven months later rather than a year as the squints are called back to Washington by prosecutor Caroline Julian, who does so because Cam's job at the Jeffersonian is in danger. The case that the team must tackle regards an unidentified body of a young boy, though it is not necessarily this specific case that has caused job issues for Cam.
Hannah- This new character is one that without having appeared yet has caused fans of Brennan and Booth to cry foul as she is Booth's new love interest . Hannah is war correspondent that Booth met in Afghanistan and it actually makes sense that he would have a love interest after he told Brennan that he needed to move on after she rejected him in the 100th episode. It will be interesting to see what the reaction to her will be when she finally makes her appearance in episode 2.
Parenthood- Booth returns to DC because of Parker showing that fatherhood is the number one priority for him and this is one element of Booth that has remained a constant for the character and the interactions between him and his son are always a joy to watch. Though he is not the only character who may be facing parental concerns as another member of the team is expecting. This one is pretty exciting and Fox have even teased it in their promos for the new season showing that Hodgins and Angela are bringing back a pretty big souvenir from Paris.
The Gravedigger and a New Threat- The Gravedigger (Heather Taffet) was convicted last season and will make an appearance in season 6, though it has been rumoured that she will make way for a new threat to the team; this time be in the form of a well trained sniper.
So fellow squints, excited for the return of our favourite Jeffersonian team? Do you already hate Hannah? What are you thoughts on Brennan's bangs?
Season 6 Premiere: Thursday, September 23 at 8/7C on Fox