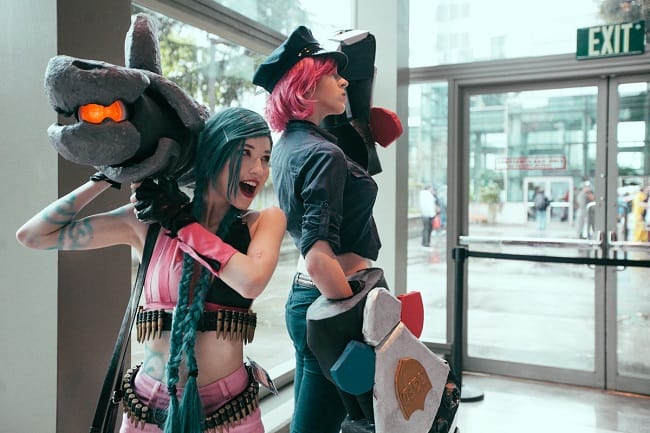 Cosplay is a huge industry that people from around the world are involved in. Thanks to the wave of video game enthusiasts who believe that dressing up isn't just for kids, dressing up as your character from the game is now perfectly socially acceptable. Thousands of adults either purchase or make their own Cosplay outfits. Some of these creative geniuses put so much detail into their work that the costumes they make are identical to the ones worn by their heroes/heroines (or villains).
Getting into character
Cosplay conventions offer an opportunity for like-minded fans to come together, where there is no judgment, other than how great the costumes are. Video gaming is a serious activity for some players. What better way to improve gaming skills than to go all the way and get into the head of your character by dressing up and temporarily adopting the persona? Gathering at a Cosplay convention is the perfect opportunity to compare costumes, find out how others made theirs, and get some ideas on how you can make your own.
League of Legends Cosplay
Some Cosplay enthusiasts have begun creating some seriously realistic costumes of the characters. The details are truly amazing, and show that they must have put a lot of time and effort into their creation. There are 138 League of Legends characters. Jinx is one of the most colorful land let's face it…Jinx is known to become intense so there is no room for fudging on the costume. She has that borderline psycho personality, but Jinx is a girl that can't help but cause trouble wherever she goes. When you think of her, the first thing that comes to mind is pandemonium. She's an impulsive criminal type and the costume has to be just as bright and vibrant as she is.
Kindred spirits
The passion that Cosplayers share for creating the perfect costume, goes beyond the basic materials and stitching. it also focuses on capturing the essence of the character Jinx. The conventions offer anyone who would like to get in costume, a chance to see what others are wearing and to compare the materials and techniques used to make them. It's great fun and a good meeting place for Jinx fans to get together.
A Gallery of League of Legends Jinx Cosplay
There are thousands of do it yourself Cosplay participants who insist on making their own costumes by hand. It's typical to see the Classic Jinx, Kinpatsu, as well as Firecracker Jinx, displaying her mini-gun and cannon. There are quite a few different directions you can take your Jinx costume for Cosplay. It's important to get the skin and the ears spot on if you want to do it right. We've put together a collection of the best Jinx Cosplay in our Gallery of League Legends: Jinx, for your entertainment. As you browse through our Jinx Cosplay, think about what you would really like, and what, perhaps, if anything, you would do differently. These are some of the most detailed and remarkable Jinx Costumes for Cosplay. We hope that you enjoy them.