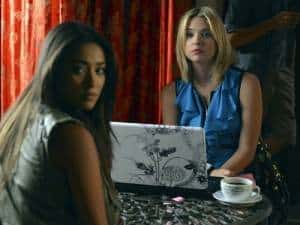 Sorry, Liars! Time to reconfigure your suspect wall and the theories to go with it, because tonight's episode of Pretty Little Liars knocked not one, but three persons of interest off your radar. At this rate, no one in Rosewood is worth trusting. Not even the four Liars themselves. Also, while that little reveal at the end of the episode was everything, there were a lot of other side stories moving nicely along that didn't drag the main 'A' storyline of the night.
The "A" Files: Maya and Her Cyber Breadcrumbs
After cleaning out her porch with Ashley, Hanna came across an old letter written by Maya, who left it for Emily on the night she was murdered. The note asked Emily to meet Maya somewhere, but the Liars couldn't make out the place due to the note being deteriorated. Hanna, spooked out her wits and frustrated that she can't get back with Caleb until 'A' is put down, decided to take matters into her own hands by scouring Maya's website to find clues to where Maya wanted to meet Emily. After an extensive search and some keen eyes of Emily, the girls noticed that Maya took several pictures of Noel Kahn's cabin, the scene of last week's Truth or Dare between Spencer, Jenna, Aria, and Noel.
After making their way to the cabin, the girls find a secret door that led to a room where it seems Maya had stayed in. They find Maya's lost bag (that the police have also been looking for, mind you) and inside the bag the girls found a pocketknife with the initials L.J. etched on it, a birthday card Emily had given Alison on her 14th birthday, and a bus ticket, which revealed Maya never left Rosewood. As this was discovered, the girls were attacked by 'A,' who trapped them in the cabin by closing and locking all the window shutters. During their escape, Hanna cuts herself with the pocketknife and once the girls are outside, there is a message from A: "I'm saving you for later. – 'A'"
While Hanna and Emily were fighting for their lives, Spencer decided to go after Noel for answers. Unfortunately, she was only met with attitude and slice of "freak" from Noel as the stylish weirdo commented on how he thought it was hot for Spencer to think he was a murderer. See? A "freak."
Determined and stubborn all at once, Spencer broke into Noel's gym locker while he was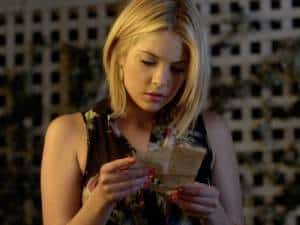 at practice and retrieved his phone to see just how well Noel actually knew Maya. Earlier he had claimed that he only knew Maya as a buyer of weed. Seeing that Maya's phone number wasn't in Noel's phone, Spencer returned the device, but still ran into Noel, who was none too pleased that Spencer was in his crap.
Later, Spencer got a message from Noel, who sent her footage of the cabin on the night Maya was murdered. The footage begun right where Garrett's case file stated Maya's time of death was (which was stated as being between 10pm and 2am) and sure enough, Maya appeared in the video looking scared. Some time after Maya entered the cabin, Noel and a still "blind" Jenna drove up to the place and entered it after kissing and fondling each other. Once they get inside, Maya was seen leaving from behind the cabin, but was snatched away by an unknown person.
The snatching happened around 1:14 am, which means that a) the defense's case against Garrett is now weak due to their star witness's claims of Garrett being with Maya at 9:00 pm, b) Garrett couldn't have been the culprit since he was arrested at Spencer's at midnight, and c) Jenna and Noel didn't have anything to do with Maya's death since she was abducted mere minutes after they entered the cabin.
Even though it sounds as if there is some new ominous threat out there the girls have no clue about, Garrett, Jenna, and Noel's innocence could easily be shattered just as fast as it was reclaimed. We are in living in an age where video footage can be expertly edited or looped to account for lost time. Whether Garrett, Noel, or Jenna have the skills to pull off such a task remains to be seen, but they at least have the money to pay someone with those particular skills. I mean, it's not called The 'A-Team' for nothing. With that said, I have my own suspicions about Maya's murder and it doesn't involve the three 'exonerated' suspects I've mentioned so far tonight (more on that later).
Relationships of Rosewood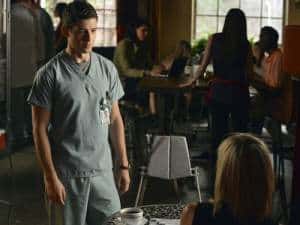 You can't have a complete Pretty Little Liars episode without having relationship problems complicate the overall 'A' mystery and tonight was no different.
Hanna had to deal with Wren's advances without telling the good ole doctor that she's back with Caleb, because she doesn't 'A' to find out and harm Caleb in some way. For Wren, however, Hanna's 'excuses' don't give a concrete reason for them not to explore the kiss they had back at the asylum. When Hanna stabbed herself trying to get out of the Kahns' cabin, it was Wren who she called to clean the wound and put in the stitches to avoid a trip to the hospital. Even then, Hanna had to lie and make an excuse to not give Wren a chance. As a card-carrying member of the Hanna/Caleb fan club, I'm going to need Dr. Wren to stop taking house calls when it comes to Hanna.
While Hanna was trying to avoid another relationship, Aria was trying to understand the latest bombshell dropped within hers. Still not comfortable with Ezra's mother paying off Ezra's first love Maggie to have an abortion and disappear, Aria confronted Ezra on why this particular piece of information popped up now instead of earlier and why he never contacted Maggie. Ezra compared it to Aria's secrets about Jenna and A, which Aria declared invalid in the argument. Later after discovering that despite her parents being together since high school and still discovered new things about each other once they were married, Aria had a change of heart in understanding Ezra's plight. Then Ezra announced that he recently just did try to reach out to Maggie, but we don't know what all was said. Wonder what Ezra's going to say about the new 'A?'
Speaking of Aria's parents, Ella found herself getting closer to Zach the coffee shop owner, who admitted that he was dating only Ella, while Ella was dating half of Rosewood. It took Aria, who just met Zach in this episode, to give Ella the information that Zach is an okay guy despite his youth and looks, which Ella felt gave Zach due diligence to have women falling at his feet. It's about time Ella has some fun after Byron's jackass behind crushed her during his mid-life crisis. I hope Zach stays for the long run and doesn't have anything to do with the 'A' Team, whatsoever.
Finally, there's Emily and Paige, who seem to vibe well together at the moment.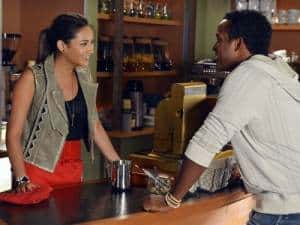 But by this being Pretty Little Liars where Emily doesn't have the luxury of being happy no matter who she is with, the smooth sailing of Pamily hit an ugly iceberg in this episode. After promising Paige that they would have a movie date at her house later that night, Emily was distracted by both the incident at the cabin and Nate, Maya's cousin, showing his ass at her job again after confronting Jenna about blowing him off. Later after Emily returned from her 'A' captivity, she found an apologetic Nate sitting on her porch wanting to talk. Emily showed Maya's bag to Nate (which I thought was a pretty dumbass move for other obvious reasons) and the two get so emotional that Nate kisses Emily, who did not hold back. Regrettably this is when Paige decides to show up unbeknownst to Emily and she takes off, but takes her rage out on two or three garbage cans on the way home. See, I told yall that girl was still coo-coo for Cocoa Puffs…
The next day, Emily found Paige to see if she was alright since Paige sent her a text calling off their date after becoming "sick." After declaring herself "better," Paige played dumb to Emily's kiss with Nate, but not enough for Emily to know something is up and that Paige could know about it. There is an 'A' out there, you know, but in this case 'A' is exonerated as well. For now. Or are they? Remember my suspicions about Maya's murderer? This is where it comes into play, because I honestly believe that Paige killed Maya out of a fit of rage over Emily. It would make sense that Maya either found out something involving 'A' and just got killed by the wrong culprit, or Maya might have found out that Paige had something to do with Ali's death and literally killed two birds with one stone. It's a possibility that shouldn't be ignored, because Paige obviously has not gotten over her violent streak and could be a danger to our Emily.
So what were your observations about this episode of Pretty Little Liars? Do you have to come up with new suspects as well? Do you think Paige has anything to do with Maya's death? Speak out below!
Tell us what's wrong with this post? How could we improve it? :)
Let us improve this post!