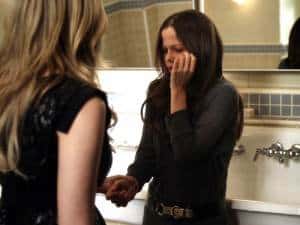 The tension in Rosewood grew thicker on Pretty Little Liars last night to the point that the parental units are even starting to gasp for air now. The finale is almost here and the stakes are steadily being raised for what could be an agonizing wait before the second season premiere on June 14th.
Instead of a bulky review, I'm just going to list my favorite scenes or moments of note from last night's episode with reasons why each moment stuck out with me. I'd like to hear what your fave moments were in the Forums and hopefully compare notes and possibly clues.
1 – Jenna Getting The Taste Slapped Out of Her Mouth
While I don't condone going around and slapping blind people, I couldn't help but howl when Hanna served Jenna a palm salad with gusto. Even though Jenna is blind and has a motive to be gunning for the Little Liars, she had to have expected some sort of confrontation from them at some point in the game. With that said though, I had my sympathy card played when I saw her tears. Just for a little bit.
2 – Hanna's Broken Heart/Owl Pendant
The reason behind the Jenna Slap was the fact that Hanna had found out that Caleb was playing her in the beginning as a ploy of Jenna trying to get info on Hanna. The heartbreak stung the worst after Hanna lost her virginity (?) with Caleb last week and defied Ashley in the guy's defense as well. While Caleb looked genuinely sorry about his betrayal, it seems like it might be too little, too late. If Mama Ashley finds out, the crap will hit the fan big time.
This leads us to the owl pendant/jump drive that Hanna thought was a gift to her from Caleb, but was actually Jenna's little token of information, which might prove useful/integral in the future. Plus, was the number 214 What's on the thing? Does Caleb know more than he's claiming to know and does he know something without knowing the relevance it might have to the overall mystery? Is Jenna really 'A' after all?
3 – Let's Kill Ian!!! NOW!
Speaking of Jenna, let's play connect the dots for a minute. Ian gives Jenna a bag filled with something which is later found in Room 214 of the hotel room with a note saying that the girls were getting colder. Then we find out that the number 214 is also (actually?) the locker combination belonging to Caleb, who we just found out was doing reconnaissance on Hanna on Jenna's behalf. If this guy isn't connected to this mystery in some way or fashion, again, I will highly be upset.
Let's say for the sake of the argument that Ian wasn't involved with Allison's murder and is only truly trying to protect his future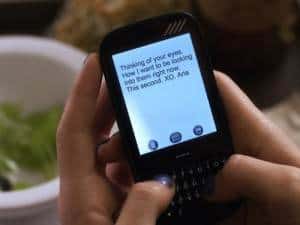 family by covering the fact that he had a relationship with her. It is a bit of a stretch for him to let Spencer, his sister in law, take the fall for a murder she didn't commit, which could do more harm in the future than him being a man and coming clean about his past transgressions. It speaks highly of his character and is my umero numero reason for his chin to meet the metal of an 18-wheeler truck.
4 – Aria Almost Shoots Herself In The Foot/Michael, Please Grow the Hell Up…
While I was spared more Ezra/Aria drama this week, the plot still got better without him even being there. Why? Because Aria accidently clued Ella and Byron of having a significant other, which has Byron in a tizzy given Aria's "involvement" with Allison's murder case. Didn't anybody else roll their eyes when Byron, while in Aria's room, walked straight towards the book Ezra gave her? If Byron had of looked closely and found that message, I would've thrown up my hands in disbelief.
However, I would've also welcomed that more than Michael's temper tantrum after he walked in on Ella and Byron debating about Aria's privacy, because he acted like he was 10 when he confronted Aria about messing their parents eventual reunion up. For someone who is a jock and in high school, he surely seems like he belongs in the third grade sandbox. Grow up already.
5 – Only Emily Fields Can Wear A Shade of Jealousy and Get Away With It
Last week, I wasn't feeling the Emily/Paige pairing and this week isn't any different. I still cannot overlook that Paige technically tried to 'kill' Emily and has some pretty aggressive tendancies when it comes to her anger problems. I just hope this doesn't head in a domestic violence storyline soon, because I will most definitely be yelling "I told you so!" across the board.
Despite all that, I liked how Emily played the jealousy card when Paige showed interest in Shawn and vice versa. The line of the night for me was Emily claimed that she and Paige swam for the same team, but she didn't know about her love life. Talk about a double entendre!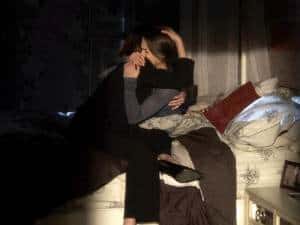 6 – Spencer's In the Eye of the Storm
With everything closing in on Spencer, it's nice to see someone other than the other Little Liars having the girl's back. I'm beginning to love Mrs. Hastings more and more now, but while she does have her set backs at times, she still comes through in the end for her daughter, which is all kinds of awesome. On the Spencer's other side is the still surprising relationship with Toby, which works on so many levels.
7 – Where The Hell Was 'A'?
Yes, they showed up during the credits sequence with the creepily hilarious breaking of Hanna's heart, but the Rosewood culprit was oddly absent from tonight's episode, which is weird since we're so close to endgame at this point. I'm guessing that A's presence will be prevalent in these last two episodes? Of course they will…
Your thoughts?
Photo Credits: ABC Family