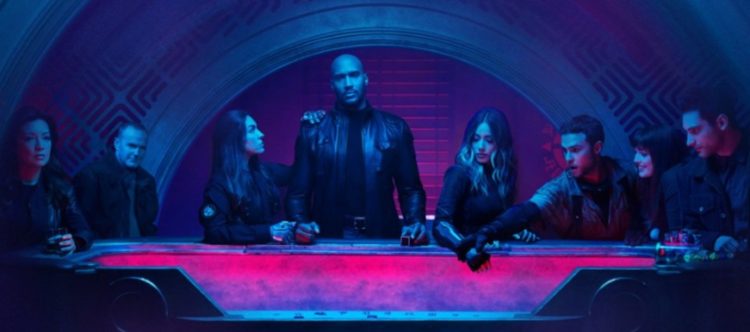 ABC's renewal of Agents of S.H.I.E.L.D season seven has come as a surprise to many people. Surprisingly, season 7 has begun shooting way before the premiere of season six. The news about season seven came as a surprise to many people when Ming-Na Wen, one of the show's stars, broke the news on her Instagram page. Poor ratings have been the source of speculations that the show would end at season six. Clearly, Marvel Television has different plans for the show. Below are a few things to expect in season six and seven of the Agents of S.H.I.E.L.D:
1. There will be less episodes in season seven
Traditionally, all Agents S.H.I.E.L.D seasons have 22 episodes. The same will not apply for season seven of the show. This was also the case for season six of the show. The shows will be shot back to back in order to save on costs.
2. Quake Might be more Powerful in Season Seven
In season six, she injected herself with centipede serum in order to defeat Graviton. We are not fully aware of the components that make up; but as of now, the centipede serum is made up of extremis and Jialing's healing properties. In season seven, we are waiting to discover if indeed the centipede serum contains the super soldier serum and gamma radiation. Normally, when Quake acquires new powers, she causes lots of damage and as a result she always loses something. In season seven, we will be curious to find out what her new super powers can do, and the losses they bring to her life. In season six, following the enhancement of her powers she had to where gauntlets. We are curious to see if she will be wearing them in season seven.
A new adventure is coming your way. Marvel's #AgentsofSHIELD returns to ABC in 1 month! pic.twitter.com/BlA5TKYuZY

— Marvel's Agents of S.H.I.E.L.D. (@AgentsofSHIELD) April 10, 2019
3. The Identity of The Sixth Member of The Confederacy Might be revealed
The confederacy was one of the biggest threats Agents of S.H.I.E.L.D faced in season five. This group is a thousand year old coalition of villains who trade with each other and plunder other worlds together. The members of the confederacy include: the brutal rajacks, Remorath who are a shadow warrior race, the Kallusians who are suspected to be a nomadic race, the Astrans who are known for their metal manipulating ways . In season seven, we suspect that the Rajacks will be coming back for revenge. This is because Graviton killed their leader. Secondly, after the Agents of S.H.I.E.L.D revealed that there was a sixth member of the confederacy, we hope the identity of these aliens will be revealed to as in the seventh season.
4. The Fate of Phil Coulson
The question that is on every person's mind is whether Phil Coulson really died. Phil Coulson had a close encounter with death. This was one of the side effects project T.A.H.I.T.I had on Phil Coulson. AS supers shows are wont to do, they never end anyone's life completely. Regardless of showing the corpse, no one can really tell if Coulson will be back or not. In season seven, fans will be anxious to find out the fate of Phil Coulson. Additionally, since Phil Coulson's role is always evolving, fans will be very much interested to see what developments there may be in this exceptional character.
5. Fitz and his return from space
As an INTPS, Leo Fitz's intellect and innovations are unrivaled. He plays an important role in ensuring that all agents are successful in their endeavors and always return home safe. He is also famous for his unrelenting logic; this is why he belongs to a group of people referred to as logicians. Watching Leo Fitz come up with conclusions is nothing short of mesmerizing. This is why his absence is a cause for alarm. As it is currently, Leo Fitz is slumbering in a cryogenic sleep somewhere in outer space. Agents of S.H.I.E.L.D season six will primarily be operating in space trying to find Leo Fitz. The question on everyone's mind is whether the agents of shield will be successful. If he is not retrieved in season six, we wonder if he will be saved in season 7. His disappearance is strange and saddening experience for his beloved Simmons. This is because Simmons had spent quite a good amount of time with Fitz and even married him. In season seven we will be curious to see how their reunion will be if he is retrieved in season six. If he is not, it will be interesting to watch how Simmons will behave during the rescue mission.
6. Quake might have a fashion make over
Ove r the years, Quake has dazzled the fandom with her refreshing looks and fashion sense. This has been a trend since season four of the Agents of S.H.I.E.L.D. In season six, quake adorns a new hairstyle and has a brand new costume which is due to lack of a better word stunning. This being the case, Quake might actually surprise us with a brand new costume and hair do come season 7.
7. The fate of Deke
Deke is a time traveler; he comes from a now-averted earth that is utterly destroyed. One cannot help but wonder how Deke will work with the Agents of S.H.I.E.L.D. Additionally, I believe Deke will play an important role in saving the earth from it's, seemingly, inescapable demise. He is also head over heels with Quake. However, this love is not mutually felt. Quake, it appears, has no feelings for Deke. That notwithstanding, I think circumstances in both season six and seven may bring them close. If this does not happen, Deke might find someone else who will share his love.
8. Vijay Nadeer may return
Vijay Nadeer has been through terrible circumstances. These unfortunate circumstances include being shot by his sister and having his body dumped into the ocean. He is also unfortunate enough to possess an in-human gene. After his body was dumped, Vijay underwent terrigenesis. This process is harmful to the inhuman mind. Vijay's return is long overdue. My prediction is that Vijay may make an appearance in season seven.
9. The ghost rider might come back
At the end of season four, the ghost rider takes possession of the darkhold. In the process, he used his chain to open a portal, which he walks into. He has not been seen ever since. The ghost rider may make an appearance in season seven. Fans are curious to know where the portal led him to and what he has been up to.
10. The mystery of Davis
The death and resurrection of this man is covered with mystery. Many people believe that Davis was murdered by Aida, but these are mere speculations. The mystery surrounding his death and resurrection may be explained in depth in season seven. Season seven is surely something to look forward to.