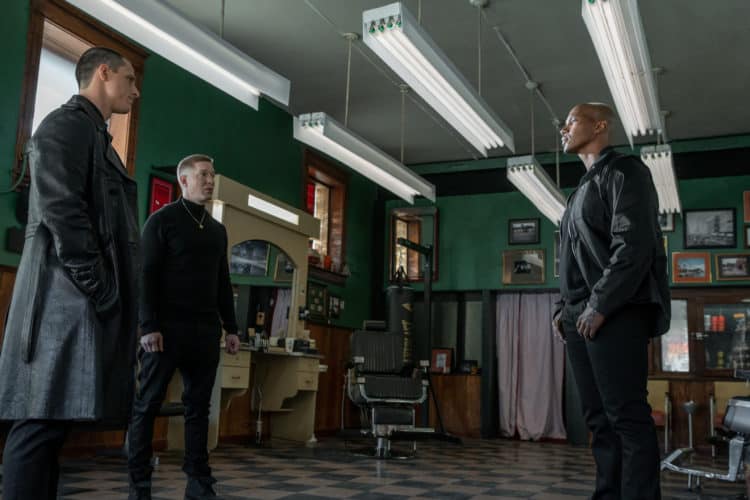 In Power Book IV Force Season 1, Episode 4, Tommy was forced to confront his past when Liliana unknowingly stole drugs from the Serbs. Vic Flynn forged an alliance with Walter and Tommy which led to him assisting Tommy in taking out some of the Serbs. Claudia blackmailed the physician that created the new designer drug for the formula.
Hello Dahlia
Now that the street politics are handled, Power Book IV Force Season 1, Episode 5 gets down to the nitty-gritty. At the onset of the episode, Claudia tracks down Tommy and gives him a taste of Dahlia, the new designer drug that she's trying to move. For a minute, we don't know whether Tommy is more smitten with the drug or Claudia's exotic kiss. However, when he recounts the incident to Liliana, it's the mysterious drug rocked his world.
Tommy describes the drug as the best high he's ever experienced. Claudia wants him to help her move it. Tommy asks Liliana to cut the drug to analyze its composition. It's nice to see how much Tommy and Liliana's friendship is growing. She's fiercely loyal to him even though he tried to kill her back in New York. Even though Tommy doesn't want to admit it, he cares about her just as much, which is why he offers her money to get out of town while he deals with the Serbs. But she makes it clear that she's staying in Chicago with him.
Detective Bennigan runs into Diamond and uses the opportunity to harass him. The detective tries to use his past behind him, but Diamond reminds him that his repentance was doing his 15 years in prison. Diamond surprises Detective Bennigan when he brings up the fact that he's a dirty cop, which doesn't make him much of a better man.
New Partnerships
Meanwhile, the Serbian leader is grieving the loss of Tatiana and sends the rest of his soldiers out to kill Tommy. Tommy knows that the Serbians are after him, and the only way he has a chance to take them out is to obtain an army of soldiers. He brokers a deal with Diamond giving him a generous portion of the Serbian pipeline. Diamond agrees when he finds out Vic is also onboard. Jenard is hesitant to work with Tommy and Victor Flynn. Diamond is able to get him to see the bigger picture.
Liliana is unable to cut the mystery drug that Claudia brought to Tommy. She admits to Tommy that she's never seen anything like it. Tommy meets up with Claudia at her penthouse, and they agree on a 60/40 split. Before they get down to business, Claudia needs Tommy to run interference. Tommy stops a truck delivery guy from transporting a batch of the unique drug to another dealer and gives the guy a job working for him.
Game On
Tommy, Vic, Diamond, and the crews hit the Serbian's spot one by one. Vic loses his right-hand man. Jenard's best friend, who was going to help him take CBI back, is also killed. After they take down all of the Serbian soldiers, Tommy gets a call from the Serbian leader, Mirkovic. They have Liliana. After trying Dahlia, Liliana got so high she left Tommy's apartment. Diamond and Vic made it clear that they had fulfilled their duty as planned and that Tommy was on his own with getting Liliana back. To be fair, they had both lost soldiers they loved. Tommy doesn't waste any time going to meet up with the Serbian leader to save Liliana. At the meetup spot, Tommy tries to negotiate with Mirkovic, but he doesn't have any leverage to stand on. Just when it seems as if Tommy is out of luck, a drive-by shooting startles them all, and Liliana breaks away. Spooked, the Serbians jump in their vehicle and speed away.
First Kill
Mai was beyond pissed when she found out that the shipment of Dahlia was stolen. Claudia played ignorant and reminded Mai that she needed her help for situations like this. Mai slapped her, threatened to take the drug elsewhere and stormed out. Claudia stabbed her in the neck, killing her instantly. It's the first time that Claudia has ever killed someone. Clearly shaken up, she sits down at her desk, takes a deep breath and pours herself a stiff drink as her former business partner bleeds out on her white carpet. Walter Flynn worked so hard to keep his daughter away from the game to protect her from what came with the life like murder.