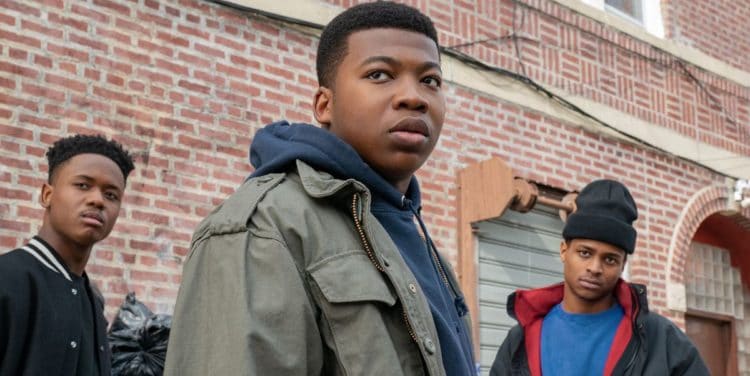 In Power, we got to meet the stone-cold killer Kanan Stark played by Curtis Jackson. He met his demise in a shoot-out with police after he was set up by Ghost, Tasha, and Tariq. Power Book III Raising Kanan rewinds the clock to 1991 in South Jamaica Queens, where Kanan grew up. In this series in the Power universe, we explore Kanan's childhood. In the original series, it's hard to imagine Kanan, the man who took his own son's life with no remorse as having any innocence. In the first episode, we see how he was a kind-natured person once upon a time.
In the first episode, the audience is introduced to Kanan's family. His mother, Raq is a powerhouse; not only is she the head of her family, but she's the boss of their family's drug empire. She calls the shots, makes the plays, and her brothers abide by her rules. We also meet Jukebox Kanan's cousin, who also made several appearances in the original Power series. She grew up to be a dirty cop and one of the coldest of them all. Although it's fairly early in the season, here are some realistic predictions we came up with just from watching the first episode:
Prediction # 1: Kanan is going to run into some serious trouble jumping into the drug business
It's clear from the first episode that Kanan is moving entirely too fast. When you move too fast in such a risky business, you're liable to make dangerous mistakes. Kanan begins to pry too much into the family drug business after being shielded from the lifestyle his entire life. His mother admonishes him to focus on school. However, when his family is targeted in a warning driveby shooting when leaving a local diner, Kanan starts to take things into his own hand, not realizing that he is in over his head. His desire to protect his mother will most likely consume him and lead him to the streets.
Prediction # 2: Raq brothers will eventually start to challenge her leadership
It's rare to see a woman as the head honcho in the drug business. Raq has two brothers, but in many ways, she is the head of her family. At one point in the first episode, her brother begins to question her decision-making. When she decides to agree with a rival dealer in the area, her brother becomes angry. It's obvious that they are tired of Raq calling the shots.
Prediction # 3: Kanaan is going to end up with Davina
Kanan has been in love with Davina since the first grade. After mistakenly killing her boyfriend for shooting at his family, the door is open for him to begin developing a relationship with her. After hearing rumors that Kanan was somehow involved or knew something, he has. It's obvious that there is a connection between the two.
Prediction # 4: Jukebox will have to choose between her first love and the lifestyle she is accustomed to. to shut them down quickly
Jukebox meets a special girl across town at a private school, bringing out her softer side. The blooming romance shows promise, but her love interest doesn't understand her lifestyle. Despite her girlfriend's encouragement to focus on the choir and other positive things, Jukebox is always being called away to participate in petty crimes. Jukebox's life of crime is bound to become a major issue in her relationship.
Prediction # 5: Raq is going to fall for the smart and sexy bartender
Raq meets a sexy bartender while dropping in at an upscale restaurant owned by their biggest customers. Raq and the bartender ended up having a brief conversation, but you can tell that she's attracted to his intelligence. Although they didn't exchange numbers, they will likely meet again down the line and explore their connection.
Prediction # 6 Raq and Kanaan's relationship will become strained
Raq has plans for Kanan's future. She's hell-bent on him going to college and doing something impactful with his life. She's dedicated to preventing Kanan from getting involved in the streets. On the other hand, Kanan wants to decide what he will do with his life. He starts getting involved with the business behind her back.
Prediction # 7 A war might ensue between Raq and Unique
Unique respects Raq, at least to her face he does. The two are in conflict about who should get what blocks. Even though Raq handles the matter by separating the territory. Unique doesn't particularly like the fact that Raqu claimed an extra block. Raq was used to dealing with Unique's brother, who Unique alludes to the fact that Raq in his brother had an intimate relationship. After his brother went down and went to prison, Unique became in charge.
Overall, Power Book III Raising Kanan shows great promise. The entire show is narrated by Curtis Jackson, which makes it more interesting. Like its predecessors, we can expect a lot of twists and turns in this series. Will you be watching?
Tell us what's wrong with this post? How could we improve it? :)
Let us improve this post!