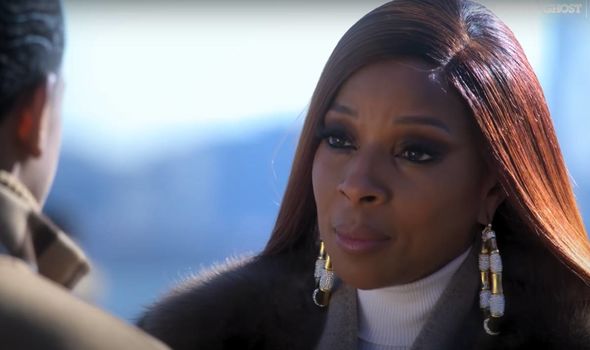 If you can't tell that she's running the show from the expensive Chinchilla furs, the high-end get up and her menacing gaze you'll find out soon enough. Although Power Book II: Ghost, is centered around Tariq St. Patrick's life as a college student and a burgeoning drug lord, Monet Tejada steals the show. It's her world. She makes the decisions and you either get in line or keep it moving. It's important that we take a moment and explore the complexities of Monet Tejada's character played by the legendary Mary J. Blige. On the surface, Monet comes off as dismissive, cold, and controlling. There is a mystery surrounding this woman yet as the series develops we learn exactly who is Monet Tejada is and how far she's willing to go.
Who Is Monet Tejada?
Monet Tejada is a notorious queen pin. After her husband was imprisoned on drug and gang affiliation charges she became the head of the Tejada crime family. Monet is ruthless and she runs her organization with manicured iron fist. With Monet, what you see is what you'll get. She's about her family and her money.
Devoted Wife, Mother And All Of The Above
Monet is married to Lorenzo Tedana and together they have three children, Dru, Cane, and Diane Tejada. She's also a surrogate mom to her nephew Ezekiel a skilled basketball player with pro ball aspirations. Although her children are grown, Monet still has a lot of influence in their lives and at times it can be overbearing. In Season 2 of Power Book II Ghost, Dru and Diana is desperately ready to be freed from the nest and they start to explore the possibility of living life Monet's tight reign over her family has a lot to do with the position she's running one of the biggest drug operations in Yonkers. She's determined to keep her children safe, out of jail and the best way to do that is to keep them close and teach them how to move the right way. In an interview, Mary J. Blige reveals that Monet's character was inspired by her mom. Blige grew up in the housing project in a single-parent household. Every woman she knew was like her Monet, including her mom who hustled to make ends meet in a male-dominated environment.
Why Are Fans So Intrigued By Monet's Character?
Our favorite gangster series like The Sopranos and The Wire were all centered around male figures. However, the Power Universe, specifically Power Book II: Ghost and Power Book III: Raising Kanan embraces black female leadership. We get to see beautiful women in positions of power and that's one of the main reasons why fans find Monet's character so intriguing. Although Lorenzo is still a power player in the Tejada organization and calls the shots behind bars Monet is running the show. According to Mary J. Blige, her character has always been the brains behind the organization, but like a good wife, she lets Lorenzo take the credit. As a woman at the head of a powerful crime family, Monet has to make tough decisions and sacrifices to ensure that her family is safe. For instance, her affair with a dirty NYPD cop in Season 1 was for protection. Monet was forced to keep it a secret from Lorenzo. Now that Lorenzo's character has been bumped up to a series regular in Season 2, we're anxious to see how their relationship plays out.
Monet And Ghost Share Several Similarities
Monet and Ghost come from two different hoods and are in no way connected. However, these two powerful characters share many similarities. Don't let the six-inch stilettos, the designer clothes, or the furs fool you. Monet is a cold-blooded killer and she is just as deadly as Ghost. Monet is also just as smart and strategic as Ghost. Ghost was more so book smart before he learned the game. If you let Courtney Kemp the show's creator tell it, Monet's learning doesn't come from books. Her knowledge comes from the streets. Ghost has a soft spot for his family, his bestfriend Tommy, and the love of his life, Angela Valdez. Monet on the other hand is all business at the end of Season 1, she even disowned her own son. As a woman in such a cutthroat industry, Monet can't afford such luxuries.
What Happens To Monet On Season 2?
Monet is still a main character on Power Book II: Ghost in Season 2. Thanks to Tariq, her organization will experience tremendous financial growth. It wouldn't be Power if there weren't any enemies looking to take her down. It turns out her enemy may be the person closest to her.
Tell us what's wrong with this post? How could we improve it? :)
Let us improve this post!