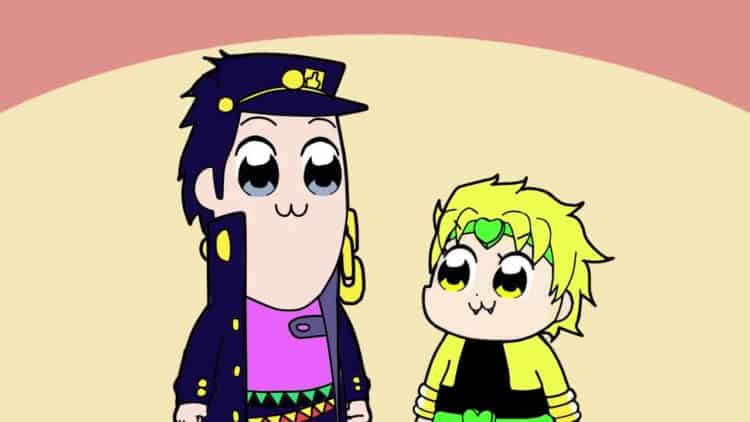 Though much is made of the bizarre nature of Pop Team Epic, and though its pop culture parodies, absurdities, surrealism, exaggeration and non-sequitur have contributed much to its cult popularity in Japan and the West, Pop Team Epic is at its core an exceedingly clever creation. Much of its popularity comes from its multi-leveled-ness. It can be enjoyed at face value for its wacky sight gags and in-your-face language. But its cleverness runs deep, paralleling the many layers of Japanese culture.
It's presented in two forms; the original digital comedy manga series and an adaptation television anime series. Both formats feature the unlikely teenage pair of Popuko and Pipimi, whose antics infuse both formats with a wild array of unrelated activities and experiences. In fact, there's rarely any continuity from segment to segment and the unexpected succeeds quite well.
1. Pop Team Epic is a Yonkoma.
That's a Japanese format for a comic strip. It has four drawings arranged in vertical order. Each of the four drawings shows a moment in time. The Yonkoma format is typical in Asian newspapers where each of the four drawings are printed in panels of equal size. The first Yonkoma was produced by Kitazawa Yasuji in 1902. He was a nihonga artist, specializing in traditional Japanese painting styles; though he studied painting in western-style. His pen name was Kitazawa Rakuten and he inspired many animators and manga artists. He holds the distinction of being manga's founding father. He was the first artist in Japan to work professionally as a cartoonist.
2. Pop Team Epic's Yonkoma use Kishōtenketsu structure.
The word Kishōtenketsu is a compound of four syllables called characters. Each character is a Chinese logogram- a picture which represents a word or phrase. The logograms were adopted from Chinese writing and included in the Japanese system of writing. Kishōtenketsu is the classic structure first used in Chinese poetry which had only four lines. "Ki" is the introduction panel, and it starts the story. "Shō" is the second and it develops the story. "Ten" is the third and it includes an unexpected development and the story's climax. "Ketsu" is the fourth and shows the effects of what happened in the third panel. It is the ending of the story.
3. In the Japanese version of Pop Team Epic, Popuko describes herself as just an average girl.
She says that the she is "an average 14-year-old" who is a "girl that you can find anywhere". Popuko uses a bat to fight. She's a short girl. She wears her slightly orange hair short with yellow ribbons holding up pigtails. Her eyes are also yellow. Popuko has a bad temper and little things set it off. Though she's cute in her sailor outfit, she's almost a sociopath and has been known to attack or kill someone who makes her angry.
4. Pipimi describes herself as "stoic" and "never ever" getting upset.
She's the other half of the teen duo, but she is tall with light blue eyes. Her eyes were pink when the first set, but now, they coordinate with her navy-blue colored hair. Compared to Popuko's quick temper, Pipimi is rare to show anger. Most of the time, she stays calm. In one scene of the comic strip, Popuko punched her many times, but Pipimi kept her calm disposition. Though she appears to be the nicer of the two, she adores using violent intentions within calm manners to protect Popuko from other girls who tease and make fun of her. Truth is that both Popuko and Pipimi don't mind killing people who aggravate them.
5. Some of the Pop Team Epic strips don't focus on Popuko and Pipimi at all.
The 4-koma (four panel) manga was created by Bukubu (bkub) Okawa in 2014. Bukubu wrote and illustrated the surreal comedy to chronicle the bizarre adventures of Popuko and Pipimi, the profane young girls who are the main characters. However, there are some strips which have nothing to do with the girl protagonists but are about other characters and their weird activities.
6. The anime series uses different animation studios and many animators for different segments.
Kamikaze Douga does segments using 3D computer animation, Space Neko Company does 2D animated segments, Makoto Yamashita uses his own pixel art animation for the "POP TEAM 8bit" segments which parody video games, AC-bu add their off-model style to the art, UchoPeople create the stop motion music videos with felted puppets, and many other artists contribute to the various show segments.
7. The "JAPON MiGNON" anime sketches are by Thibault Tresca, a French animator.
Tresca writes and directs the sketches which feature Popuko and Pipimi's travels through France. Unlike the other segments, which have the two teens voiced by dozens of female and male voices, two French native speakers voice the sketches in France. Tresca doesn't understand Japanese, so he tells jokes about humorous French living rather than stories typical of Japan. On a side note, the series has often used foreign languages for the heck of it, using Okinawan and Japanese dialects, and Southern American drawl. Many of the dialogs are completely improvisatory on top of the linguistic shenanigans. Some fans to complain that including male voices is disrespectful to the characters while others have countered that including both female and male Voice Actors allows for random sounds.
8. Kotar Sudo, Pop Team Epic's producer, appreciates American pop culture so much that the anime version contains many cultural cross-references.
There's a long list of references to Die Hard, a variety of Disney movies, Justin Bieber, Cuphead, Michael Jackson, Undertale and plenty of Japanese video games and other anime.
9. Popuko is afraid of thunder.
She's so completely afraid of thunderstorms that she resorts to cursing at them.
10. An incredible number of humorous jabs are aimed at Takeshobo; which publishes Pop Team Epic.
These playful jabs include shafting the publisher at parties, placing the Takeshobo sign on a waffle impersonating the publisher's office building during a promotion for a dessert café, having a manga artist about to submit his new work to the publisher have Popuko and Pipimi offer him a better deal with their own publishing company, and Takeshobo's destruction in Episode 12.
Tell us what's wrong with this post? How could we improve it? :)
Let us improve this post!