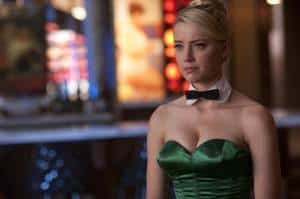 "It's not about who you are. It's about what you portray."
Near the close of Monday night's second episode of The Playboy Club, a line was uttered that pretty well encapsulated the first two episodes of the show. The Bunnies of The Playboy Club may make a living showing what they've got, but once the tail comes off, the walls go back up, as each of the five main girls are carrying around secrets that are slowly wearing them down.
Most obvious in her secrecy is Maureen, who spent her second straight episode nearly broken from her encounter with Bruno Bianchi and daydreaming about becoming something special. Before the episode ended, I was a little frustrated that everything from the pilot seemed to be wrapped up way too cleanly; Maureen had gotten rid of the men who found Bianchi's key, Carol-Lynne had believed her story of a botched robbery that caused the blood stains on her uniform, and any trace of evidence linking her (and Nick) to the crime scene seemed to have vanished. Thankfully, Carol-Lynne doesn't seem to be willing to trust Maureen from now on, despite her aptitude at remembering the Bunny Manual, which led to a wonderful exchange where you had to wonder if Carol-Lynne wasn't involved with the mob, too. The way she went about (indirectly) threatening new Playboy covergirl Maureen was rather cold and we've seen how much pull Carol-Lynne has around Chicago.
What pleased me most was the fact that we got a slightly deeper look at the rest of the Bunnies tonight, even bringing in two minor characters to continue the world building. The pilot may have had a lot of focus on Nick, Maureen, and Carol-Lynne, but most shows live and die by how strong its supporting cast is and getting the other Bunnies more involved was a positive move for the show. We may have only gotten a glimpse at the woman behind the ears (i.e. Janie's mysterious husband, who is apparently crazy and a Playboy subscriber), but the main thing I want to see out of a new show is progress and intention, both of which The Playboy Club seems to have after its second episode. The most progress was made by Brenda, who went from slinging sassy lines to showcasing vulnerability, with both her real estate fund and her impassioned speech at the interview for the Playboy cover adding a little dimension to her character. Naturi Naughton has shown to be a capable actress in the past and allowing her more to do will inject the show with the energy it needs when it's away from the club.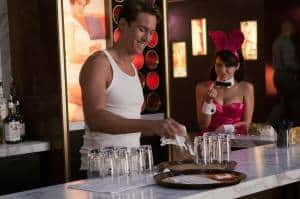 "The Scarlet Bunny" wasn't without its faults, however. While finding out about the Bunnies was a good early step for the show, I still can't seem to get invested in anything involving Nick. Bringing Sean in to his world could work, in that it'll entangle the characters that much more, but the entire duration of "The Scarlet Bunny", the scenes involving his political aspirations and his attempt to woo back Carol-Lynne weren't as engaging. I don't know if it's just the fact that it's still early in the show, therefore the tension will increase as we go along, or if I'm just not 100% connected to Nick as a character, but whenever the show takes a detour from the club, there's a distinct slow down in the proceedings. Perhaps in proceeding episodes we'll get a look at Nick's past like we got tonight with the pasts of the bunnies, therefore making him a more sympathetic character, but right now, he's just a pretty face with an eye for good chocolate and fast cars.
Considering its ratings problems and woeful reception by critics, I don't think The Playboy Club is long for this world, which is a shame because I think the show is heading in the right direction. The Bunnies are getting fairly decent backstories now, the dynamic between Maureen and Carol-Lynne continues to be fascinating, and there's been enough forward movement to be able to (mostly) overlook the slower scenes with Nick. The Bunnies of The Playboy Club may be carrying their own secrets around, but The Playboy Club has a secret of its own.
It has the potential to get really, really good.
The Playboy Club airs Monday nights at 10:00 on NBC.
Thoughts, Quotes, & Observations:
"Bunnies are bunnies and playmates are playmates. They're different."
"Yeah, Janie. You're always naked."
"Everybody knows I'm the resident whore around here and I'm not ready to give up the title."
Billy Zane will be joining the cast (on a recurring basis) starting in a few episodes. He'll be playing Bruno's younger brother/John's uncle who'll be trying to gain control of the Chicago mob now that its boss has been offed.
Sean Maher, the actor who plays Alice's closeted husband Sean, has officially come out of the closet. Mazel tov.
Special cameo tonight: the camera from the Pan Am pilot. I wonder if it has a SAG card yet.
We found out that Nick was a fixer/cleaner for Bianchi. I don't know about you, but despite the fact that he's not batted an eyelash since disposing of the body, I'm more intimidated by Carol-Lynne than I am by Nick.
Predictions: Janie's husband will make an appearance soon, one of the Bunnies will find out that Alice is a lesbian (my guess is Maureen, since Alice is obviously into her), and news of Bruno's death will hit the papers, possibly damaging Nick's political campaign.
Maureen looked much better in the blood red Bunny uniform than in her original powder blue, no? Her stereotypical daddy issues, however, weren't as becoming.
The literary reference from the title seemed a little heavy handed in the episode. I wish they didn't have Carol-Lynne come right out and call Maureen the scarlet bunny. Said blood red outfit and the knowledge of her actions seemed like enough.
I still don't see how the show is sexist. It's made a point to show that the Bunnies are using their time at the club to try and make something of themselves. Alice is making more money than her father, Brenda is trying to get into real estate, and Mildred is paying her way through college after her father told her that women can't be doctors. They may be getting on their feet with the help of other body parts, but all that matters is that they're getting on their feet.
Carol-Lynne's musical performances are a fantastic way to kick off an episode. I love her stage presence.