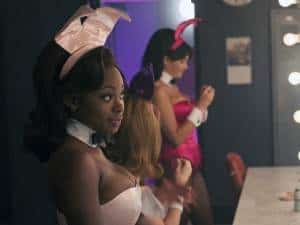 After a second episode that prominently featured the hidden pasts of the bunnies coming into play once more, the third installment of The Playboy Club shifted its attention back to Nick Dalton and the traumatic experience he shared with Bunny Maureen. It was a much needed pivot, as Nick has thus far been an empty suit with a reputation and getting to experience his side of life seemed like it would help fill out our understanding of the show as a whole.
However, with all the political scuttling and smokescreen relationships, the thing I was most intrigued by was the (unintentionally?) allegorical commentary on the criticism the show has received thus far. Before even airing, The Playboy Club was savaged by the PTC and critics for its supposedly sexist portrayal of women and "A Matter of Simple Duplicity" seemed to make commentary on the road the show has had to travel thus far. Representing all of journalism is undercover reporter Doris, who spent her few days with the bunnies asking questions and learning the secrets that haunt the halls of The Playboy Club. Though she managed to complete and file her expose "Bloody Bunny: A Murder Tail" with her editor at the Chicago Daily News, it was ultimately retracted and thus began our descent into Playboy meta.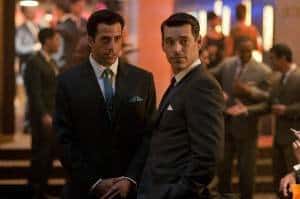 I hadn't put two and two together with regards to what Doris was actually representing, but when Carol-Lynne began talking about how Doris wrote something sensational only to sell paper, that she came into her undercover gig expecting the worst out of the girls only to find them nice/welcoming, and that the girls are all using their time at the club as a stepping stone, it became clear. The entire reason behind the Doris plotline, aside from scaring the bejesus out of the bunnies, was to provide a way to address what's went on the last few months. Of course, it felt like a natural part of the show, considering how high profile/exclusive the club was and how conservative the times were, but it was still striking that it was even commented on. The Doris story provided a nice misdirect with regards to the Nick/Maureen killing of Bruno Bianchi; while the secret of their actions needs to be put on the forefront sooner rather than later, finding out what happened with Janie kept the show from completely ignoring the bunnies' past and added another layer to her character. I only wish that everything hadn't been wrapped up so neatly because it ended up feeling like nothing was ultimately gained or last from Bunny Doris. Sure, we learned about Janie, but it wasn't some awful, game changing secret which would have made her a pariah amongst the other girls. The information of the accidental killing of an older man, which got her husband sent away thanks to Janie selling him out, was ultimately retracted, therefore not having an impact on the club's business or reputation around town. I don't want a character's life to be ruined during episode three, but the Doris plotline had a lot of potential to get people's secrets out into the open and shake things up.
Pity it didn't go further or have much lasting impact.
For what it's worth, the Nick parts of "A Matter of Simple Duplicity" didn't drag as much as they have in the past couple of episodes. It may have been the fairly decent chemistry he had with Frances or the last minute reveal of Frances's real reason behind agreeing to the arrangement, but watching Nick's flirtation with the socialite (and subsequent cat and mouse game with Carol-Lynne) didn't detract from the flow of the rest of the episode. I would like to see some type of delving into his past because all we know right now is he's good looking, ambitious, and a former mob cleaner and it's hard to get invested in this man's political campaign without seeing any vulnerability. We've not seen Nick struggle or seen him dealt a severe blow before recuperating and bouncing back; it's been very smooth sailing for Nick Dalton and that doesn't make his story as compelling as it should be. He has a girlfriend that loves him, a "beard" with whom he get along well, a promising career, and an active social life, but if his life is so perfect, what makes us want to root for him to pull through against Jimmy Wallace?
It was another mixed episode of The Playboy Club on Monday night, but there's still a lot of potential and good things about the show that make sticking with it worth the lapses. While Maureen looks to be making another questionable decision in her association with John Bianchi, Nick seems to be well on his way to state office with Carol-Lynne by his side, though the lingering dread of whether anyone will find out what happened to Bruno hasn't gone away quite yet. Though The Playboy Club works best when it embraces the vibrant and glamorous atmosphere of the club itself, the darkness that was shown wasn't bad and perhaps the show is learning how to balance both sides of its personality.
Thoughts, Quotes, & Observations:
"Try it again…bunnier."
"When the cash starts pouring down, don't forget who made it rain."
"Bumper pool." "Is that some kind of code?"
"I'm working my tail off. Pun intended."
"That's a speech impediment? I thought she was French…"
"So who's the tramp?" "I can think of at least three."
Tonight's musical guest: Lesley Gore as interpreted by Colbie Caillat.
I wish Jenifer Lewis had more to do. I've enjoyed her in everything I've seen her in and I think she could bring a little levity and humor to the proceedings.
It's October 1961 in The Playboy Club's universe.
What happened to Maureen's blood red uniform?
If Janie's husband is in jail (for what I'm guessing is a long time), why was she so concerned about her story getting out? Unless he's connected to the mob somehow, too.
It's a little implausible that Billy would leave his office door wide open, especially when he was just criticizing Maureen about reading the files in the pilot.
I don't know about you, but I love a good lingerie dance party to "The Locomotion".
Next week: the bunnies are asked to perform on TV, Brenda's family comes around, John goes to Carol-Lynne about Bruno's disappearance, and Billy's dealing with gambling debts.