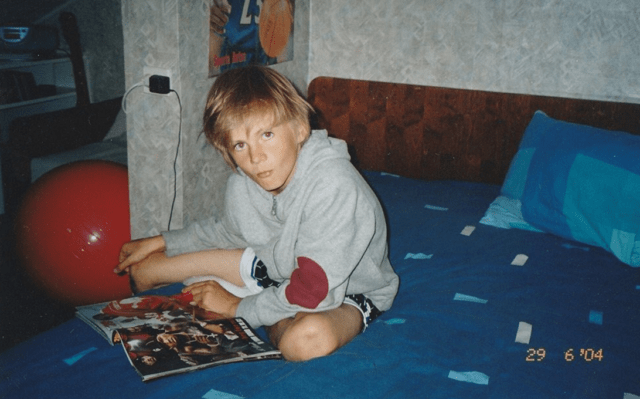 It's extremely hard not to be a Kristaps Porzingis fan. He's an incredible talent with all of the potential in the world. At 7'3 he does what no man can do at his size. They don't call him "The Unicorn" for nothing. Though I think "KP" is a more than fine nickname. As to whether or not the big man will actually pan out as his potential sees is another question. I'm of the opinion that once Carmelo Anthony is gone from the fundamentally cursed team that is the New York Knicks (curse because of James Dolan), that he will flourish. But let's take a look at a rising star at the tender age of 8.
I'm guessing his foot is somewhere on the floor because I have no clue how tall he was as a little tike. But check out this guy's room. Amazing bed. He already has an exercise ball. The kid is sporting an issue of XXL Magazine. At only 8 he was loving hip hop. And guess who that's a poster of in the background? A Michael Jordan Washington Wizards sighting. Amazing. And I haven't forgotten the best part.
It's that little elbow patch on his sweatshirt. This guy was always destined for greatness.