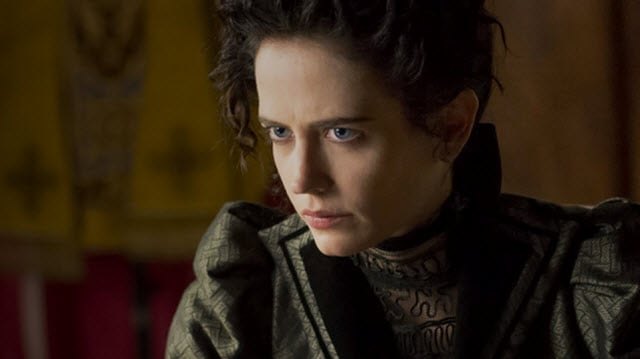 Thus ends the first season of Penny Dreadful, which pretty much highlights everything the series has done well and the couple things it could be doing better. Again, there's a very sharp structure for this episode, which builds up to a strong and tense climax and resolves with plenty of story that poses as many questions as it does answers (and not in an annoying way). There is, of course, fantastic acting from everyone who needs to make lasting impressions in this finale. And yet there's also the sense that some of these stories might have been better handled at various points throughout the season.
The most egregious misstep is certainly the relationship between Victor Frankenstein and Caliban. After having killed Proteus (which I still find really sad and am curious why he was never brought up again, since Frankenstein could have put him back together, right?) and Van Helsing, there's really no way to redeem Caliban. The attempts made to humanize him–his interactions with Vincent and everyone at the playhouse, his speech in front of Victor as Victor is pointing a gun at him–might have worked under different circumstances, but for an entity who possesses as much reason as any other creature on Penny Dreadful, his crimes are ultimately unforgivable by narrative rules and his supposed turns of character are not believable. More than that, I think I just stopped caring at some point, which is incredibly strange given that I would say Frankenstein has been one of Penny Dreadful's most compelling characters. Indeed, his decisions to A) not kill Caliban and B) make good on giving Caliban a companion (Brona, which makes sense) further develop Victor as someone with competing values, traits and desires. It's not so much that he's inconsistent. It's that he's flawed and prone to making mistakes, which is wonderfully interesting in this circumstance.
But it would be kind of foolish to linger on what the series and this finale doesn't quite get right when there are so many things to casually enjoy. The showdown with the vampire, his minions and Mina is, if not the series' best action set piece in its first season, still a very good sequence. It comes down to how much the viewer will buy into Malcolm finally accepting Vanessa as a daughter (this is another instance, I think, where lingering on it too long does no one any favors, since it is inconsistent), but it's a very filmic moment that bridges some of the distance between the series' central figures. What follows later in the episode is probably the pair's best moment since the seance in episode two when Malcolm admits that he was never going to go back to Africa and breaks down in front of Vanessa as the two hold each other. Hats off to both Timothy Dalton and Eva Green for putting in superb performances that felt authentic and not hammy throughout these eight episodes. Green's final moment, which is the finale's cliffhanger, is another individual spectacle as Vanessa seeks the advice of a local priest regarding the demon that has possessed her. Her hesitation about whether or not she actually wants to relinquish the power that comes with her condition is certainly designed to make you question both her desires and the identity of that priest, since he could very well be her demon embodied in another, which we've seen several times.
Ethan Chandler doesn't get an ending quite as satisfying, but it's a relief to finally know how he fits into this group of misfits. With these season-long mysteries, it's important to look at how the information is presented and when the writers (or writer, in this case) choose to parcel out certain things. I appreciate that we don't see Ethan go into werewolf mode until he's lost Brona, because that's the logical catalyst and makes the mystery justified. He's not quite as useful in the finale as he has been in episodes past (neither is Dorian Gray, for that matter), but the episode centers around Malcolm and Vanessa's plight, so not much is required of him other than having a reaction to Brona's death and unleashing the fury on the Americans his father has sent to bring him back.
In the larger sense, I think Penny Dreadful is a solid success for Showtime. Looking at the other big premium cable network that houses original content, HBO has surrounded its prestige dramas with genre shows like True Blood or Game of Thrones at various points. Penny Dreadful is a great parallel to those for Showtime, since it's also an example of a genre show that manages to stay on-brand for the network. The other Showtime series don't necessarily share content with Penny Dreadful, but the series looks and feels like it belongs on the network, including the high standard of its performers. It's a beautiful production, at the very least, and if it still has some kinks it needs to work out, that's hardly deplorable for an eight-episode first season that has taken a lot of risks where other series might have played things safer and pandered to a certain kind of horror crowd. So, the second season renewal couldn't have been awarded to a more intriguing experiment.
[Photo via Showtime]