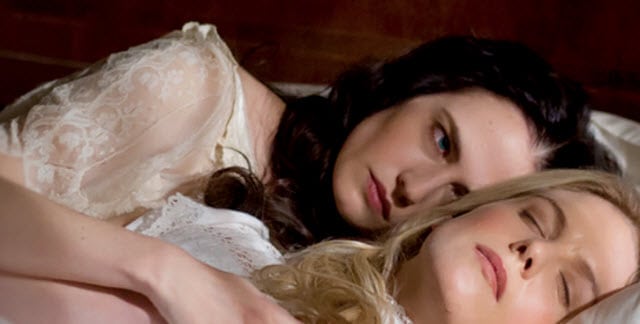 Welcome, once more, to the Eva Green Show. "Closer Than Sisters" does one better than "Resurrection," which focused heavily but not entirely on Victor Frankenstein and his creation. Penny Dreadful goes all-in on Vanessa Ives with this episode, though; and in the space of an eight-episode first season, this is a bold move that pays off extremely well (side note: Penny Dreadful has officially been renewed for a second season for an extended, ten-episode order). It's not just that "Closer Than Sisters" is incredibly focused and interested in the story it's telling. For our collective sake as viewers, the episode works so well because this is the kind of information that convinces us to be invested in the overall narrative of the season. Until now, we knew that Vanessa and Malcolm were after Mina for somewhat murky reasons, but we could at least get on-board because Mina is Malcolm's daughter and that she's being held against her will. To make that backstory this rich provides stronger reasons to care, especially because Vanessa and Malcolm have different ideas of what this rescue mission means to them.
But before getting to that, it's absolutely necessary to take a step back and say "Wow…Eva Green, huh?" I thought "Seance" was a great episode, but its strength had as much to do (if not more) with Timothy Dalton's reactions to Eva Green's performance during the possession. "Closer Than Sisters" is almost entirely Eva Green (and Lili Davies, who plays the younger version of Vanessa), which is not meant to discredit some of the excellent supporting work that fills in the gaps in the episode. This is Vanessa's episode, though. Shots like her face at the dining table as she's looking at Mina and thinking about the potential life of adventure her friend will have are ones that can communicate story and character as effectively as Green's narration or the actions depicted on the screen. There are more obvious moments, such as the possessed Vanessa in the doctor's office as she's talking about drowned men, but some of these quieter ones really stick out. Before Peter leaves for Africa, he visits a catatonic Vanessa, and the series of sequences that follow (including the one with Timothy Dalton as…Satan?) are some of the most riveting in the series thus far. So, backtory aside, "Closer Than Sisters" can also be viewed as a powerhouse performance that shows the multifaceted talents of one of the most fascinating people working today. I would sooner use this one as an Emmy submission than the flashier "Seance," even.
That aside, the story itself is horrific and heartbreaking. Depictions of antiquated medical procedures–especially those regarding mental instability–are somewhat commonplace and not all that shocking anymore (American Horror Story: Asylum should probably be the last of that bunch that focuses heavily on that content for a while). However, the shock here doesn't necessarily come from that area of the story but from the lead-up and the aftermath. Sometimes, it's even hard to tell when exactly Vanessa is being overcome and influenced by the darkness. Seeing the friendship/sisterhood of Vanessa and Mina across years and years and then its dissolution isn't quite powerful in a way that would makes you think "Oh, I'm really sad that they're no longer friends." It's more of a meditation on what growing up into adulthood means and how the coldness of that reality manifests physically and, sometimes, involuntarily. These things happen, whether there is pressure or not. The sadness, then, comes from the callousness of life itself, which is much more poignant.
The Keats lines that Devil Malcolm quotes are "Darkling I listen; and, for many a time / I have been half in love with easeful Death / Call'd him soft names in many a mused rhyme, / To take into the air my quiet breath," which come from "Ode to a Nightingale" and are, appropriately, closely linked to the death of John's brother, Tom. That sibling connection is one Vanessa and Mina share(d), and the temptation to succumb to the darkness–or death, in this case–at the loss of someone like that is something both Vanessa and John Keats would have felt. It's easy to see the attractive qualities of an "easeful" death without having to endure the suffering that Vanessa does, but the devil is something Vanessa has to fight against, just as Keats' narrator rebukes the nightingale in his poem.
The other interesting detail I would point to is how Vanessa keeps all the unread letters she writes to Mina. Vanessa has, as stated, a Catholic background; the idea of repentance is something that pervades "Closer Than Sisters" on the whole. To have a physical act take place–the writing of these letters–is a really smart representation of that endless void of regret and quest for forgiveness. It almost seems like an unconscious act the way John Logan depicts it, which makes it even more appealing to me as a viewer. So, to hammer the point home, Vanessa is made infinitely more interesting and nuanced in the space of a single episode at a time when Penny Dreadful didn't need to do that to remain entertaining. Well done.
[Photo via Showtime]