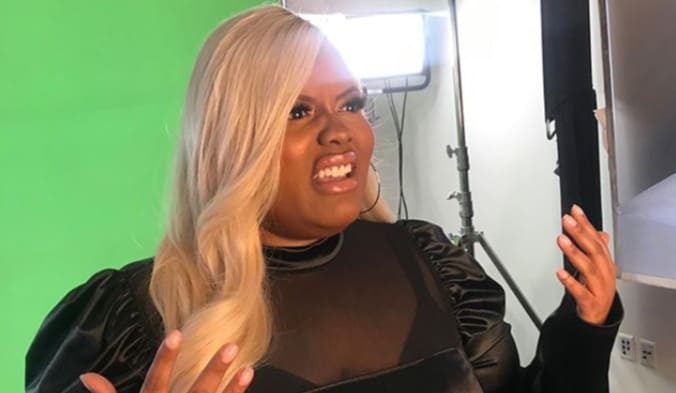 Paris Phillips is an American actress who is currently best known for her role on VH1's 'Love and Hip-Hop Hollywood'. The show, according to IMDB, is a docu-series (or more familiarly, a reality show) which focuses on the 'glitz and glamour of the Hollywood hip-hop music scene'. It follows the lives of a variety of show business professionals, from agents to actors to hip-hop artists, and documents their day-to-day lives in Hollywood. Phillips says she wants to use her part on the show to be an inspiration to other women, opening doors for them to be themselves with confidence in all aspects of life. As anyone who watches the show will tell you, Phillips knows how to do just that. It doesn't hurt that she is a believer in 'positive vibes' and 'good energy'.
While we're sure that many of you have had the opportunity to watch her in either 'Love and Hip-Hop in Hollywood' or one of the shows she was in prior, we are also aware that most very likely have no idea who Paris Phillips, the actress and the woman, is. Well, we're here to fix that. We have done our homework, and as a result, we have compiled a list of ten things you didn't know about the fledgling actress. So for those of you who consider knowledge of the entertainment world to be your forte, here is some information to add to your mental data basis. Read on for 10 things you didn't know about Paris Phillips:
1. She's NOT From Hollywood
Regardless of the fact that 'Love and Hip-Hop in Hollywood is, in fact, based and taped in Hollywood, Paris is actually a Hollywood transplant. She is from Brooklyn, New York, which is where she was born and raised. One of the show's selling points is this fact, and the producers have drawn attention to the fact that her personality is more 'Brooklyn' than Hollywood, which may or may not have impact on the others in the show.
2. A 'Seasoned' Veteran?
When it comes to show business, Paris is no newbie. Rather, her former job was as assistant to R&B artist K. Michelle, and she appeared with the singer on 'K. Michelle: My Life'. Paris was also on the New York version of 'Love and Hip-Hop'. She is also featured in the 2019 film 'Fall Girls', but 'Love and Hip-Hop' is currently her biggest claim to fame. While she is not brand-new to the biz, her resume is limited, but she is gaining experience, and social media followers, every day. She currently has more than 160k followers on Instagram.
3. Birthday & Zodiac
Paris was born on August 23, 1986, which currently makes her 33-years-old. She is a Virgo. It is said that Virgo women are an excellent combination of brains and beauty, they are also modest, and they are known for making personal sacrifices for others. They do run short on perfectionism, however. When looking at these characteristics, we feel comfortable saying that Paris has what it takes to make it in the business, but she should likely stay on her toes when it comes to doing things just right!
4. Estimated Net Worth
Since her primary source of income is currently drawn from 'Love & Hip-Hop: Hollywood', Paris makes more than most of us, but she has yet to reach the pinnacle of wealth. Her net worth is estimated to be right around $1 million, though the figure is not definitive. We're sure she will see growth in that area if she continues on the path she is on.
5. On Allegations of Theft
As some of you may know, Paris was accused of stealing from K. Michelle, her former boss and 'friend'. According to K. Michelle in October of 2018, she suspected Paris of taking $300 off a credit card belonging to the singer. She also said that Phillips took $50 from her to pay for an Uber ride back in 2014. The credit card-related accusation marked the official end of the pair's friendship, and was documented on an episode of 'Love & Hip-Hop: Hollywood' last year.
6. On BET's 'Fall Girls'
In January of this year, BET network announced that they would be making a new original comedy entitled 'Fall Girls'. According to LA Sentinel, the film, which is produced by Footage Films, tells the story of a pair of female friends who try to unravel the mystery of how their boss died after a night of partying.
7. Paris' Younger Years
While not much is clear about Phillips' childhood, she claims that family is one of the most important thing to her. The actress also states that her family has been her 'backbone' since the start, and they have wholeheartedly supported her desire to act since she started at the age of six. Always a class clown, comedy comes naturally to her, and has since childhood. Now, she says, her family is glad that she can earn a living cracking jokes and being silly.
8. On Her Future In Show Business
Paris claims that she is only getting started. She feels that the area of comedy entertainment is too male-dominated, and she longs to be an active part of that world professionally. While she has a good start, she wants to set her own standards when it comes to personal success in the industry, not paying attention to any bars that may be set by the men around her. Paris says she isn't worried about what anyone is doing in the business, except in the case of her own career, and that is what she is focused on.
9. Social Media
Paris is an active Instagram user whose personal page can be found at @whoisparisphillips. At the current time she has more than 347k active followers. She regularly used the platform for self-promotion as well as fun, and she posts videos, pics, and more. To follow simply visit her page on Instagram. She can also be found on Snapchat at 'who is parisphillips'.
10. Her Relationship With Fashion Nova
Fashion Nova is a clothing company that designs and makes a wide variety of attractive and very wearable clothing for curvy, plus-sized women. Phillips has been a brand ambassador for the company for some time, and speaks out in favor of the company through many channels, but particularly on her Instagram page, where she shows off some of their styles by wearing them.
While pretty new to the business, Paris Phillips seems to be destined for being in the limelight. Whether she is working a reality show, starring in a BET original comedy, or even being accused of stealing Uber money, Paris appears to know how to handle herself in the face of critique and scrutiny. Be sure to check out her social media pages, as well as 'Love & Hip-Hop: Hollywood' and the movie 'Fall Girls'. We're sure you will recognize her talent and become a fan yourself. We wish this young star the best of luck in her professional endeavors, and hope to see more of her in the future.
Tell us what's wrong with this post? How could we improve it? :)
Let us improve this post!