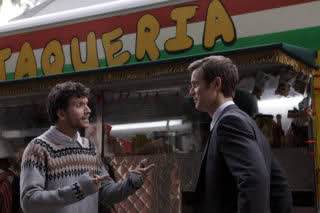 Last night's episode of Parenthood was all about control in its various forms. Team Braverman spent the hour learning how to share it, willingly losing it, unwillingly losing it, and fighting for every last scrap of it in an episode that brought old issues to light and set the current issues up for dramatic finishes next week.
One of the things I like most about Parenthood is the dynamics of the storytelling; one week may be focused on a story and it may not pop up again until a few weeks later, but just like a real family, wounds haven't healed and emotions are still raw. Crosby and Joel experienced this in a storyline that revisited their ill fated play for Jabbar's school; last we left things, Joel had quit due to Crosby's free spiritedness getting the best of things, but now, the tables of turned. Just like last week with Jabbar's meltdown, Crosby finds that being the fun loving dude ain't all its cracked up to be, as he has to make amends with Joel (and Julia) in order to save the play (the so-called 'worst disaster in California since the earthquake of 1906'). It was the tidiest of the four stories, but having these two interact alone for a few episodes was a nice touch that I hope gets replicated in the near future.
Haddie and Kristina also revisited their power struggles of yore but to less heartwarming results. Haddie's still sneaking around to see Alex (aka 'Chloe'in her phone), using a rooftop date with him almost as an anti-depressant. She's very prickly a'la season one until they get to see one another while Kristina spends the hour being surprisingly charming and trying to make amends through painting, coffee (Haddie likes it black), and slightly burnt guilt pancakes. I've had a harsh opinion of Kristina for the duration of the series, but two weeks post-return and she's been calm, pleasant, and well-intentioned through and through.
Elsewhere in the Braverman family, Adam finally meets his new boss Corey who looks like he just crawled out of a Judd Apatow movie. The scraggly video game connoisseur gets under Adam's skin for how laidback and unprofessional he is, leading to an identity crisis at the end of the episode that could make for a phenomenal and quite timely storyline if done right. It's understandable how Adam could be so annoyed, since he's had to work hard all his life and this 'kid'manages to make it much farther in much less time doing much less, but it'd be nice to see Adam learn to just let go and breathe for once. He doesn't need to start downing tacos in the street or playing with robots, but he carries the world on his shoulders and it seems to be wearing on his spirit.
Sarah and Amber both learned to let go this week; the bespectacled Braverman got over a mild case of stage fright and her frazzled mother made it past the latest overprotective mother obstacle that she feared squashed her daughter's fire for music. Lauren Graham and Mae Whitman have pretty phenomenal chemistry with one another, but the end scene where Sarah lets Amber 'fly'was quite touching and yet another layer of the wounds from Seth was exposed. With so many drug addicts on TV these days, it's almost unusual to have a show that focuses squarely on the family of the addict, so every time something related to this storyline is used makes for truly compelling television. It'll be interesting to see how the progress they've made in terms of forgiving/moving past Seth is affected when he comes back into town later this season, but I'm sure it'll be add that much more to the story.
In a family like the Braverman clan, control is an issue that gets easily skewed one way or another. This time, however, things were just right.
Grade: A-
Episode MVP: Sarah
Favorite Bits: more Adam/Kristina alone time, Adam's fumbled 'cool guy'handshake, guilt pancakes, Nantucket green, shoe demons courtesy of Spider, 'I beat a monkey!', Julia's enthusiastic support of Joel
Next Week: Haddie has to pay the piper when she's caught with Alex and the children's play gets put on.