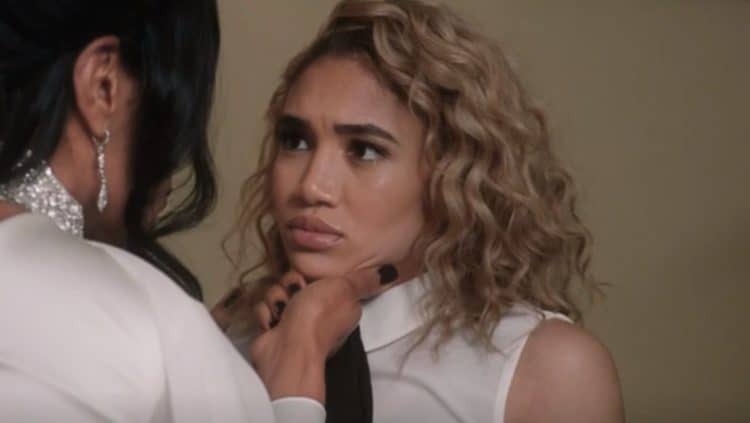 Tyler Perry's The Oval is currently the buzz on television, and we aren't surprised. Perry has always been a source of excellent entertainment, and the BET show is actually full of talent. The Ova l follows the story of an interracial White House first family, and it's not short of good drama. With the likes of Ed Quinn at the helm, we know that the show could only be good. But there are other people to keep an eye on the show including Paige Hurd, who happens to play the first daughter Gayle Franklin. Here are 10 things about Hurd you probably didn't know.
1. Everybody Hates Chris
This is probably the a-ha moment you've been waiting for. If Hurd seems familiar to you, it's probably because of the fact that she was in Chris Rock's popular show, Everybody Hates Chris. Hurd plays the role of Tasha Clarkson on the show, and her time there has really made her shine as an actress. Of course, she was just a kid then. Hurd is not completely unrecognizable now, but she's definitely grown up quite a bit since.
2. Background
Born on July 20, 1992, Paige Hurd was born and raised in Dallas, Texas. Her mother is of Puerto Rican descent, and her father is African American. You can thank her parents for her beauty and unique looks. More than that, you can probably thank her parents for her talents too. Since she was little, Hurd was exposed to a lot of creativity and expression. Hurd is now 27 years old, and she's just beginning to really explore what she can do in the industry. With her show just starting, we can already tell that Hurd has way more ahead of her in the future.
3. DMX
There are many interesting things about this young lady, but it's worth it to mention that Hurd is the goddaughter of famed rapper DMX. DMX reached the heights of his career in the 90s, but his influence in the industry can still be seen and heard in today's music. DMX has always been close to Hurd's family, and Hurd is constantly interacting with DMX even on social media. The two seems to maintain a close relationship just as godparents and godchildren ought to.
4. Films
Aside from her work on television, Hurd's career so far is full of roles from some pretty impressive films. You may recognize Hurd from her role in the 2003 Jet Li hit Cradle 2 the Grave. In fact, Hurd is set to reprise her role as Vanessa on the second installment of the film, Cradle 2 the Grave 2, which is set to come out in 2021. Hurd also had roles in films such as The Cat in the Hat (2003), Beauty Shop (2005), A Girl Like Grace (2015), and Thriller (2018).
5. Music videos
Aside from acting in television shows and movies, it seems that Hurd is a favorite among musicians to act as a music video muse. Throughout her career, Paige Hurd has appeared in a number of music videos, some of which are pretty high profile. She was Justin Bieber's love interest in the video for the song Let Me Love You. She's also appeared in music videos for various artists such as Jasmine Villegas, Steph Jones, Romeo Miller, G-Eazy, and Nas among others.
6. Training
Skill and competence may come natural for some, but it doesn't mean that training isn't warranted. This is the reason why so many actors, regardless of how talented they may be, continue to seek training for their craft. Hurd is no different. In fact, she's a trained professional. She started training under Linda Seto from the Dallas Young Actors Studio at a very young age. Although this is not the norm for child actors, Hurd and her parents knew that this is probably the career for her future early on.
7. Relationships
Aside from having DMX as her godfather, Hurd also happens to maintain solid relationships with a few other successful people in the industry. It certainly helps to stay friends with people in high places, as we're all only as good as our circle. But apart from that, Hurd has also had high profile relationships with well-known people in the industry and beyond. Some of her reported relationships include Snoop Dogg, Steph Jones, Master P, PJ Scott, and Cortez Bryant. Since 2013, Hurd has been in a steady relationship with NBA player Maurice Harkless.
8. Family troubles
Hurd comes from a strong family background, and she comes from a big family too. Paige has 4 other siblings including her twin. Although their single mom raised them all, Hurd and her siblings maintain strong foundations. The family suffered a tragedy when one of their siblings was diagnosed with cancer just a few years ago. Thankfully, he recovered from that and remains cancer-free today.
9. Net worth
The life of a 27-year old must be good if you're sitting on a net worth of $1 million in the bank. Of course, that's low in Hollywood's standards, but that's plenty enough to live a good life by. Hurd is still getting herself established in the industry, and there are plenty more in store for this talented young actress. She's already recognizable as one of the industry's best talents today, and we can only imagine what the future has in store for her. In fact, we're waiting to see the second installment of Cradle 2 The Grave to see what she's really about. For now, we've got The Ova lto keep our eyes on.
10. Social media
Hurd is not at all shy, and she makes sure that comes across in her social media pages. Hurd is fairly active online, and she definitely keeps it real for her fans and non-fans alike. You can find her on her Instagram just as she is on a day-to-day basis. So if you want to get to know the real Paige Hurd, heading over to her social media pages might be a good idea.