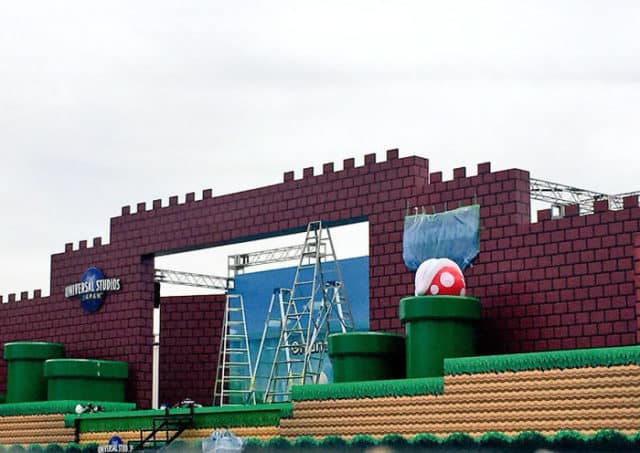 In recent times, Nintendo has been branching out, as shown by the release of apps based on its popular Mario, Pokemon, and Fire Emblem franchises. As a result, it should come as no surprise to learn that it has created a partnership with Universal Studios to create Super Nintendo World, which is what it sounds like.
So far, there has not been much information released about the planned addition to Universal Studio theme parks beyond some basic details. For example, we know that Super Nintendo World will have both retailers and restaurants in addition to a number of attractions that will seek to provide interested individuals with a immersive interactive experience. However, none of this is unsurprising when it is supposed to be part of a theme park. Furthermore, while the marketing has focused much on Mario and Luigi as well as other characters from the Mario franchise, we know that we can expect attractions based on other famous Nintendo franchises as well, though this is once again, as to be expected.
Regardless, the first Super Nintendo World will be added to the Universal Studios theme park in Osaka, Japan while other Super Nintendo Worlds are planned for both Hollywood, CA and Orlando, FL. Furthermore, it is interesting to note that the first Super Nintendo World is planned to open in time for the 2020 Summer Olympics in Tokyo, Japan, which would be a prime opportunity for it to carve out a position of its own in its chosen market.
What Is Happening Now?
Naturally, there are numerous people who are interested in Super Nintendo World, which in turn, means numerous people keeping a close eye on the Universal Studios theme park in Osaka, Japan. Recently, a social media account created for the purpose of monitoring the more than $400 million development has posted photos showing a media stage with unmistakable signs of Nintendo influence, with examples ranging from the pipes and piranha plants to the scenery meant to imitate the look of the 2D Mario games. Furthermore, an English-speaking visitor to Universal Studios Japan captured some interesting footage suggesting that a groundbreaking ceremony will be held sometime soon, which would make sense considering the preparations that have been photographed so far.
Regardless, neither Nintendo nor Universal Studios has released an announcement about anything to do with Super Nintendo World in the near future. As a result, people who are interested in its development can do little at the moment but wait and speculate. However, once an announcement is made, it seems probable that the relevant parts of the Internet will explode with excitement.
What Can We Expect from the Future?
As mentioned, there are plans for more Super Nintendo Worlds in both Hollywood, CA and Orlando, FL in addition to the one that is being developed in Osaka, Japan. Given the fact that Nintendo has built up a booming fan-base over the course of decades and decades as well as the fact that Japan is intending to use its pop culture to market the 2020 Summer Olympics, this means that there is a good chance that the addition will come roaring out of the gates. Assuming that it can maintain a profitable stream of customers, it seems safe to say that the three locations planned so far will not be the last to be developed. Something that should come as welcome news to those who are interested in the concept of a Nintendo-based theme park.
Tell us what's wrong with this post? How could we improve it? :)
Let us improve this post!