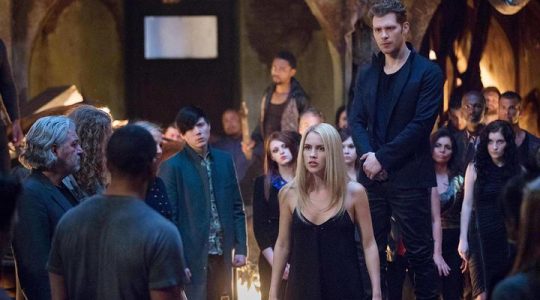 All season long we've been preparing for this so-called prophecy to take down the Mikaelsons: one by friend, one by foe, and one by family. If you've already watched The Originals season finale then you know that's not technically how it played out.
Ultimately the ending was very anticlimactic in my opinion. As much as I was ready to swear off the show for good if Elijah died, I wanted something bigger to happen. Someone should have died instead of keeping them all on ice (or in a magic-induced sleep until Hayley finds cures for a witch hex and werewolf bites.) Kol seems the most expendable character here since he wasn't even in the picture when the prophecy was first foretold. Freya would be a great blow to the family but even she could have fallen victim to her poison and I wouldn't be too surprised. Rebekah's always written in when desperate times call for desperate measures so I could even hypothetically understand her death.
Elijah and Klaus are the only two who could never be killed off without fans threatening to boycott the show in the future. At least they're safe even though it was a super close call for the both of them. Klaus really had no other option but to walk as a free man into his trial by all his most loyal sires-turned-enemies. Like Rebekah said, if he didn't they would have hunted him down and not cared who got in their way. It's so reassuring to see a change in Klaus since Cami died. Even last week when he wanted to talk to Marcel rather than wait for tensions between them to fester, he was genuinely concerned about his friend that he considers a son. The Klaus standing trial for his many evil deeds throughout all of time was not the same man he is because of Cami's influence on him. He's changed for the better and you can call what he did a sacrifice but I don't see it that way. He would've been a selfish monster if he did run away from his problems. Instead he stuck to his family's "always and forever" vow by allowing himself to be the tether for his siblings as he suffers through another round of punishment with Papa Tunde's blade in him. Piece of cake and a win-win for everyone.
Elijah said his goodbyes to Klaus and Hayley, asking them both to take care of each other and Hope above all. For a minute there I actually thought Elijah may die because Hayley has a black cloud of bad luck over her life. She watched Jackson get his heart ripped out in front of her, so why wouldn't the writers be cruel enough to her and viewers alike by watching Elijah suffer a painful death? Thank god that wasn't the case. Now Hayley just has 4/5ths of the Mikaelson family's lives on her hands as she's the only one left standing to help them all.
Season 4 won't return to the CW until 2017 but that gives us plenty of time to imagine the scenarios of where it could pick up. We already know from the time jump on The Vampire Diaries that Klaus hasn't been around in 3 years. It's possible The Originals comes back even later than 3 years down the line. With the Mikaelsons seemingly defeated, we can expect the city of New Orleans to be a mixed bag of supernatural sorts with Marcel and Vincent's differing views. Probably not another fight for power since Marcel won his "crown" back but it won't be a peaceful time with Vincent's new sanctuary for people tired of the old ways. A new uprising won't be the main focus of the next season but certainly I can see it playing a part.
What did you think of this season finale? What do you hope to see next year when season 4 returns?
The Originals Season 3 Episode 22 Review: "The Bloody Crown"
Summary
Klaus stands trial to save his family when they face the prophecy coming true on this season finale of The Originals.