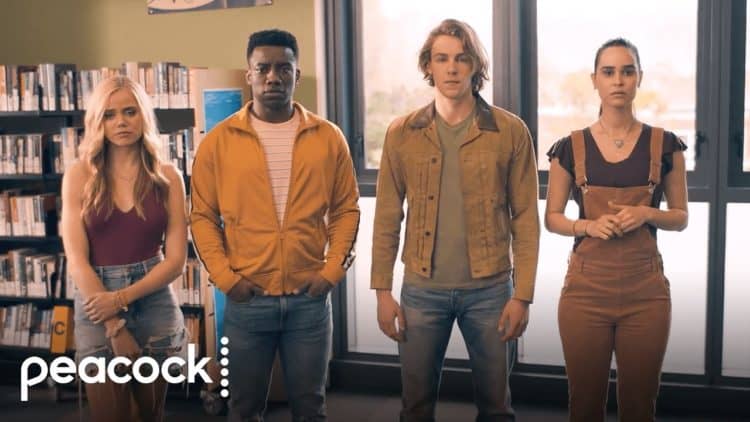 Since NBC's Peacock streaming service launched in 2020, it's been up against some serious competition. Other platforms like Netflix and Hulu are more well established and have become powerhouses when it comes to creating their own content. Slowly but surely, however, Peacock has been carving out its own lane and it's about to take another step with an upcoming series called One Of Us Is Lying. The series is a mystery that surrounds high school students who are given detention after being caught with cell phones at school. One of the students, Simon, who happens to be responsible for starting an online gossip group, suddenly dies of an allergic reaction while in detention. The series takes viewers on a journey to find out who was responsible for Simon's death and it's going to be a wild ride. Keep reading to learn 10 things you didn't about One Of Us Is Lying.
1. The Series Is Based On A Book
If the name One Of Us Is Lying sounds familiar to you, you may be familiar with the book that it's based on. The series comes from a novel of the same name by Karen M. McManus which was released in the summer of 2017. The book has earned more than a half dozen awards/accolades including being on the New York Times Best Sellers' list for 129 weeks.
2. Not All Of The Episodes Will Be Released At Once
Thanks to streaming services, lots of people have gotten used to having an entire season of a TV show released at one time. Unfortunately for people who prefer this, it won't be the case with One Of Us Is Lying. The first three episodes will be released on October 7, 2021, followed by three more episodes on the 14th. The final two episodes will be released on October 21st.
3. The Cast Members Aren't Really High School Age
Like most TV series set in high school, the main cast members in One Of Us Is Lying aren't actually teenagers. Mark McKenna, portrays Simon, is 25 years old. The other main cast members also appear to be in their 20s. Although casting older people is common practice, it's always a little bizarre because there are plenty of talented teen actors.
4. Filming Started In 2019
Even though One Of Us Is Lying is just getting ready to premiere, the show has been in the works for a very long time. Discussions about turning the book into a show actually started in 2017. Filming for the series officially began in 2019. It's unclear whether COVID has any impact on filming.
5. The Show Was Originally Supposed To Be On E!
Unless you've been following One Of Us Is Lying since the very beginning, you probably aren't aware of the fact that the show was originally meant to be developed for E! However, the rights were eventually transferred to NBCUniversal which is how it ended up being moved to Peacock.
6. The Show Was The First To Be Ordered By Peacock
One Of Us Is Lying definitely isn't the first original show to air on Peacock, but it was the first show to be ordered by the streaming service. Hopefully, the series is a huge success when it's released, but even if it isn't, it will always be a part of Peacock history.
7. Filming Took Place In Two Countries
It's not unusual for TV shows to be filming in multiple locations, but One Of Us Is Lying was actually filmed in two different parts of the world. The pilot episode of One Of Us Is Lying was filmed in Vancouver. However, the rest of the series was filmed in New Zealand.
8. The Show Doesn't Have Its Own Social Media Profiles
As One Of Us Is Lying continues to build anticipation leading up to its debut, there are a lot of people who would probably love to keep up with the show via social media. That, however, won't be a possibility. At the moment, the series doesn't have accounts on any social media platforms.
9. It's Unclear How Closely The Series Will Follow The Book
While we know that the show is based on a book, we don't know how closely the two will be connected. Any time a book is turned into a movie or TV show, certain liberties have to be taken to account for the different medium. It'll be interesting to see what changes are made to the series and which things are kept the same.
10. The Show Could End Up Being A Mini-Series
Since the show is based on a singular novel, there is a chance that it may not be able to extend beyond the first season. If it does, the show's writers will have to come up with an entirely new storyline. Of course, this isn't completely unheard of but it's definitely risky.
Tell us what's wrong with this post? How could we improve it? :)
Let us improve this post!