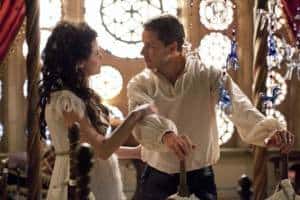 Last night, Once Upon a Time premiered on ABC. With the inevitable comparisons to LOST (seeing as two LOST writers are the creators of this show), viewers might be curious as to how the show will be structured. Will it be mythology-based or contain stand-alone episodes? We discussed this with Executive Producer Steven Pearlman and some of the cast members during a recent visit to the Vancouver set.
Pearlman's biggest goal is to tell compelling stories that make the audience want to come back week after week. Reconizable actors and fairytales help ease the audience into familiar ground. As Pearlman noted: 'We have mythology in our show. The advantage that we've got in terms of mythology is that we're dipping into mythology that is kind of in the public domain that everybody already knows part of it. In the case of this show, our show started with the wedding of Snow White and Prince Charming, but everyone had a sense of the story of Snow White and Prince Charming.'
But will the show be a huge mythology driven show like LOST or more self-contained? The answer is: both. Pearlman explained, 'We tried very specifically to not do episode 2, episode 3, episode 4 as a linear story where you have to see one to understand the other. [Episode 2] is a big episode about the queen and talks about the curse, kind of like the whys and wherefore about the curse. Then we have a big Archie episode, a Cinderella episode, a sheriff episode. The stories themselves are quite self-contained even though we have a building character story wearing in the background.'
To illustrate Pearlman's point, note that episode 3 is actually a prequel in terms of the pilot episode, which featured the wedding of Snow White and Prince Charming. Episode 3 goes back further in time to tell the story of their first meeting. Pearlman also said that in episode 9, they tell part of the Snow White and Prince Charming story that actually takes place before the origin story in episode 3. Watching the episodes, you can understand how singular stories can be enjoyed each week, although the pay-off for repeat viewers is watching the stories weave together and progress over time. If you want to know the full journey of Snow and Charming, in the fairytale world or in the modern world, for example, you do have to watch each episode.
Time will be split equally between the fairytale world and Storybrooke, like it was in the pilot. Each episode is intended to tell a related story in both worlds. But with so many characters in two different worlds, could the storytelling get bogged down with multiple storylines? This is where the tricks the writers learned on LOST will come in handy. Raphael Sbarge (Jiminy Cricket/Archie) explained that each episode after the pilot is intended to focus on a few characters. For example, episode 2 will be focused on the Evil Queen/Regina, episode 3 is about Snow and Charming, and episode 5 will focus on Jiminy Cricket/Archie. Sbarge compared each episode to an individual chapter of a novel, allowing viewers to go deep into one character and really flush out their story.
Finally, the comparisons to LOST mean you have to ask whether the writers have a clear idea of the direction of the show. Pearlman told us that he has a very broad sense of where the show wants to be at the end of season 1, as well as an idea of what season 2 will be focused on. He noted that the first season of LOST, for example, was basically about a group of people surviving a plane crash on an island. Then season 2 came along and we were introduced more to the Others and the hatch and the show took on new qualities. '[In season 2, Once Upon a Time] doesn't become a different show, but I think it would take on a whole added element. That's kind of where the thinking is now. In terms of long arc, I know they have an idea of whatever the last episode of the series might be. It has to do with the curse and how the whole thing came to be. How we get there and what happens in between, I think in a broad sense there's ideas, but not specifically. A lot of that comes with the ebb and flow of the series and seeing what's working and not working.'
Don't miss a new episode of Once Upon a Time on Sunday, October 30. For hints about the fairytale characters that will be making an appearance in upcoming episodes, click here.