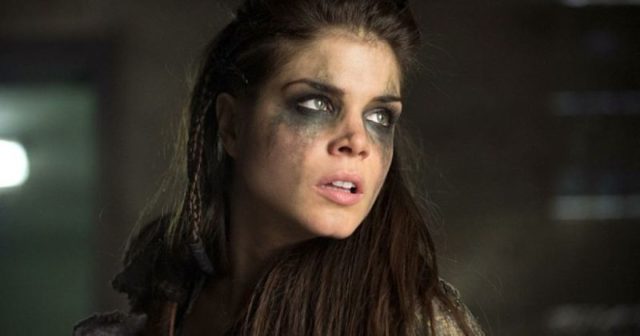 In the beginning back in 2014, we wondered how juvenile delinquents from the future were going to keep us all interested. To say that we're surprised about the success of The 100 would be a complete understatement. The show has given us some pretty impressive characters, one example being the young Octavia Blake. Blake, portrayed by actress Marie Avgeropoulos, has become one of the best female characters on television currently, and from the premiere of season 5, it seems as if she's not stopping any time soon. We believe that Blake could actually be the most important character on the show, and we have several reasons for doing so.
First off, we can examine her history on the show and easily say that she's probably one of the few characters that have gone through a tremendous amount of hardships. She's one of the original 100, and she's still around. Blake was originally portrayed as the damsel in distress character that needs saving, yet she overcomes every single issue thrown her way. She's proven this to all the men that's been involved in her life, but she's also proven it more importantly to herself.
Octavia Blake also happened to be the very first Sky person to ever walk the earth in 97 years. That's a huge description to be able to put under your belt. Despite her illegitimate past, she again showed clues that she might be made for something bigger. Being the first person of any scenario is always an important thing, and for Blake, that very first time she walked on Earth was almost a foreshadowing of something big to come in the future.
She's extremely brave. This was very evident from the very first time she encountered a Grounder. There was also a point in the first season when she cut herself open with no hesitation in order to get some information out of a Grounder. That was another foreshadowing of Blake's apparent ruthlessness that will come into play later on in the series. In the opening episode of this season, even though many of us already suspected it, we were still all shocked to see Blake like we never thought would happen. The scene closed with Blake sitting on a skull-riddled throne, watching and presiding over a gladiator battle that was brutally entertaining, of course. It seems that Blake has now officially climb the Grounder ranks, something she's been quietly working to do ever since she found out how a Grounder commander is typically chosen back in the days. In the most recent episode, it seems her goals have come to fruition, and it can mean a whole lot of change when it comes to everything, really.
Blake has the makings of a true leader, and what she accomplished has been truly remarkable. However, we think that it's all just a glimpse of what her true role will be in the entirety of The 100 series. We believe that she'll be on the top of it all one day, just as she now finds herself on top of her own clan.