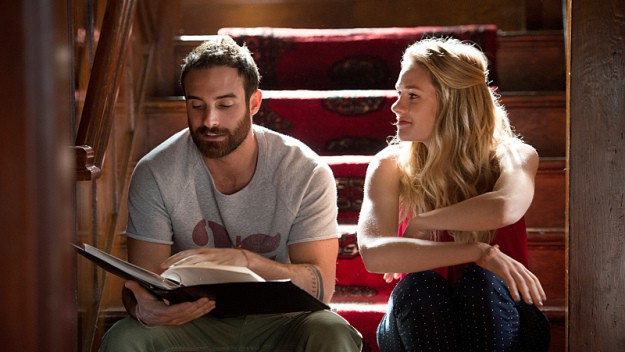 "No Debts Remain Unpaid" might be the most emotional episode of No Tomorrow yet, and a lot of that emotion comes from a couple of surprising characters, as Kareema and Evie's parents deliver some of the most honest and brutal moments of the hour. Throughout its first five episodes, No Tomorrow has done a terrific job at crafting its two central characters, but now, at the midway point of its first season (it was announced today that The CW wouldn't be extending the show's freshman season beyond the already ordered 13 episodes), it's exciting to see the series utilizing its supporting players as well, and not just for comic relief, although both Hank and Deirdre deliver a good bit of that throughout "No Debts Remain Unpaid."
When we first meet Kareema in No Tomorrow's premiere, she is extremely sarcastic and incredibly cynical, and that behavior has continued throughout the majority of the show's first season, to the point that I wondered if there would ever be more to her character than biting one-liners and unimpressed looks. Fortunately, the show's creative team does a wonderful job in this week's episode of adding some dimensions and depth to Kareema, as we get to see her finally smile, laugh, and open herself up after meeting her brother's fiancée, Sofia. It's clear from the moment that Kareema lays eyes on Sofia that she's attracted to her (kudos to No Tomorrow by the way for treating Kareema's bisexuality as nothing out of the ordinary), but there's more than just a physical attraction; Kareema shares common interests with Sofia and finds her stories fascinating and laughs at her jokes–there's a real connection here that she doesn't often feel.
And that's what makes it so heartbreaking when Kareema's brother admits that he's fallen in love with Sofia, even though their marriage, for the moment, is only a green-card one. Kareema is forced to make a choice between familial love and romantic love, and even though she promises Evie near the end of the episode that she'll keep her distance from Sofia, that's obviously not what she's going to do, as we see the two of them agree to meet at a concert later that night. There's no way that this situation resolves itself without someone getting hurt, whether that's Kareema, her brother, or Sofia; it's actually more than likely that all three of them will end up damaged by this secret romance. However, in just one episode, No Tomorrow has not only made me invested in Kareema's story but feel connected to her as a character for the first time all season, and that's all due to solid writing and fantastic work from Sarayu Blue, who finally gets more to do in this week's episode than just scowl. Even though it's probably going to have a sad ending, I can't wait to see where this story goes next.
In addition to Kareema, Evie's parents also supply most of the emotional punch in this week's No Tomorrow, as the cracks in their marriage begin to show when Evie's father's dreams of becoming an actor cause financial and personal stress for her mom. Evie's parents move out of their house for the time being (they're renting it to earn some extra money), and it's clear to Evie how much her mom is struggling, which is why she tries to plan a fun wine cruise for her parents, which goes awry after it turns out to be a pirate cruise and her mom has one too many rum drinks. Evie's mom opens up about how powerless she feels in her own marriage, as her father continues to make decisions that affect her life without ever consulting her, and she tells her daughter to enjoy the early days of her relationship with Xavier before it turns into what she now has with her father. That's something no daughter ever wants to hear her mother say, but it's also a striking and sad look at what can happen to relationships over time. When two people want different things from life, they can grow apart, and there's none of that initial spark left to keep them together.
Fortunately, Evie is able to reignite her parents' spark by staging a reenactment of sorts of their first New Year's Eve together. Of course, it doesn't fix all of Evie's parents problems; I'm sure there will be more issues for them throughout the rest of the season. However, by being brought back to the early days of their relationship, Evie's parents are able to remember what they love most about each other, and for now, the strength of that love is enough to overcome any obstacle.
But with the hope given to Evie's parents comes a dark revelation about Xavier's father. Xavier, who throughout this week's episode is forced to relinquish all his possessions in order to pay back the $93,000 in debt that he owes, finally opens up to Evie about his dad, who was an alcoholic that always did more harm to his son than good, especially after his mother died; Xavier even mentions that the last time they were around each other, his father essentially caused him to have a six-month downward spiral.
Still though, with Evie by his side and the optimism he has from watching her interact with her family, Xavier is able to open up a letter his father wrote to him and even considers Evie's idea to reach out to him at some point soon. With so much going on with the show's other characters in this episode, Xavier's debt storyline falls into the background slightly, but that scene with him and Evie reading his father's letter near the end of the hour is a major first step in what appears to be his journey throughout the rest of Season 1. Big things are ahead for both Xavier and Evie, and I'm excited to see what challenges they take on together next.
Other thoughts:
Elsewhere in this episode, Hank does his best to figure out what Deirdre likes, as they begin their relationship. He's unsuccessful a couple of times before admitting to her that he just wants to make her feels as good as she makes him feel, and those words prompt Deirdre to call Hank into her office so that they can act out one of the scenes from her erotic novels. If that all sounds ridiculous, it's because it is, but I'd be lying if I didn't say that Hank and Deirdre's scenes together continue to be the funniest part of every episode of No Tomorrow.
Also, Hank finds out that the girl Timothy is dating is Evie's former best friend/frenemy, Fern. Will he tell Evie what he knows in next week's episode, and how will she react?
In case you were curious, Hank lets Deirdre (and us) know that people who are sexually aroused by the sound of balloons popping are called "looners."
I love that Evie's parents end up working together on the pirate cruise ship. Seems like a perfect fit for them, especially for her dad.
Sorry for the lateness of this review. I was on vacation until last night and didn't get to watch this week's episode until this afternoon.
What did everyone else think about this week's episode of No Tomorrow? Comment below and let me know.
[Photo credit: Diyah Pera/The CW]
No Tomorrow Season 1 Episode 6 Review: "No Debt Remains Unpaid"
Summary
Evie tries to help her parents fix their problems, while Xavier's debt catches up with him in a great episode of No Tomorrow.