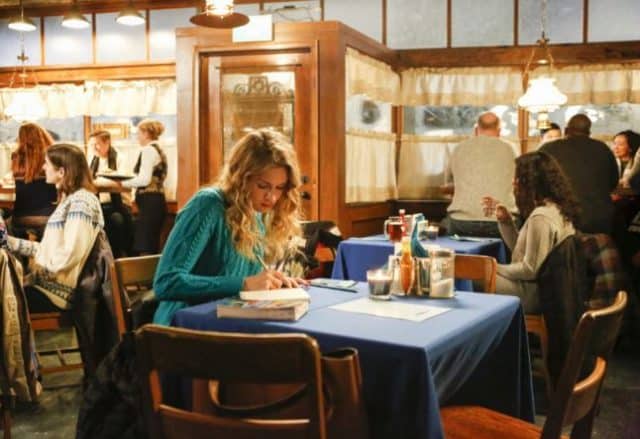 From the opening moments of its pilot, No Tomorrow was unlike any other show I had seen on television. Positive, optimistic, and lacking any traces of cynicism, this series was a different type of show, a romantic comedy that celebrated adventure and hope and love and never tried to mock it. Even by the end of No Tomorrow's first season, its most jaded character, Kareema, was hugging, crying, and preparing to go on her honeymoon; she believed in love and friendship and following your dreams, and as cheesy as it sounds, that's how I feel now after watching "No Sleep 'Til Reykjavik."
Is this a perfect finale? No, not at all, especially given that there's a very slim chance that No Tomorrow will be returning for a second season. The series doesn't tie up every loose end or give everyone the true happy ending they deserve; by episode's end, Evie and Xavier aren't even together anymore, even though they're both going after their dreams, finally fulfilling goals that they've had for years (she's taking on her dream job, while he's going to help save the world, now that his theory has been proven to be correct). That alone ensures that "No Sleep 'Til Reykjavik" isn't the most satisfying finale in the world (I wanted those two crazy kids to stay together!), but in a way, it's better that things are left more open-ended and that we don't have all the answers. The future of these characters, like the world they live in, remains uncertain, and that's okay because we know that, whether they have four months left to live or four decades, they're living life to the fullest.
And that's ultimately what makes No Tomorrow one of the best romantic comedies I've seen in recent memory, either in film or television. It's natural for us to want to see the two leads get together and stay together; we've been watching them fall in love throughout these 13 episodes, and we want them to be a couple. However, the No Tomorrow writers wisely realize that what's more important than a "happy ending" for Evie and Xavier is that the two of them learn from each other and prove that they're stronger, better, and more fulfilled people than they were when we met them at the start of the series. The love that they have for each other is real and vibrant and strong, but they both realize that it's not what they need right now; they can't let it hold them back, or as Evie perfectly states, they can't let it force them to have regrets because up until this point, neither of them have regretted anything they've done with each other.
It's bittersweet that Evie and Xavier don't end the season (and potentially the series) together, and it doesn't help that Evie clearly has a budding connection with Graham, the attractive doctor that she constantly keeps bumping into. Turns out that the only reason that Evie even meets Graham is because of a conversation that he had with Xavier at the hospital, the very day that Evie was admitted after falling off the pogo stick back in the pilot. That's the same day that Evie decided that she was going to live life to the fullest but do it in her own way and at her own pace, and that's what she reiterates to Graham after finally seeing the Northern Lights: she needs to follow her own path, making her own choices and following her own dreams. So even though Evie isn't with Xavier in the episode's final moments, it doesn't matter because she now takes him and what he has brought to her life with her wherever she goes, wherever her journey takes her. It's because of him, and the love they share together, that she's able to take that next step and go to the Philippines for her new job, and there's something pretty beautiful and magical in that. The people we're truly meant to be with always help us become the best versions of ourselves, and that's true for Evie and Xavier, as he teaches her how fully live her dreams, while he learns what love, trust, and family mean from her.
Plus, the bittersweet ending for Evie and Xavier allows for more grand, romantic farewells for No Tomorrow's other characters, whether that's Kareema planning her honeymoon with Sofia, Timothy enjoying his newfound confidence by entering into a relationship with his new boss at the magazine, or Hank and Deirdre discovering that they're going to be parents. These are the types of big and bold and wonderful developments that have made No Tomorrow such a treat to watch throughout its first season, and they work marvelously here in this season finale, providing each of the supporting characters with a satisfying conclusion to their stories while leaving the door open for more possibilities in a potential Season 2.
So how do I sum up my feelings about No Tomorrow? I'm not quite sure. I didn't love every episode or moment from the series in its first season, and it wasn't my favorite new show from 2016. However, I don't think there's any other new series from this fall that I admire more than No Tomorrow. This is a show that never shied away from being weird or different or ambitious, and it always trusted its characters and its performers, no matter how crazy the storylines got or how goofy the jokes were. As Evie would say, No Tomorrow was never afraid to "do its thang," and I'll always love it for that.
Other thoughts:
One of the best, most satisfying moments from this episode has to be Xavier finally being surrounded by people who believe in his theory. The sheer joy on his face when he asks if they want to see his slideshow is great.
I know it's only been one season, but man, that montage, as Evie talks about how she has no regrets, really hit me in the feels.
Timothy and Hank's band is given the appropriately ridiculous name of "Finger & the Noise." The only thing more outrageous (and entertaining) than that name is Deirdre's dancing to their music near the end of the episode.
Tori Anderson and Joshua Sasse were both so damn good throughout this entire first season, and if this really is the end for No Tomorrow, I hope the two of them find new TV or film roles ASAP.
Thanks so much to everyone who has read and commented on these reviews over the past few months. I really loved covering this show, and I'll certainly miss it if it doesn't return for a second season. Now, go out there and seize the day!
What did everyone else think about the No Tomorrow finale? Comment below and let me know.
[Photo credit: Bettina Strauss/The CW]