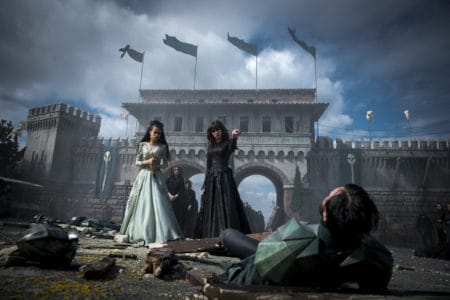 The season finale of Emerald City was last night, and after some time to think about it, I have concluded that this new show was just okay.
"No Place Like Home" had all the makings of a final battle scene like any great fantasy story, except it didn't really happen. There are three sides to this war: The Wizard, fighting against magic, claiming it was the Beast Forever; Glinda, fighting for magic; Dorothy, fighting for who?
I think my biggest issue with this series is that Dorothy didn't pick a side. Even the choice between the Wizard and Glinda was given to her far into the series.
My favorite part of Emerald City remains Tip, the gender questioning character who must make a choice to restore power to the throne she rightly deserves. She shows mercy on the lead guard, who is also the Cowardly Lion, in a way. She takes the memories from his family so that he has no loved ones in his life. Cruel, but it keeps Tip from killing anyone, if you don't count attempted murder of Jack.
The lead guard brings up another problem I had with Emerald City, the emphasis was missing in many places. The writers failed to point out small details, like the tattoo on Dorothy's hand, and bring the guard's family into play to make him seem more human. These small things would have improved the effectiveness of the finale immensely.
In the final battle, Dorothy is clearly on the side of the Wizard purely because she wants to protect Sylvie. Glinda uses this to her advantage and uses Sylvie to destroy the stone giants. The Wizard shoots Sylvie, and then guns down all the witches but it is fruitless because, "Only a witch can kill a witch." Clever, but I need more of that theme consistently throughout the show. This is just another moment where Dorothy cannot make up her mind, on which side do her allegiances lie?
Dorothy forces the Wizard to send her home. In a call back to the movie, he has no idea how to do that. In comes Jane, Dorothy's mom! Jane, the real scientist, sends Dorothy back to Kansas. For some unexplained reason, Jane cannot come with her. So Dorothy is left to care for Karen on her own.
"No Place Like Home" ends with an obvious cliffhanger, begging for a second season. We never meet the true Beast Forever, which is still a silly name, but we do get glimpses of it. Frankly, I'm not intrigued enough to learn what it is.
Emerald City had a lot of potential, and in some areas the show really succeeded. I worry NBC will grant it a second season and it will go on endlessly like Once Upon a Time has. If it does return for a second season my wish list would include: more consistent writing, Tip gets time to sort out her gender confusion, and a Dorothy who has agency beyond a magical girl.
(Photo by: David Lukacs/NBC)