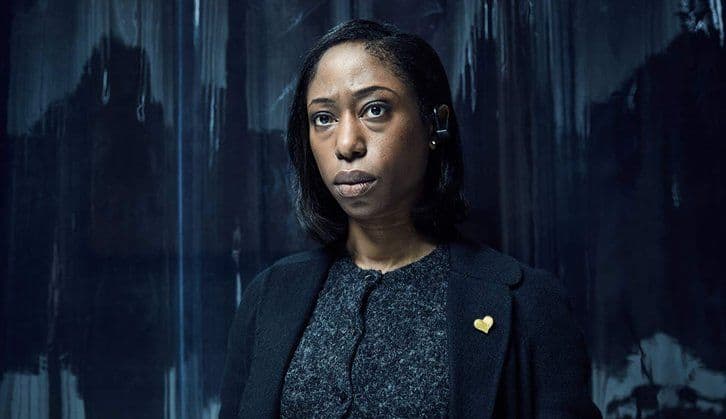 With 20 years of acting experience under her belt, Nikki Amuka-Bird is no newcomer to the industry. A star of stage, TV, and film, she's spent the last two decades building a reputation as one of the UK's most dependable actresses, even nabbing herself a BAFTA in the process. In 2020, she's set to deliver the goods once again as part of the cast of Armando Iannucci's new HBO science-fiction comedy, Avenue 5. Find out more about the actress with these ten little facts.
1. She married (and divorced) her co-star
Amuka-Bird isn't the only famous name in the family. In 2003, the actress married fellow thespian Geoffrey Streatfeild after the pair met while touring with the RSC in Japan. Streatfeild, a member of the historic Streatfeild family who helped shaped the counties of Sussex, Surrey, and Kent during the 17th and 18th centuries, is best known for his roles in TV features like The Thick of It, Spooks, and The Hollow Crown. After 7 years of marriage, the couple announced their divorce in 2010.
2. She was born in Nigeria
Amuka-Bird was born in Nigeria to parents Patricia and Sam, both of whom were journalists at the time. After spending her early childhood in Lagos, the actress left Africa with her mother when her parents split. From there, she spent several years in London before moving to Antigua at the age of nine. Finding it difficult to adjust to her new setting, the actress asked to go to boarding school in the UK, and spent the remainder of her childhood flitting between her mother in Antigua and her school in England.
3. She dreamed of being a dancer
Despite her successes as an actress, Amuka-Bird held very different ambitions as a child. The actress initially had her sights set on becoming a dancer, an ambition that got turned on its head when an injury forced her to rethink her plans. "I hurt my back and at that point was deciding what to do university-wise and I thought I would try for drama college because I knew you could do some dancing there, but it didn't have to take over everything," she's since explained. 'It was only really when I went to drama college that that world [acting] opened up to me and I fell in love with it and became obsessed like everybody else."
4. Her TV debut was on Holby City
After graduating from the London Academy of Music and Dramatic Art (LAMDA), Amuka-Bird made her professional TV debut on the British medical drama series, Holby City. While the appearance was fleeting, it did at least serve as a foot in the door. Since those early days, the actress has enjoyed one-off, guest appearances in shows such as Canterbury Tales (2003), Murder Prevention (2004), Spooks (2006), Robin Hood (2006), Sinbad (2012), House of Fools (2014), and Doctor Who (2017), along with recurring and lead roles in the likes of Survivors (2008- 2010), Small Island (2009), Luther (2011-2013), and Hard Sun (2018).
5. She toured with the RSC
As well as forging a successful path on TV and film, Amuka-Bird has enjoyed a prolific career on stage. After graduating from LAMDA, she toured with the Royal Shakespeare Company, earning a reputation (and several award nominations) for her performances in the likes of A Midsummer Night's Dream, The Tempest, The Servant of Two Masters, and Twelfth Night. Although she's since left the RSC, she continues to perform regularly on stage, with some of her most notable credits including Doubt: A Parable, Welcome to Thebes, and World Music.
6. She's starred alongside Meryl Streep
You've now you've made the big time when you share screen time with Meryl Streep. In 2019, Amuka-Bird did exactly that when she appeared alongside Streep and an incredible supporting cast of Gary Oldman, Antonio Banderas, Jeffrey Wright, David Schwimmer, Matthias Schoenaerts, James Cromwell, and Sharon Stone in the Steven Soderbergh directed comedy-drama, The Laundromat. Other film credits to her name include The Personal History of David Copperfield (2019), A Private War (2018), The Children Act (2017), Denial (2016), Jupiter Ascending (2015), The Face of an Angel (2014), Coriolanus (2011), The Disappeared (2008), The Omen (2006), and Cargo (2006).
7. She's won a BAFTA
In 2016, the BBC announced it had lined up Amuka-Bird and Phoebe Fox to star in an adaptation of Zadie Smith's critically acclaimed novel, NW. Amuka-Bird's portrayal of the central character of Natalie wowed audiences and critics alike, getting the ultimate stamp of approval when the British Academy of Film and Television Awards honored her with a BAFTA for Leading Actress.
8. Avenue 5 is her second collaboration with Armando Iannucci
Amuka-Bird and Glaswegian director Amuka-Bird seem to have struck up a bond, at least if her two most recent projects are anything to go by. Both Avenue 5 and The Personal History of David Copperfield have Iannucci as director and Amuka-Bird as the star — something the actress is only too pleased about. "(Armando Iannucci) sees potential in you that you didn't know you had," she shared with the Standard. "I honestly never thought I'd be able to do this stuff. But he asked me if I wanted to come and play. And now I think: what else can I push myself to do? I'm so grateful to Arm. He's been a game-changer for me."
9. Hair is everything
As every woman knows, hair can make or break your day. According to Amuka-Bird, it can also make or break a character- or at least it can in the case of her Avenue 5 character, Rav Mulcair, whose gravity-defying hairdo has almost as much stage presence as Amuka-Bird herself. "The hair is everything!" she told the Evening Standard. "The hair is basically the characterization. We were looking at the future and how a strong black businesswoman might wear her hair. So, we were inspired by Black Panther and the idea of natural hair. So, it's a quintessential bob – but it's also an Afro power bob."
10. She's embracing getting older
While some actresses dread turning 40, Amuka-Bird is relishing the experience of getting older, claiming it's freed her from worrying so much about her career. "I've begun to take a holistic approach to it all and, nowadays, feel less nervous when a job comes up," she's explained to the Guardian. "An older actor once told me that you can think about being generous rather than worrying about yourself. You offer your thoughts about the character and the script and that's when you learn what's working and what isn't."