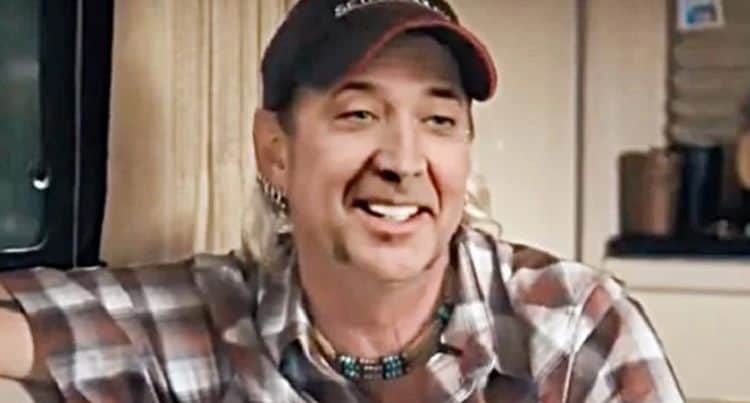 Is anyone else getting a little nervous about how Nicolas Cage is going to look as Joe Exotic after this? Kevin Burwick of MovieWeb had more to say about this. Deepfake is really going all out at times when it comes to showing what certain people could look like, but this time it's borderline scary since it is happening and Cage will become the character of Joe Exotic eventually, and this is just a horrifying look at what that process might end up as since if he's really going to stay true to the whole look and attitude then things are going to get trashy in a big damned hurry. People are probably going to be buzzing about this for a while now since the whole idea of the Tiger King is that Joe and everyone he's associated with, whether they get along or not, are a bunch of nutcases that have been involved in zoos and issues with big cats for a while now, and have finally been outed to the world in general. It's easy to think that a lot of people already knew about the Tiger King and what he did and how he operated, but for those that hadn't a clue about it, the show was a look into the world of crazy that was only bound to take people deeper than they were expecting considering that the people in the Netflix documentary had a laundry list of issues that any psychiatrist would love to hear since in a sense they would become walking paydays.
One thought that's going to persist is that Joe Exotic, the real Joe, is probably going to love every bit of attention he gets from this since whether it's good press or bad he's happy to be in the middle of it and have his name mentioned over and over. Amy Kaufman of the Los Angeles Times has something to add to this topic. It doesn't even appear to matter that a lot of people think he's a joke and that those who others think are jokes are rooting for him, like a certain rapper and a few other celebrities, but hopefully not a current president since that would be worthy of a massive shake of the head considering that a pardon for Joe would be one of the worst uses of power in a long time. Oh yes, people are now thinking that Joe might have a chance at a pardon simply because Trump didn't say no, though he didn't say yes either. If the documentary wasn't enough for a lot of folks the upcoming series that are about to be made, one with Nicolas Cage and one with Kate McKinnon, who's going to take on the role of Carole Baskin, Joe's arch-nemesis, silly as that sounds. In a big way it's like Hollywood stepped in something, turned over their shoe, and found something vaguely interesting amidst the mess.
The fact that so many people want in on it isn't that surprising since to be fair this has been one of the biggest things to come along on Netflix in a while and despite the fact that it was trumped by The Last Dance, the story concerning Michael Jordan's last season with the Chicago Bulls, it's still bound to receive plenty of attention for the rest of the year. That might actually be in part because there's so little happening in Hollywood at the moment that getting our hands on the only real entertainment we can find is getting to be a necessity. It's still amazing that the Tiger King documentary was what people chose to go nuts over, but as of right now that's the way things are looking and the fallout from it is definitely going to be around for a while. Joli Angel Robinson of USA Today has more to add to this subject. With everything that's happening in entertainment right now, which is to say not as much as people would hope for, it was bound to happen that the lowest common denominator would shine through since if you can imagine a world where the coronavirus never spread this fast or this far then you can imagine that the Tiger King would have been an over and done with idea by now as new movies would be on the big screen, new shows would be capturing the attention of audiences, and the stars wouldn't be singing to us and delivering PSA's every so often as a kind of reminder that 'we're all in this together' or 'be safe, wash your hands' among other such messages. Has anyone ever been tempted to tell any of the celebrities, even those that ARE helping out, that 'in this together' is kind of a hard statement to get behind when a lot of us don't have hotel-sized homes to wander around and flush bank accounts to depend on? Yeah, me too, but it gets a bit redundant after a while and besides that, the celebrities aren't likely to listen.