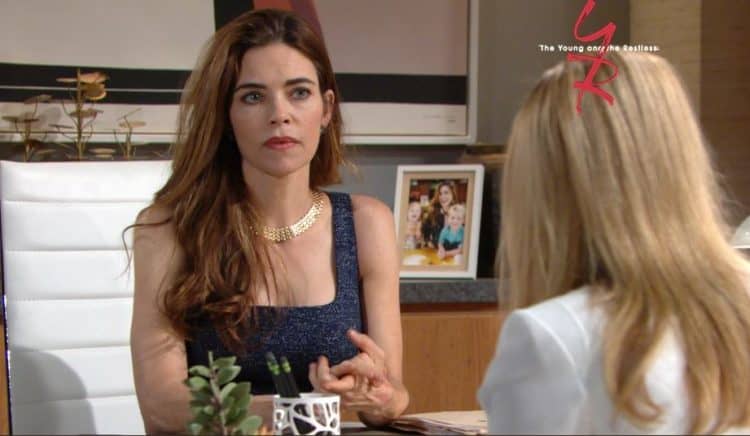 Young and the Restless fans are going to see a lot go down this week, but we also saw a lot go down already. Nikki doesn't believe that Sharon will do anything that she said she will do, and other people just don't care what others have to say. But what we loved the most was watching as Sharon had so many wonderful, beautiful things to say about her boyfriend. She spoke so highly of Nick and his person, and it's clear that they are just darling and happy right now. We saw that Brittany told Nick he needs to end things with Sharon to make sure that he can get his son back, and we know that he told her he simply cannot live without her. That situation was too sweet for words, and those two were more than just a little bit good at this one.
But that's not all that's going down for these people. We do see that there is a lot that might happen between now and then, and it's all good in a way. There's a lot happening here, and we think that there could be more. Perhaps Abby doesn't want to listen to what Nikki had to say about Arturo before, but seeing her mother with him, finding a bra that doesn't belong to her, and remembering what Nikki said about Arturo and her mother might change her mind about that stuff. It's been a very interesting situation, and we can't wait to see how that one unfolds.
What's Happening on Young and the Restless
BTS view of Ashley and Arturo cutting loose! Nice work @eileen_davidson & @jasoncanela #YR pic.twitter.com/mKBo75X0zj

— Young & The Restless (@YRInsider) June 19, 2018
If there is one thing the people on this show do well, it's a parent/child marriage and relationship disaster. It's children hooking up with stepparents, stepparents hooking up with children (adults, of course) and all that stuff. And right now, we have a feeling that things are going to be a little ugly between Abby and her mother, Ashley, but Ash might not know why. Check out this footage of Ash and Arturo taking a moment to dance the night away without her even realizing that her daughter is watching. Does she know what Abby things? Well, Arturo should know at this point, and it's not good news.
What's Next on the Young and the Restless
LOVE and WAR collide next week on #YR! @CBSDaytime pic.twitter.com/j48dEwdelr

— Young & The Restless (@YRInsider) June 15, 2018
Is there a chance that Phillip Chancellor could be Jack's dad? There might be, and we want to know what that might mean for everyone else involved. Is there a chance that he might be someone else that has a lot of importance and information in this town? And we can see how the Chancellor boys feel about this one when they find out that Jack is after a piece of their own property, name, and life. They won't like it, and they will put up a fight. But, if he can prove he is their relation, they can't really do a lot more about it. There isn't much else they can do in their time right now, but they can see about getting this situation handled in a way that's making it much easier for them to manage.
We can't wait to see how this one unfolds. Nikki might just make it her mission in life to keep things as fresh as possible with Abby, but she's not being kind about it. She's taken her husband's side against Nick and Sharon, and Sharon and Nick are having one of the sweetest moments in life as he proposes to her. This week has certainly been interesting, and we can't see it changing in any other capacity. Is there a lot they can do about it? There probably is not, but right now we want to see how this might all unfold. There is a lot of drama, of course, and there is a lot of people upset. But we will also see that Billy is going to go out of his own way to join a game that might just get him into some serious trouble — because he's playing with Summer. And that won't go over well.
Stay tuned for more Young and the Restless and be sure to check out TVOvermind daily for the latest Young and the Restless spoilers, news, and updates.