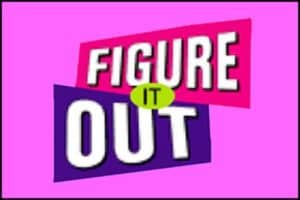 Earlier this month, Nickelodeon announced its plan to revive one of its classic game shows to join their current lineup of shows. Before I read which classic game show would make the cut, I (foolishly) assumed it would be one of the megahits, such as GUTS, Double Dare, or even Wild and Crazy Kids. Instead to my dismay, the show chosen was Figure It Out.
Excuse me while I say, "Womp Womp."
Figure It Out, for those who don't remember the show, premiered on Nickelodeon in 1997 and ran four seasons before going off the air back in 2000. The format for the show involved a panel of then well-known Nickelodeon celebrities (and other stars of that time) whose job was to guess a contestant's hidden talent or achievement before the end of the show. The panel had three rounds and several clues to help in their endeavor to uncover the contestant's secret. If the panel failed to guess the contestant's talent, or uncover clues, by the end of each round, the contestant won a prize for that particular round. If the panelist remained stumped through all three rounds, the contestant would win a vacation somewhere. That, my friends, was Figure It Out in a nutshell.
Don't get me wrong. Figure It Out wasn't a really bad show whatsoever. Although compared to other Nick game shows such as Double Dare or Nick Arcade, Figure It Out was, for lack of a better word, forgettable. The premise wore itself thin quickly and became a listless and mundane excuse for Nickelodeon to douse their celebrities with the remaining vats of Nickelodeon slime left over from previous game shows from the network. The show lacked the excitement of Legends of the Hidden Temple, the competitiveness of GUTS, and the personality of all those shows combined. So you can imagine my somewhat confusion on why Nickelodeon chose Figure It Out as the game show to reboot instead of one of their more attention grabbing shows of years past. This is why I compiled a list of shows Nickelodeon probably should have invested in instead of Figure It Out. Again, I know the show had/has its fans and is not an entire snorefest, so this is only a suggestion of shows which I feel would work better for the attentions span of the modern pre-teen.
5. Make The Grade
Here is a show that might get me several evil stares, but I will take those glances of hate with pride. Make the Grade (1989) was pretty much Jeopardy Jr. with physical challenges (called 'Fire Drills') thrown in to make the show somewhat exciting. The premise had the kids answer questions on a Jeopardy style 7×7 board that consisted of school subjects (such as Home Ec, Science, and History) on different grade levels. From the outset, Make the Grade probably sounds like a buzzkill (especially with the school aspect of it) but at least the kids would win money and prizes for being smart, not because they are the latest YouTube/reality TV celebrity. I'm just saying…
Here's a clip of the show. Beware that the host looks pretty pissed that he had to do this gig and the kids look as if they wish they were on another Nick show. Maybe Nick Arcade.
4. Wild and Crazy Kids
A precursor to GUTS, Wild and Crazy Kids was the best way to prep for your summer afternoons and/or weekends outdoors by taking notes of all the games this show could come up with. Not really having a basic format, Wild and Crazy Kids was all about having a good time outdoors by any means necessary. The games themselves were variations of regular playground/park games such as football, darts, bean bags, etc, but they were modified to fit the theme of being "wild" and "crazy." The games themselves would probably need a permit of sorts to carry out, but is that too much to ask for a day of fun in the sun? The bottom line: Wild and Crazy Kids would probably keep the audience's attention, making kids more unlikely to change channels mid show because they can't guess that someone knows how to talk to dogs.
3. Legends of the Hidden Temple/Fun House/Finders Keepers
I lumped these games together, because they all had a similar theme. Kids would take part in various challenges (pertaining to each show's premise, of course) to build up points to enter a massive playhouse at the end of the show to win trips and other big prizes including cash. Out of all three of the shows, Legends would have had the most potential to work for today's audiences due to the mixture of adventure and mythology, a combination of school and a damn good time for everyone involved. Plus, who really wouldn't want a chance to run rampant through the Hidden Temple?
2. Double Dare/Family Double Dare
What can I say about Double Dare that isn't already stated in its name? The show is simply legendary and has had the most reincarnations on Nickelodeon than any series on the network, which could be why Nick decided to go with another show to revive for their lineup (the latest DD relaunch, Double Dare 2000 aired from Jan 2000 – December 2000). Hailed the 29th Greatest Game Show of All Time by TV Guide, Double Dare could fit within today's pre-teen/tween audience with a few adjustments of course to their format to match with the times. Instead of relying on a clueless Nick star to rack up prizes for you, the contestants of Double Dare go balls to the wall for their prizes. Well… at least most of them who aren't victims of stage fright. If you still don't think Double Dare would kick Figure It Out's ass all over Nickelodeon Studios (if it was still open for business), then take a glance at this clip.
1. Nickelodeon GUTS/Global GUTS
I know some people might be saying, "How in the hell did this guy put GUTS over Double Dare as #1?!" Well it's fairly simple when you think about it. Double Dare, while awesome in its own right, has its shortcomings when it is compared to GUTS. DD was all fun and games plus an excuse for Nick to sell some slime on the side. GUTS, however, was a true competition show where the only thing that mattered was owning one of the pieces of the Aggro Crag, a GUTS Gold Medal, and bragging rights for life.
While being my number one pick for a Nick game show revival, GUTS, like Double Dare, recently returned to the airwaves in the form of My Family's Got GUTS, which aired for two seasons back in 2008 and 2009. Can I get another "Womp, womp?"
So these are the few shows I think Nickelodeon should have taken into consideration before deciding on Figure It Out as their new revival program. Even though the show has its own nostalgia factor for fans of late 90s Nick TV (for me it was the catalyst to my transition to The WB… no shade), I still feel that the selections I've picked would be a better transition (with staying power) than Figure It Out could be. I am, however, also ready to admit being wrong if Figure It Out turns out to be a ratings hit for Nick and a newfound love from fans of all ages.
What do you think? Did Nickelodeon make the wrong choice?
Photo: Nickelodeon