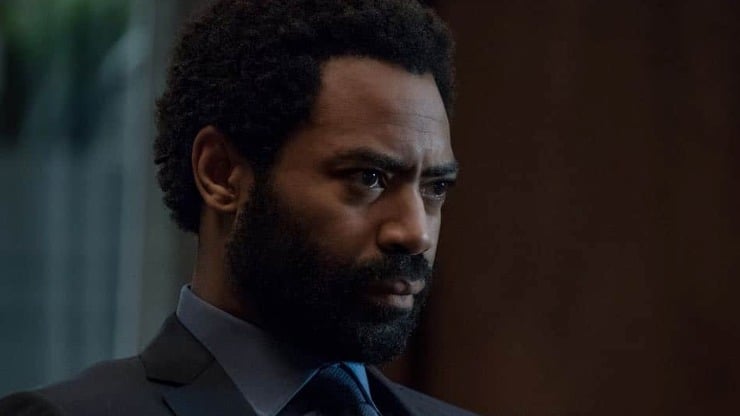 Nicholas Pinnock is someone that people might know on sight or by name but it does seem unlikely that a lot of people would know him without having to see who he is. So far in his career he's done more than enough to create a positive reputation and to become someone that people might remember once they do see him. His acting credits aren't exactly that extensive but he has done what he can to make certain that the parts he plays are memorable in some ways and inspire the audience to recall just who he is later on. With that in mind it seems fair to say that he is someone that has come to deserve the regard he's been given thus far in his career and should fully expect that kind of respect from some people even if he has to keep earning it from time to time in order to keep it coming.
Here are a few things you might not have known about Nicholas.
10. Nicholas has a passion for poetry.
So far the poetry he's written has been aimed at raising awareness about mental health and depression and the many stigmas that are attached to them. This is a great outlet for such material since not only does it offer a way to vent frustrations but it can also be used as a teaching method as well as insightful entertainment for others.
9. He's not all that prominent when it comes to Instagram.
It kind of seems as though he's not a big fan of Instagram or just doesn't take the time to post as much since his following and his posts don't boast high numbers. In fact it almost seems as though Twitter might be his preferred platform.
8. At this time he's in his mid-40s.
One would think that this would be the time that a person would have their career where they want it to be or are close but it seems as though Nicholas is really pushing to get himself even more established before he moves on to the next phase of his life.
7. He was a producer and actor in Captain America: The First Avenger.
You might not have noticed him since the movie was moving along at a good clip, but he was there. This is just one of the many credits on his filmography and perhaps one of the most famous since it was in fact another step forward in the MCU.
6. His net worth is around $11 million.
It's obvious that he's done something right in his career since this kind of net worth doesn't just come from anywhere. Plus, it could be that he has a few other ventures that have helped him to become a man that's worth quite a bit.
5. He's kept his private life away from the media thus far.
Among a lot of stars this seems to be the new trend since more and more it seems as though celebrities are starting to enjoy their privacy by not giving out as much information as possible. After all, the paparazzi are bad enough, but the less they have to give up the better.
4. It does sound as though he's more interested in creating a polished career than settling down.
Some folks want a family early on in life, others are content to wait and see how their career turns out, and then some don't want a family and just want to remain unencumbered when it comes to their career and life. So far it sounds as though Nicholas isn't against having a family, but he also seems to want to firmly establish himself in show business in a way that will allow him to feel absolutely comfortable and able to relax without much worry.
3. He managed to snag a lead position in an upcoming show that seems very promising.
The premise seems to be that of a prisoner that becomes a lawyer and, while trying to overturn his own conviction, helps those around him as well by taking on their cases and attempting to sort out the legal matters in their cases. It's ambitious and likely will gain some attention but it remains to be seen if it's going to be much of a hit. It's an interesting premise though.
2. Nicholas has been in the business for a while.
He entered show business back in the 1980s so he's been around for a while and it's fair to say that he's earned his way up throughout that time. To think that he hasn't firmly established himself to the point that wants to settle down is kind of amusing though.
1. He did his time as a model as well.
Like a lot of people Nicholas started off in one place and moved forward fairly quickly as he came to understand what he wanted a little better.
It might be worth looking him to see what he's all about.
Tell us what's wrong with this post? How could we improve it? :)
Let us improve this post!