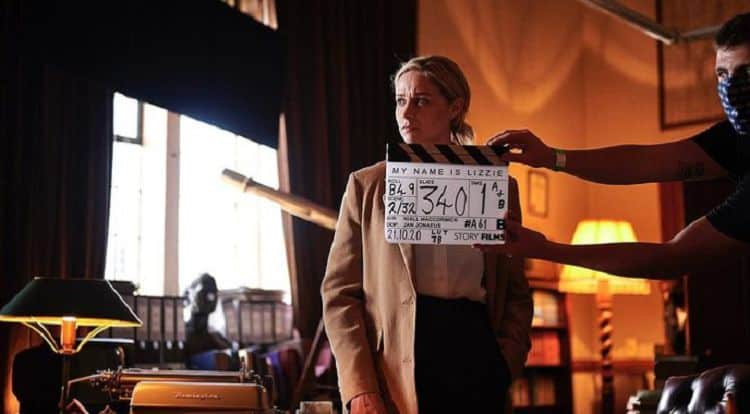 Niamh Algar was born and raised in Ireland. She is the youngest in a close-knit family and she was drawn to acting at a fairly early age. Despite her love for performing, however, Niamh didn't always think a career as an actress would be a possibility for her. However, things have worked out better than she probably imagined. Niamh's career has been thriving for the last few years and her star is still on the rise. She's keeping the momentum going in 2022 with the second season of the HBO Max series Raised by Wolves. She also has some projects in the works that are sure to take her even further. Keep reading to learn 10 things you didn't know about Niamh Algar.
1. She Was A Tomboy When She Was Younger
This may be hard for some people to see now, but Niamh was a bit of a tomboy when she was a kid. She told You, "I had so many strong women around. For me, my mum was a superhero. She was a nurse and whenever any of us were sick or broke our leg from trying to do something stupid, she was the person to come and fix the situation. So none of those children's TV shows aimed at girls appealed. I was obsessed with going into my dad's tool shed to make things. We lived on a lake, so I'd try to create little rafts to sail across".
2. She Likes Playing "Broken" Characters
Niamh doesn't mind taking on a challenge when it comes to the characters she plays. She actually prefers playing people who are a little more complex. In an interview with The Guardian, Niamh said, "Broken characters are the more rewarding ones, I find. Because essentially, we're all hiding something, we're vulnerable, we either choose to put this coarse exterior around ourselves, or exude this idea of happiness."
3. She Has Some Behind-the-Scenes Experience
The majority of Niahm's career has been spent in front of the camera, but she's no stranger to doing her thing from the other side. According to her page on IMDB, she has been a production designer and she has also worked in the art department as a prop buyer.
4. She Likes to Travel
Niamh has lived in the United Kingdom for her entire life, but that doesn't mean that she hasn't gotten the chance to get out and explore other parts of the world. Thanks to her work as an actress, she has gotten to travel to places such as South Africa and France.
5. She's A Formally Trained Actress
Niamh was definitely born to be a star, but she has also put in lots of hard work in order to turn her dreams into reality. She studied at the Programme of Screen Acting at the Bow Street Academy in Ireland. She also studied design at the Dublin Institute of Technology.
6. G.I. Jane Helped Inspire Her to Start Acting
Almost every actor can think of at least one movie or film that made them want to get into the business. For Niamh, that movie was the 1997 movie G.I. Jane which starred Demi Moore. While talking to You, Niamh said, "I saw GI Jane when I was 13 and was obsessed with [its star] Demi Moore. That amazing body. She's fearless and she wants to prove she's just as hard as the guys".
7. She's In A Relationship
Overall, Niamh has been fairly private when it comes to her personal life. With all of the drama associated with the entertainment industry, it's easy to see why she's made that decision. However, she has proudly displayed the fact that she is in a happy relationship with an actor named Lorne MacFadyen.
8. She Enjoys Taking Pictures
Niamh truly loves the art of storytelling, but her work in the entertainment industry isn't the only way she expresses that side of herself. Based on her Instagram profile, it's clear that Niamh loves taking pictures. On top of her love for photography, she's also a natural at it.
9. She's An Award Winner
Niamh's career really started taking off in 2018 and since then people all have been singing her praises from across the globe. She has been nominated for several awards since 2018 and so far she has taken home two: an IFTA Film & Drama Award for Best Actress in a Leading Role – TV Drama and another for Best Actress in a Supporting Role – Film.
10. She's Very Fashionable
Niamh may not technically be a model, but she dresses like she just stepped off of the hottest runway. She really loves fashion and she has an awesome sense of style. Niamh's clothing is another one of the ways she likes to share her personality with the world and she doesn't shy away from getting creative.
Tell us what's wrong with this post? How could we improve it? :)
Let us improve this post!