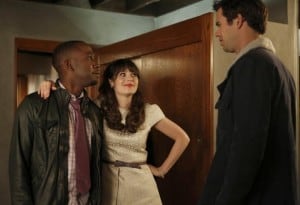 Last night New Girl capped off its impeccable 2012 run with a great Christmas episode that brought both humor and heart, a combination that the show has perfected in its second season. Every member of New Girl's main group had a solid storyline last night, and the cast made the most of each comical and emotional moment.
Specifically, Zooey Deschanel really stood out last night as Jess, nailing all the awkward and goofy comedy she excels at (her attempts at trying to get out of the glass house were great), while also hitting all the right dramatic notes in her scenes with Sam. I really connected with Jess during this episode; she's a character that has hope and faith in so many people, but it's burned her in the past when she's allowed for too much trust in a person. Her challenge to let Sam back in allowed for her to embrace her quirky antics while also providing her with some satisfying emotional depth and a truly heartwarming conversation with Nick (more on that later). With the hilarity of Max Greenfield's Schmidt and the awesomeness that is Jake Johnson's Nick Miller every week on New Girl, it's easy to look over Deschanel's performance, but "Santa" gives her with enough great material that both Deschanel, Jess, and New Girl itself all end the first half of the season on an extremely high note.
Aside from Jess having to deal with Sam's return, we also got some solid secondary stories as well: Nick must handle Angie's (guest star, Olivia Munn, who was more enjoyable this episode than in last week's, but that might have had to do with the lap dance she preformed) spontaneous personality; Schmidt and Cece try and be friends after her rejection of him last week; and Winston has a cranberry stuck in his ear (so I guess not every story last night had depth but Winston's bad attempts at hearing what people are trying to say was really funny).
By episode's end, each of these stories reaches a satisfying conclusion. After having a great heart-to-heart with Jess, where she tells him that some excitement and spontaneity would be good in his life and he tells her that she's "the kind of girl that a guy would com back for," Nick embraces Angie's attitude towards life by giving her a big speech about who he is. He also tries to perform a lap dance for her, only to be shown how to actually do it by Angie and then again by Schmidt (according to him, it's all about the "eye contact"). Schmidt, after being uncomfortable around Cece for most of the episode, accepts her Christmas present (a "baller" bracelet made out of the same metal that "Statham wore in all the Transporter movies") and invites her to go the next Christmas party that night with him. And also, Winston gets Sam to pull the cranberry out of his ear and is finally able to hear again.
Overall, "Santa" represents New Girl at its finest, when the show provides great comedy with genuine character moments. The run that New Girl has put together over this year has been unmatched by any sitcom, and I know that one of the best Christmas presents that I will receive will be a late one, when New Girl returns from its hiatus in January, ready to make my Tuesday nights a whole lot better again.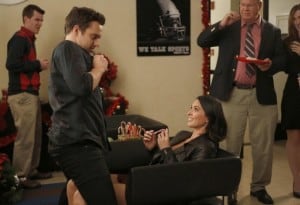 Other thoughts:
– Nick and Jess's conversation in the radio booth might be one of my favorite New Girl moments of the entire season. It was funny, sweet, and honest. It also gave us one of the best Nick/Jess quotes ever (and the title of this review), when Nick says to Jess, "I think you're the kind of girl a guy would come back for."
– Jess and Winston pretending to be in a relationship in front of Sam was hilarious, especially Winston's pretend breakup: ""I am not just some vehicle you get to ride to Pleasure Town. Be gone, Honky!"
– I laughed really hard at the whole "Santa being real" conversation coming back into play with the cop at the end. Black Santa FTW!
– I also loved all the guys walking back to take a look at Angie's boobs when she was flashing the receptionist at the hospital. And Nick's line about it: "FYI, I'm okay with what just happened."
Best New Girl Quotes of the Night
– "He's talking to a woman whose sexuality I won't jump to conclusions about" — Jess.
– "I've written a zombie book. It's terrible. I'm a poor runner. I'm obsessed with karate" — Nick's speech to Angie.
– "Nick Miller, turning lemonade into lemons since 1981" – Nick after he messes things up with Angie initially.
– "It just got stuck up there so hard and so quickly" – Winston "hearing-impaired" attempt to describe the cranberry in his ear to Sam when he was actually actually explaining how and he Jess become a couple.
– Best line of the night: I already mentioned it earlier in my review, and it's a serious one this time. This exchange between Nick and Jess stood out as the line of the episode for me: "I think you're the kind of girl a guy would come back for."