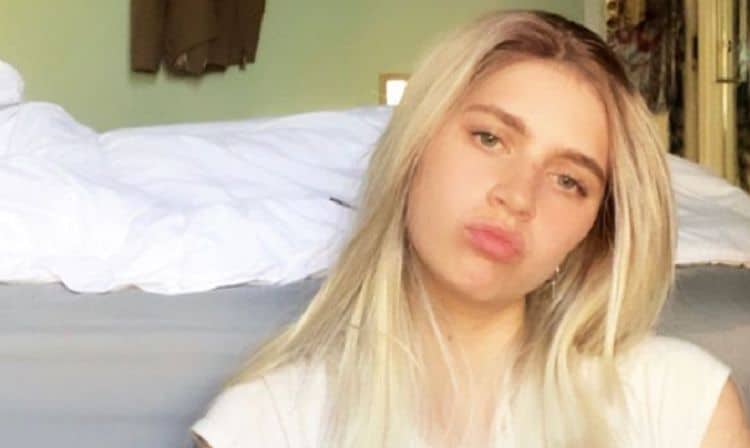 Nell Tiger Free is an actress and singer who resides in Britain, and as you have probably guessed, mostly works there as well. As far as acting goes, she is best known for her appearances in such works as 2012's American television movie 'Mr. Stink' and more recently has made quite a name for herself in the States through her work in the intensely popular 'Game of Thrones' as Myrcella Baratheon. The part has literally brought the young actress the attention she needed to put her talent into the limelight of the public eye. But aside from 'Game of Thrones', we Americans have had little else in the way of exposure to Nell Tiger Free. While that particular series is a great bar by which to measure her talent professionally, it provides us with little to go on in the way of information on her personal life, which is what most true fans are interested in. This brings us to our current subject of interest: Facts we didn't know about Nell. Don't worry; we aren't going to assign you any homework regarding this except for reading the information below, which we are so generously providing. We have put together a list for you consisting of ten things that we likely had no knowledge of regarding her personal life. It should familiarize you much more with who she is and both an actress and a human being. So read on to discover more about this promising young lady.
1. Early Years and Childhood
Born Nell Pickford Free in Kingston upon Thames, Surrey, England, she came into the world on October 13, 1999. Born and raised by her mother, yoga instructor and guru Amanda Free, she has an older sister named Betsy. The name of her father is not available at this time, though she does have a step-father named Darren. She attended the Hampton Court House School and the Teddington School in her younger years. It is also interesting to note that she is related to the artist Joe Fenton; he is her uncle.
2. Career
Typically, we don't list the career so early on when presenting facts, but Nell got a really early start in show business, citing her first job at the age of thirteen. In 2012, at the age of 13, she appeared as Anna in the film 'Broken'; she also appeared in 'Mr. Stink' that same year as Chloe Crumb. In 2014 she began making the series 'Endeavor', and in 2015-2016 she took up the part of Myrcella in 'Game of Thrones'; the part was played by Aimee Richardson prior to Nell stepping up to the plate. Other parts she has had are all from 2019, and include 'Wonderwell', 'Too Old To Die Young', and 'Servant.'
3. Salary and Net Worth
As we mentioned, Free has been acting since the age of thirteen, which has given her time to build up her resume see increases in pay, though she is not yet earning the wage garnered by stars who are enjoying veteran status. As of last year she was said to earn approximately $10-$13,000 US dollars per episode she was in on 'GOT'. She had an estimated net worth of between $500k and $600k in 2018, but it has risen to an estimated $1 to $5 million this year. Her pay per episode is also higher, at approximately $500k per episode of 'Game of Thrones' that she is featured in.
4. Social Media
Nell is very active on social media, especially Instagram, where she can be found at @nelltigerfree; she has nearly 75k followers on that site. She is also on Twitter at @nelltigerfree. She also has an active Facebook account.
5. Is She Married? Dating?
According to all sources, Nell is not married, and she has no children. But the word is that she and 'Game of Thrones' co-star, Dean Charles Chapman, who played her brother Tommen Baratheon on the series, have been dating, and are said to be quite the hot item.
6. Zodiac and Star Sign Traits
With a birthdate of October 13, Nell is a Libra. According to Astrology.com, Libra women are playful and usually are up to a wild, adventurous time, even if the good time is a simple pleasure. These women are open to trying just about anything when it comes to life experiences, from skipping through the wildflowers to taking a ride on a Ferris wheel. With that being said, at the heart of it all is their need for balance in life, and this is the reason their sign is grasping the scales.
7. She Is Also A Singer
As mentioned in our opening paragraph, Nell also sings. Sources say that she was actually into music before she ever broke her teeth in the acting world. Her very first album, 'No Tie Friday', was released for public sale when she was eighteen years of age. Currently 20, Nell has not yet tackled a second musical project, but such a project is likely in the works as this is written.
8. Bound For Future Success
According to AnswersAfrica, there are four things in particular that prove that Nell Tiger Free has future celebrity success written in her stars. First, she can list 'Game of Thrones' on her resume. Second, she is multi-talented, as shown by the fact that she has released an album. Being in a celebrity romance since 2015 with Dean Charles Chapman is also given as a reason (that we don't understand), and finally, Nell is bound for future success because of her beauty and physical appeal, which we do understand. After all, it's important to look good if you are going to soar with the stars.
9. Professional Associations
Thanks to her landing a role in the Apple original series 'Servant', Nell can claim a professional association with director M. Night Shyamalan; the series also hooked her up with co-star Lauren Ambrose. She also starred in 'Mr. Stink' with actress Sheridan Smith.
10. Another Future Project
Not only can we count 'Servant' among her projects, but Free is also expected to integrate her music into her acting somehow. When asked by Wonderland Magazine if we should be on the lookout for 'A Star Is Born' type work, she laughed and told them that anything is possible. I think when it comes to this young lady we shouldn't be surprised at anything.
So, by now you know quite a bit more about Nell Tiger Free than you did a short time ago. You should be able to not only spot her on your television, but answer a few trivia questions about her, if they should arise. Keep your eyes out for her, because we think the world will be seeing much more from her. We wish her the very best, and we know that fans do too.